Software-based diagnostic programs are a convenient way to monitor your vehicle's health. Many of them, such as TOAD Pro, add value by providing ECU programming and re-mapping functions. They don't just track your engine's health—they help it to run better.
Curious what TOAD Pro can do for you? Let's break down its major features and functions to help you better understand all its many benefits.
What is TOAD Pro?
TOAD stands for Total OBD & ECU Auto Diagnostics. It's an advanced OBD2 software program that will diagnose more engine issues than standard code readers and OBD2 scan tools.
The TOAD Pro OBD2 scanning software provides diagnostic information in a visual format that's easy to interpret. It goes beyond diagnostics, as well, with tuning and reprogramming functions for optimizing your vehicle's performance.
You can install TOAD Pro on any Windows device. It connects to your vehicle through an ELM327 adapter, either with a wired USB connection or wirelessly through Wi-Fi or Bluetooth. It includes 4 types of software, covering both OBDI and OBDII diagnostics as well as ECU tuning.
Why do I recommend TOAD Pro?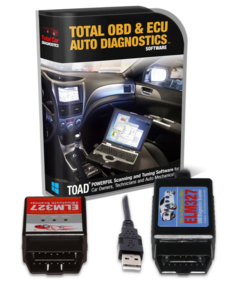 The TOAD Pro OBD2 programming software is an easy way for any car owner to diagnose issues and optimize performance. It supports the majority of vehicles on the road today and can read codes from both the engine and transmission.
Not only that, the TOAD Pro team is made up of real car experts. Along with the sophisticated software, you'll get unlimited tech support. You'll get step-by-step repair advice when you need it. That's something most OBD2 scanners simply can't boast.
TOAD Pro vs. FORScan vs. PCMScan: Comparison chart
| | | | |
| --- | --- | --- | --- |
| | BEST OVERALL | RUNNER UP | GREAT PICK |
| | TOAD Pro | PCMScan | FORScan |
| Vehicle Compatibility | Most vehicles 1996 and later | Most vehicles 1996 and later | Ford, Lincoln, Mercury, 1996-2018 |
| Software Compatibility | Windows (XP, Vista, 7, 8, 8.1, 10) | Windows (95, 98, SE, ME, XP Vista, 7, 8) | Windows, iOS, Android |
| Read & Clear Codes | ✔️ | ✔️ | ✔️ |
| Data Stream | ✔️ | ✔️ | ✔️ |
| Freeze Frame Data | ✔️ | ✔️ | ✔️ |
| O2 Sensor Test | ✔️ | ✔️ | ✔️ |
| Transmission Diagnostics | ✔️ | ❌ | ✔️ (Select manufacturers) |
| ABS/SRS Diagnostics | ✔️ (Select manufacturers) | ❌ | ✔️ |
| On-Board Monitoring | ✔️ | ✔️ | ✔️ |
| ECU Programming | ✔️ | ❌ | ❌ |
| | TOAD Pro | PCMScan | FORScan |
TOAD Pro OBD2 programming software review
Features and benefits
Compared to software like Palmer Performance PCMScan or CarMD Proscan, TOAD Pro has more diagnostic power. This includes OBD modes like EVAP tests, Freeze Frame Data, and on-board monitoring. You can conduct a thorough car health check without the need to pay a mechanic.
For some vehicles, TOAD Pro offers advanced diagnostics of the SRS (airbag) and ABS (brake). While not available for all manufacturers, it supports popular brands like Mazda, Volkswagen, and Ford.
Perhaps the most impressive feature of TOAD Pro is its ECU programming capability. You can tune ECU data values to enhance your vehicle's performance. This includes optimizing fuel efficiency and increasing your car's brake horsepower.
Along with this, TOAD Pro allows you to edit and remap the ECU. It comes with over 14,000 optimized map files included, helping to take the guesswork out of engine tuning. You can even read and remap the encrypted ECUs found on many newer vehicles.
You can also configure the range, sampling rate, and scaling value of sensor data to make sure you're getting the most accurate, useful reading. The Data Logger records the parameters of your healthy engine, making it easier to spot potentially problematic discrepancies.
TOAD Pro gives you other options to monitor changes in your engine performance. It can give you an audible alert when the coolant temperature or RPMs go outside normal operating parameters. You can see real-time data even when the car is in motion, tracking important stats like engine temperature and battery voltage.
Not only that, TOAD Pro also includes an Actuator Function so you can take control of individual engine parts. You can verify the physical operation of valves and other mechanical components, and that saves a lot of time over manual testing.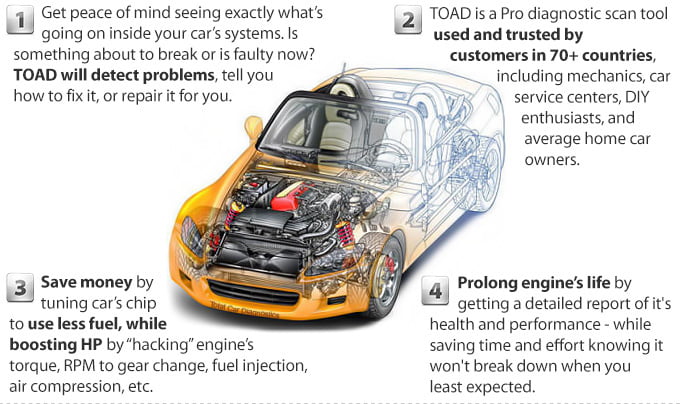 What do others say about TOAD Pro?
The general consensus from mechanics is that TOAD Pro is useful for about 85% of its customers' needs. While some electronic issues will require a more specialized OEM scanner, in the majority of cases TOAD Pro does everything you need.
Compared to other software, TOAD Pro is widely reviewed as being faster and more precise. It works especially well on newer versions of Windows, and even Windows emulators, like Bootcamp for iOS. Those using older operating systems do report occasional crashing, especially if they're running other diagnostic software at the same time.
From a home garage standpoint, the breadth of features and functions can make it a bit overwhelming at first. That said, most people consider the interface very intuitive to navigate once they've had some time to learn the program.
The exceptional customer support from the TOAD Pro team can't be overstated, either. Their mechanics are knowledgeable and patient, willing to stay on the phone with customers for hours to resolve their problems. That's a level of dedication to their users that we haven't seen offered from any other OBD software company.
Why should we own TOAD Pro today?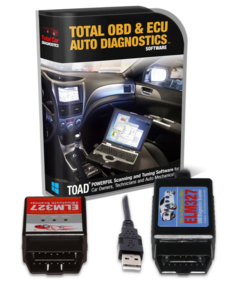 From a car owner's standpoint, TOAD Pro saves you money. Getting an OBD2 diagnosis from a mechanic can cost hundreds of dollars. Engine remapping and tuning services are even more expensive. With TOAD Pro, you can take back control of your vehicle's health.
For mechanics, the organizational features of TOAD Pro are exceptionally beneficial. You can quickly and easily view all the data you need to diagnose and repair issues, and all data can be saved and exported. The wide vehicle compatibility and OBD protocol support let you work on any car your customers bring into the garage.
Who should have TOAD Pro?
Everyone can use TOAD Pro. Whether you're a professional mechanic or a DIY enthusiast, it's accessible and intuitive to navigate.
TOAD Pro is designed with professionals in mind. The inclusion of ECU mapping, as well as diagnostics, makes it a great all-in-one tool for professional garages. For pros, the option to build custom dashboards is a big plus, giving convenient access to the graphs and data you need.
That being said, you don't need to be an expert to use TOAD Pro. It includes a database of over 15,000 trouble codes to speed up your diagnosis. Using TOAD Pro can actually help you better understand your vehicle.
Even if you don't have the mechanical skills to fix problems yourself, you'll benefit from walking into your mechanic's garage knowing the exact issues.
FAQs
❓ What do I need to use TOAD Pro?
💡 There are two sides to the TOAD Pro system: the software itself, and how it communicates with your vehicle. For the first, you'll need to have a computer or tablet that runs a Windows operating system.
The adapter you use depends on what kind of car you have. The recommended adapter for OBD2 vehicles is the ELM327 cable. For OBD1 vehicles (pre-1996), is the ALDL cable.
❓ How is TOAD Pro better than a handheld code reader?
💡 OBD2 code readers can only retrieve the trouble codes, not give you access to the systems to fix them. With TOAD Pro, you can see more data through onboard system monitoring.
In addition, TOAD Pro lets you customize the ECU. Some scan tools offer this feature but they're invariably priced for repair professionals. The option to tune your ECU is the main thing that sets TOAD Pro apart from the pack.
❓ Which protocols does TOAD Pro support?
💡 For diagnostics, TOAD Pro supports both OBD1 and OBDII for American vehicles. It also works with EOBD (Europe), ADR (Australia), and JOBD/JDM (Asia).
Getting down to individual control modules, TOAD Pro supports CAN bus and CAN networks (both 11-bit and 29-bit), along with SAE J1850 (PWM and VPW), ISO-9141, ISO-15765 (CAN), and KWP2000.
❓ Which fault codes can TOAD Pro read?
💡 You can read any generic or manufacturer-specific diagnostic trouble codes from the engine or transmission systems.
❓ Can I monitor the battery with TOAD Pro?
💡 Absolutely, the real-time data function includes battery voltage monitoring and is compatible with both 12-volt and 24-volt batteries.
❓ Can I use TOAD Pro with diesel engines?
💡 Of course. Because It includes fault code reading for the Diesel Particulate Filter (DPF) and Exhaust Gas Recirculation (EGR).
Bottom line
That is all about TOAD Pro, the OBD2 programming software for any car owner. We hope that with all the benefits that TOAD Pro brings about, you will make the right decision and solve all your automotive issues.