You don't need an expensive scan tool when you get the best OBD2 software. With many programs available very cheap (or even free), OBD2 software lets you easily and affordably diagnose car issues at home. That gives you peace of mind and saves you money at the mechanic.
We've reviewed the most popular OBD2 software to highlight their strengths and differences. While they vary widely in price and functionality, there's something on this list for every user, from absolute beginners to professional mechanics.
What is OBD2 software?
OBD stands for "onboard diagnostics," and is a protocol included in all modern vehicles.
OBD2 software lets you access and interpret this data. Just connect your device to your car with an adapter, and you'll get dealer-level access to emission data, sensor readings, and diagnostic trouble codes.
Best OBD2 software: Comparison chart
|   | TOAD Pro | FORScan | TouchScan |
| --- | --- | --- | --- |
| Vehicle Compatibility | Most vehicles 1996 and later | Ford, Linoln, Mercury, 1996-2018 | Compatible with all OBD2 vehicles |
| Software Compatibility | Windows | Windows, iOS, Android | Windows |
| Read & Clear Codes | ✔️ | ✔️ | ✔️ |
| Data Stream | ✔️ | ✔️ | ✔️ |
| Freeze Frame Data | ✔️ | ✔️ | ✔️ |
| O2 Sensor Test | ✔️ | ✔️ | ✔️ |
| Transmission Diagnostics | ✔️ | ✔️ (select codes and models) | ✔️ |
| SRS/ABS Diagnostis | ✔️ (select models) | ✔️ | ❌ |
| Oil Reset | ❌ | ✔️ | ❌ |
| ECU Programming | ✔️ | ❌ | ❌ |
| | TOAD Pro | FORScan | TouchScan |
Let's find out more details about these great OBD2 software.
TOAD Pro – Best elm327 OBD2 software
Firstly, TOAD Pro can program the ECU, and that's great news for advanced hobbyists and professional mechanics alike. It has similar functionality to the FORScan software reviewed above, but with compatibility for more vehicles.
With TOAD Pro, you get a lot of diagnostic power. It can read more PIDs than most OBD2 software. In addition, it allows you to adjust the sampling rate, range, or scaling value so you can see the specific information you need. With active testing support, you can also better diagnose mechanical issues.
Along with diagnostics, TOAD Pro lets you remap and tune your engine. This means you can optimize your vehicle's performance from your home garage.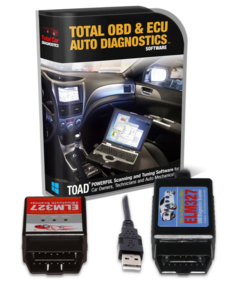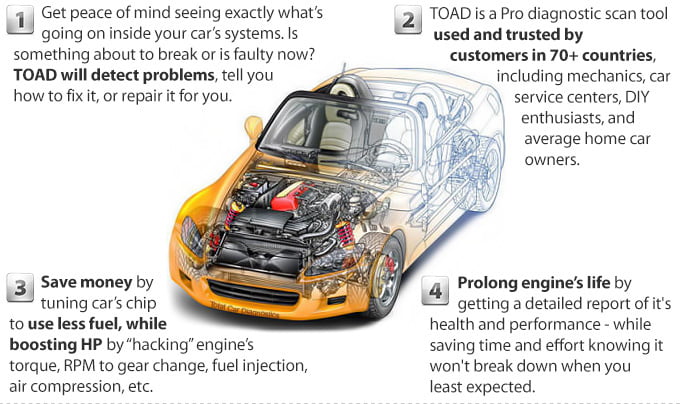 Verdict
TOAD Pro is a comprehensive diagnostic software program suitable for both hobbyists and professional mechanics. It's one of the few options that allow you to tune your engine, in addition to running scans and reading data.
Pros
Both diagnoses and tunes engines
Excellent tech support with step-by-step repair advice
Offers advanced diagnostics of SRS and ABS systems for some vehicles
Can re-map ECU (14,000 map files included)
User-configurable parameters for sensor data
Actuator Function lets you take active control of engine components
Cons
Only works on Windows systems
FORScan – Best OBD2 software for Ford, Lincoln, Mazda, and Mercury
The good thing about FORScan is that it's one of the most comprehensive OBD2 software you'll find. However, its main limitation is that it only works with Ford, Lincoln, Mazda, and Mercury vehicles.
When it comes to your adapter and computer, FORScan has broader compatibility. There are versions for Windows, Android, and iOS. Though the desktop version has the most features, the mobile versions are still handy for diagnosing trouble codes. You also have multiple options for which OBD adapter to use—basically any adapter with ELM327 support will work.
Along with diagnosing trouble codes, FORScan gives you the power to customize your vehicle. This program can view and re-program most electronic modules. This means you can re-set systems like battery monitoring or the oil light, which other scan tools don't support.
To conclude, if you own a Ford and want the most comprehensive software, FORScan is for you.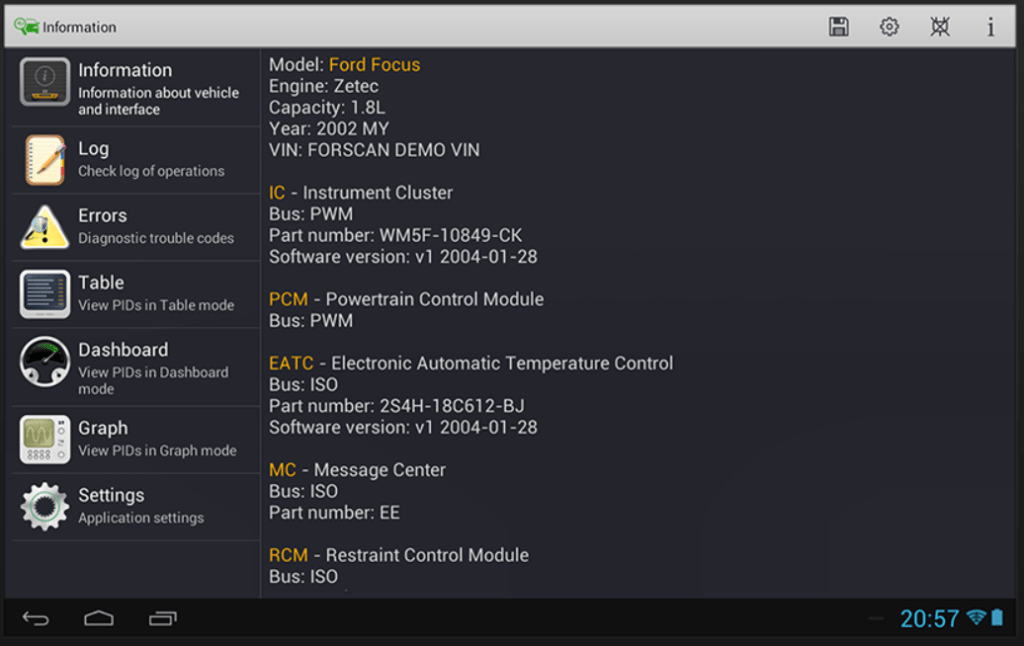 Verdict
The best OBD2 diagnostic software for Ford, FORScan allows you to diagnose most electrical issues on Ford, Lincoln, and Mercury vehicles.
Pros
Shows PID data not supported by other OBD2 scanners
Supports diagnosis of SRS, ABS, and transmission systems
Works with Windows, Android, and iOS
Can program modules, including programming new keys
Cons
Limited vehicle compatibility
Not all features supported on the mobile version
TouchScan – Simple-to-use OBD2 software
Looking for diagnostic software that's easy to use, even for a beginner? TouchScan has the power to monitor and diagnose the engine of any OBD2-compliant vehicle. It shows you that data in real-time, using an easy-to-read interface that even novices can interpret.
Moreover, TouchScan can read over 90 different sensors (PIDs) in your engine. It also supports helpful OBD diagnostics like oxygen sensor tests and onboard monitoring and can track your battery voltage and fuel economy.
Lastly, the dashboard on TouchScan is completely customizable. You can choose which sensor data is most helpful for your vehicle, letting you more quickly repair the problem and get back on the road.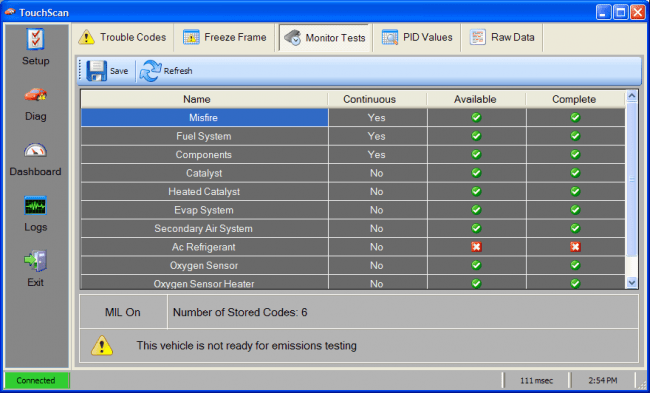 Verdict
If you're looking for affordable, robust diagnostic software, TouchScan gives you code reading and diagnostic graphs for a great price.
Pros
Dealer-level diagnosis at an affordable price
Runs I/M readiness to tell you if you're ready for emissions testing
Calculates vehicle's fuel economy
Record and playback data
Real-time graphing of all sensor readings
Free lifetime software updates
Supports over 90 PIDs
Cons
Won't retrieve non-OBDII ABS/SRS codes
Limited service and programming functions
OBD Auto Doctor – Best free OBD2 sofware
Many OBD software programs are designed for a specific operating system. OBD Auto Doctor works on all of them, including mobile devices. It's also compatible with a lot of vehicles. If your car has an OBD2 port, you can diagnose it with OBD Auto Doctor.
Reading fault codes is a breeze with OBD Auto Doctor. It can scan and retrieve them in as little as 30 seconds. When viewing sensor data, you can also see it as either a numerical or graphical reading. You can even try it before you buy it if you want to see it in action.
Additionally, OBD Auto Doctor gives you an overall picture of your vehicle's engine health so you can better understand your vehicle's inner workings. When problems come up, you can identify them more quickly, before they have a chance to cause more damage.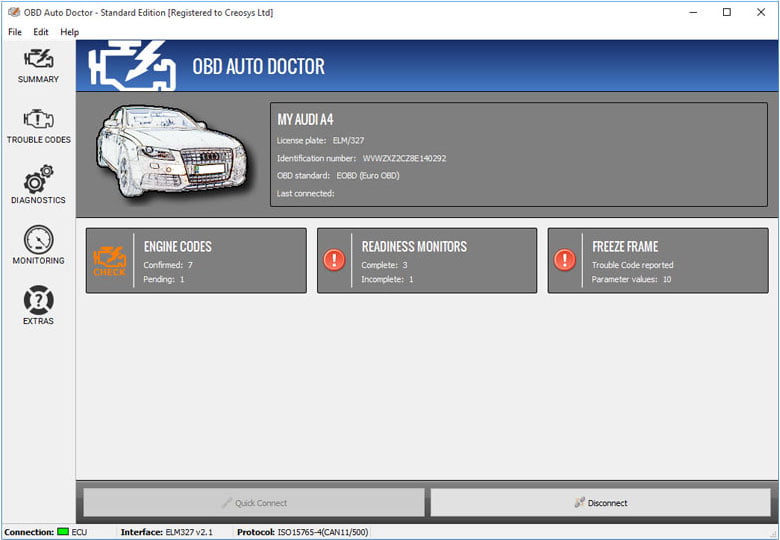 Verdict
With a wealth of ways to view engine data, OBD Auto Doctor is a helpful way to get a complete picture of your vehicle's health.
Pros
Can diagnose fault codes in less than a minute
View sensor data in both graphical and numerical form
Checks if your car is ready for an emissions test
Monitors fuel economy
Works on Windows, Mac, and Android
Compatible with both gas and diesel engines
Free version let you use all basic functions
Cons
Only reads OBD2 trouble codes
No reset or programming functions
Learn more about OBD Auto Doctor
AutoEnginuity
How useful you find AutoEnginuity will mostly depend on what kind of car you drive. For some vehicles, it's a powerful diagnostic tool that can read trouble codes other scanners don't see. With other manufacturers, though, its diagnostics are limited to those supported under OBD2.
At its best, AutoEnginuity can diagnose the airbag, anti-lock brakes, and electronic instruments. It also performs bi-directional active tests, so you can identify mechanical components that aren't functioning correctly. This support extends beyond OBD2 to include vehicles made in Europe that are EOBD compliant.
Verdict
The key is to do your research on their supported models before you buy. Most complaints against AutoEnginuity come from users who found out after purchasing the software that it doesn't support the functions they need for their vehicles.
Pros
Excellent coverage of OBD2 diagnostics, especially Mode 6
Performs active testing of engine components
Updates are free
Diagnoses ABS, SRS, and transmission on many vehicles
Supports both OBD2 and EOBD vehicles
Affordable option
Cons
Non-OBDII functions not supported on all vehicles
Only works on Windows systems
Some users report difficulty communicating with certain vehicles
Learn more about AutoEnginuity
EngineCheck
EngineCheck Pro from Gendan is an intuitive professional diagnostic program. It performs engine scans and diagnoses quickly and effectively. In many cases, you can see the cause of your check engine light in 10 seconds or less.
To be honest, EngineCheck isn't the most comprehensive software out there. It's designed to read OBD2 trouble codes and data, including freeze frames and emissions tests. There are a few features beyond that, such as fuel system status, but its capabilities are limited.
Within this limitation, though, EngineCheck is well designed. The on-screen DTC definitions make it a lot easier to interpret fault codes. You can also save and playback data, and compare data from multiple sensors on-screen.
Verdict
EngineCheck is an excellent option for those who want to turn off their check engine light and make minor repairs at home. Its intuitive graphical interface is easy to use, even for auto repair novices.
Pros
Quickly reads engine fault codes
Record and playback all sensor data
Live data graphic
Shows fuel system status
Works with both gas and diesel EOBD vehicles
Free updates
Cons
Only supports OBD2 modules and sensors
Need to buy EngineCheck Pro to get full functionality
Car Scanner ELM OBD2
The best thing about Car Scanner ELM OBD2 is that you can use it on any device. With versions for Windows, Android, and iOS, you won't be limited by what system you're running. It's also compatible with most OBD2 vehicles—no pesky research to determine if it works with your car before you buy it.
Car Scanner ELM OBD2 is a streamlined app with lots of configuration options. Another great thing for DIYers is its low cost. Most of the features are included in the free version. If you decide to purchase Car Scanner Pro, you can install it on as many devices as you want.
If you're looking for a cheap, easy way to perform OBD2 diagnostics, you'll love Car Scanner ELM OBD2. The designer releases frequent free updates, too, so it will only get more useful over time.
Verdict
Car Scanner ELM OBD2 is the best OBD2 software for Mac and Android users, though it lacks access to some of the PIDs offered by other options.
Pros
Works well on a wide range of devices
Compatible with most OBD2/EOBD vehicles and some JOBD vehicles
Clean, user-friendly interface
Can be configured to suit your specific needs
Most functions available in the free version of the app
Frequently updated with more sensors and features
Cons
Supported sensors varies between vehicles
Doesn't accurately measure speed or voltage
Learn more about Car Scanner ELM OBD2
EasyOBDII
On the affordable end of the spectrum, EasyOBDII Premium Software provides in-depth OBD diagnostics at a price of just over twenty bucks. There's a free trial, too, so you can make sure it works for you before you spend any money.
Furthermore, the graphic interface on EasyOBDII is user-friendly and can be customized through their configurations page. Diagnosis options include viewing freeze frame and live data, performing I/M readiness tests, and reading all trouble codes, including manufacturer-specific and pending codes.
However, you can't read enhanced codes from non-OBD systems with EasyOBDII, but that's to be expected for the price.
Overall, it's an affordable way for hobbyists and car owners to save themselves a trip to the mechanic.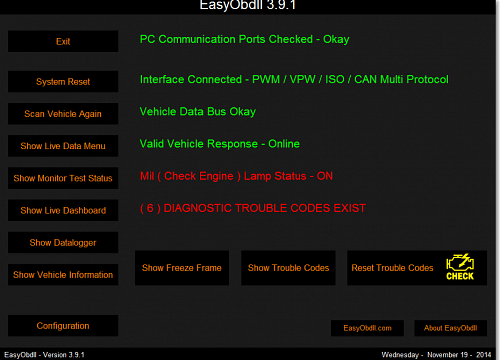 Verdict
EasyOBDII Premium Software is both affordable and user-friendly, making it one of the best OBD2 software for hobbyists and home garages
Pros
Test it first on your system with a free trial
View all pending, stored, and active trouble codes
Shows freeze-frame, emissions, and live sensor data
Helpful vehicle dashboard
Very affordable
Configuration page includes autosave feature
Cons
Doesn't work on mobile devices
Not all PIDs supported on all vehicles
Movi Pro
Movi Pro is another great choice for both hobbyists and professionals. Along with reading and clearing DTCs, you can monitor your engine performance and fuel economy in real-time. It will even give audible alerts if you're using it while in motion, so you don't have to take your eyes off the road.
Unlike many OBD2 software programs, Movi Pro is designed for iOS. Its vehicle compatibility extends to both American OBD2 vehicles and EOBD models from Europe.
Movi Pro has a sophisticated interface that lets you graph and compares up to 4 values at once. It also has virtual horsepower and torque readings, data neglected by many OBD2 readers and programs. The ability to record driving data is great, too, especially when you're diagnosing intermittent issues.
Verdict
Movi Pro is a great option for Mac users who want an easy way to monitor and diagnose engine issues in any OBDII or EOBD compliant vehicle
Pros
Monitors emissions and fuel economy
View battery voltage and system health
Can graph multiple data streams simultaneously
Gives audible report of engine issues so you can focus on the road
Wide vehicle compatibility
Cons
Doesn't diagnose non-OBD systems (airbags, transmission, etc.)
Not compatible with Windows or Android
OBDWiz
Finally, owners of European and Asian vehicles will want to take a look at EOBDWiz. It has support for more than 90 PIDs, far more than most OBD2 programs, from OBD2, JOBD, and EOBD compliant vehicles. 
On the interface side, OBDWiz has customizable dashboards that show multiple meters and real-time sensor data. You can set the parameters and sampling rate, making sure you're taking the readings you need. It also displays your battery's voltage and tracks your fuel economy.
While you can't program the ECU with OBDWiz, it does allow you to send commands to the vehicle. You can really take control of your car's maintenance when you use this impressive diagnostic program.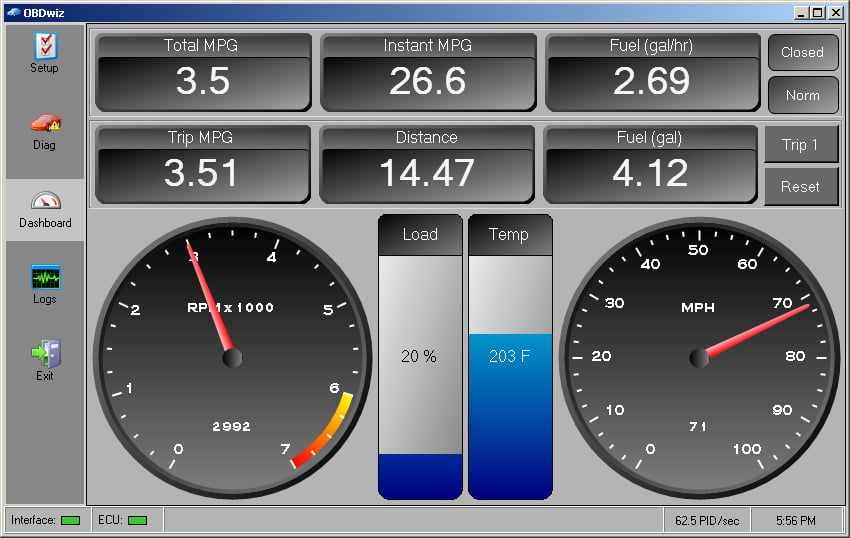 Verdict
OBDWiz supports more vehicles than most software, including oft-neglected JOBD models. Customizable dashboards and sensor parameters give you more control over your diagnosis.
Pros
Calculates fuel economy
Displays battery voltage
Customizable dashboards
Supports over 90 PIDs
Unlimited free updates
Compatible with OBDII, EOBD, and JOBD vehicles
Can plot multiple values on the same screen
Cons
No transmission, ABS, or SRS diagnosis
Limited software compatibility
Bottom line
To sum up, the most important thing about choosing the best OBD2 software is vehicle compatibility. Even the best program is useless if it won't diagnose your vehicle. Do your research first to save yourself frustration down the line. Many of these programs offer free trials so you can test them before you buy them.
Let us know which of the above programs is your favorite! If you haven't gotten your hands on a diagnostic program yet, hopefully, this article has shown you how useful (and affordable) they can be.