Live data is one of the main functions of OBD2 scanners. It provides information from the vehicle's computer data like engine RPM, ltft, stft, and more. Besides diagnostic trouble codes (DTCs), these real-time parameters are crucial when it comes to car diagnostic.
Doesn't matter if you buy a 20 bucks or a $5000 scanner, they all can perform live data function. BUT obviously, you get what you pay for. You know that, right?
So, in this article, I will guide you to pick the best OBD2 live data scan tool that suits your needs. First, let me show you the differences across various price ranges.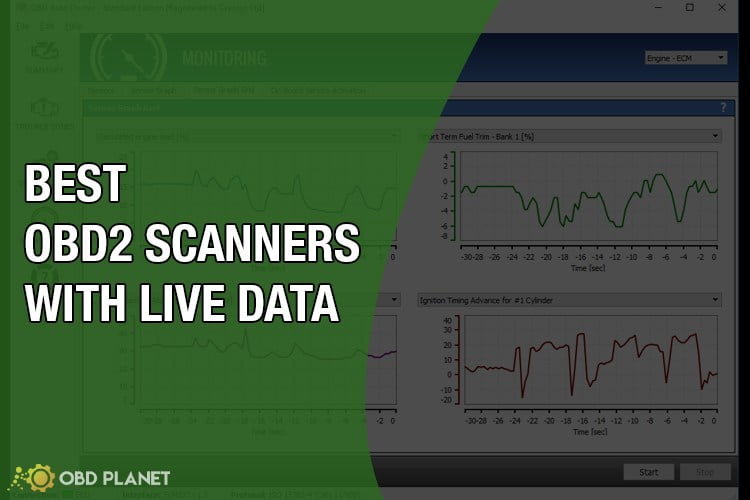 Different kinds of OBD2 scanners with live data
Live data function differs across various scan tools!
Cheaper scanners are only capable of capturing live data from engine modules. On the other hand, more expensive scan tools (usually above $100) provide detailed real-time information by tapping into different modules such as transmission, ABS, SRS, and others besides the engine.
While live data is essential for diagnosis, graphical visuals help users understand the information. Cheap code readers do not provide live data graphs, while slightly more expensive OBD2 scanners do. These graphs identify any parameter fluctuations or patterns that will be helpful when it comes to car diagnosing.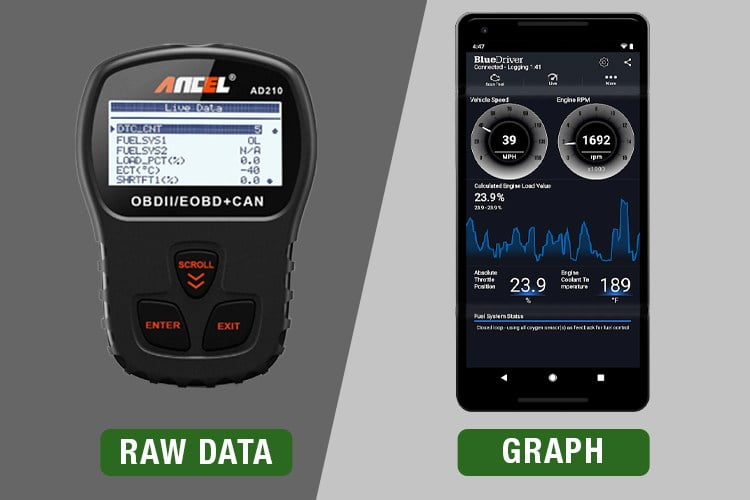 Then there are professional scanners. Although capable of providing live data, these are expensive tools that we won't get into in this article as they are overkill if you're looking to read live data only.
Here in this article, I will cover the following three best OBD2 scanners (allow access to different modules and live data graph):
Bluedriver
OBDlink MX+
Launch CRP123
I will also go over the following three affordable OBD2 scanners (offer live data graph but only from engine module) for those looking for budget-friendly options:
Bafx for Android
Veepeak OBDCheck
Autophix 3210
Let's get started!
Note: Engine live data parameters available on these tools are the same. Some websites try to list the engine parameters (a long list) and point out the differences. There is no point in doing that! For example, engine parameters on a 2010 Toyota Corolla will be the same no matter you use Bluedriver, or Launch CR123, or Autophix 3210.
---
3 Best OBD2 scanners with live data (around $100)
Bluedriver | Best pick
Pros
Full system diagnosis
Suggests recommended solutions
Stable app performance
Cons
Can't work with any third-party apps
Lack of Coding features for BMWs
Check Price at Amazon
Features
Considered to be one of the best, the Bluedriver wireless scan tool is different from the others on our list. The device is not only capable of providing a wide range of functions to diagnose cars, but it also provides ways to fix a problem after diagnosis.
The OBD2 scanner taps into the engine module and displays the following:
Vehicle live parameters (from the engine and all available modules)
Fuel and air data
Emissions control equipment information
Users can get access to engine RPM, vehicle speed, oxygen sensor voltage, fuel system status, exhaust gas recirculation temperature, catalyst temperature, and more.
Besides live data, Bluedriver also offers 10 basic OBD2 modes that include reading and clearing codes, smog check (I/M readiness), advanced test results, and more.
App
To use the tool, you would need to use a smartphone (either iOS or Android) and the Bluedriver app. The app actually excels at capturing live data and displays it in easy-to-understand graphs.
What's great about Bluedriver is that its app generates car diagnosis reports, identifies the possible problems, suggests recommended solutions, and gives links to any parts required for the fix. Consider it a one-stop solution for your car maintenance needs.
Although Bluedriver offers so much in a relatively small size, you would need to have a smartphone at all times to access those features. Secondly, you need to plug the tool out after using it. Otherwise, it may drain your car battery if you do not drive for about a week.
OBDlink MX+ | Multifunctional scan tool
Pros
Do not drain battery
Work with other third-party apps
Enhanced data capturing for smoother graphs
Additional security features
Cons
Does not cover as many vehicles as Bluedriver
Check Price at Amazon
Features
The OBDlink MX+ is a semi-premium OBD2 scanner offering professional-grade diagnosis to car owners. 
Since it is a step above basic code readers, the OBDlink MX+ can give live parameters from different modules such as transmission, airbag, anti-lock braking, and more. 
The scan tool also focuses on an additional layer of security like hacker-proof wireless security, low-dump protection, and low current sleep mode. All this technical jargon simply means that you can safely leave the device plugged in without draining or damaging your car battery.
App
It comes with an OBDlink app to run tests and access different functions. However, the device can also work with other third-party mobile apps (BimmerCode, Dashcommand, Carista, and more.)
What makes this special is the data recording capacity it has. The device can gather four times more data than those cheap OBD2 adapters, resulting in smoother graphs and the display of additional live parameters.
The OBDlink MX+ provides solid compatibility with a wide range of vehicles, offers customizable dashboards and gauges, and has enough power to capture a lot of data. It may not be a tool for first-time buyers due to its price of around $100.
However, it's definitely a good long-term investment for car enthusiasts.
The device is slightly cheaper than the Launch CRP123 and is similarly priced as the Bluedriver but unfortunately, it does not cover as many vehicles as Bluedriver does.
Launch CRP123 | An option for low-tech guys
Pros
4 system diagnosis
No need for a smartphone
5 years warranty
Cons
More expensive than the Bluedriver and MX+
Check Price at Amazon
The Launch CRP123 is different from the two above I discussed as it comes with a built-in 2.8-inch screen, eliminating the need for a smartphone. The device can read and erase fault codes from these modules:
Engine
Transmission
Airbag
Anti-lock braking
Besides reading codes, the CRP123 provides live parameter data from the four different modules, unlike cheap scanners that can only access the engine module. The data can be presented in easy-to-understand graphs (maximum 4 parameters at once), allowing users to spot any unusual movement.
The scan tool covers all 10 OBD2 modes, from fault code reading to O2 sensor tests, I/M readiness, vehicle information, and more.
CRP123 is a fantastic scanner with great compatibility across different vehicles. It helps users save time by looking at trouble codes and resetting four main systems. Although the device may seem expensive at first, the features it has can be found in scan tools above $1,000. 
Although there is hardly anything to discourage you from buying this device, it costs more than the other OBD2 scanners on our list. If you have a smartphone and you don't mind using it in your garage, the other two tools are the better options!
---
3 Best affordable OBD2 scanners with live data (below $50)
Looking for a bit of a budget-friendly option? Here we will explore three affordable OBD2 scanners with live data below $50. Since all the three devices only show engine live data and work on cars newer than 1996, we will review them according to:
Extra features
Longevity
Compatibility with apps
Warranty and update
Bafx for Android
Bafx for Android
Pros
Fast, simple, and easy to use
Great Bluetooth connectivity
Works great with Torque app (and other apps)
Bafx for Android is the perfect Bluetooth OBD2 scanner for the average job. The device helps car owners read codes, clear them, and provide diagnostics for a quick fix. 
It's a sturdy device that will last longer if you handle the device well throughout its use. You can get live engine data on the engine speed, RPM, and a lot more information when conducting EVAP tests, O2 sensor tests, and other types of tests.
With almost 30,000 Amazon reviews, the device is one of the most popular OBD2 scan tools on the market. It provides vast compatibility options with third-party apps like Dashcommand, Torque Pro, OBD Fusion, and many more.
Bafx for Android comes with a two years manufacturer's warranty, which is fantastic considering how its similar products only offer a single year.
Veepeak OBDCheck
Veepeak OBDCheck
Pros
Quick connectivity
Easy to use
Advanced functions with the right apps
Cons
Compatibility issues with some apps
The Veepeak OBDCheck is another great Bluetooth adapter scan tool under $50. Users can do the following using this OBD scanner:
Read and clear codes
Freeze frame data
Smog test, O2 sensor test, and I/M readiness
The device is a solid, sturdy, and compact unit. The build quality feels good, a great sign that the device will last long.
Veepeak OBDCheck is compatible with third-party apps including:
Bimmercode,
Car Scanner ELM
Carista
Dr. Prius
Harry's Lap
OBD JScan
And many more
Enhanced diagnostics besides the CEL is possible on certain vehicles when using the right mobile app.
The scan tool comes with a single year of replacement warranty, which has become a standard with such devices.
Autophix 3210
Autophix 3210
Pros
Easy to use app with regular updates
Explanation provided for fault codes
Compact design
Cons
Can only work with OBDmate
A small OBD2 adapter, the Autophix 3210 can;
Reads and resets CEL,
I/M readiness,
O2 sensor test,
And other functions found in basic scanners.
However, it goes beyond the basics and allows users to run an accurate battery analysis. 
The tool can only work with the OBDmate – a decent free app that is compatible with both iOS and Android.
The fact that it can not work with any other app may deter some users from purchasing the device, but the 90-day money-back guarantee and a 3-years warranty are something first-time users should consider.
Conclusion – Which one should you buy
You're here to get the best bang for your buck. Which OBD2 scan tool should you buy among the six reviewed? 
Our top picks are the Bluedriver and the Autophix 3210. However, that does not mean that the other four devices suck. They are still great options to consider.
Bluedriver – A long-term investment
Bluedriver OBD2 adapter is a best seller product on Amazon with positive reviews, enough of a reason to consider investing in it. The device also covers more vehicles than the other scan tools on our list.
Bluedriver goes beyond basic engine diagnosis by accessing other vehicle modules, performing 10 OBD2 modes, and analyzing engine operation. 
Users can track their vehicle's performance using live graphs and the app is super easy to use. The scan tool works like an auto technician, diagnosing the vehicle, identifying the fault, and even providing a quick solution. 
Packed with so many different features, the device is a great investment as it will take care of all your maintenance needs for years to come, helping you save a lot of cash.
Autophix 3210 – Affordable option for engine live data
Autophix 3210 is a great OBD2 scanner for those on a budget. It is a small Bluetooth adapter capable of basic code reader functions. With a cool battery check feature and a built-in Google search button, the device stands out even in the under $50 range.