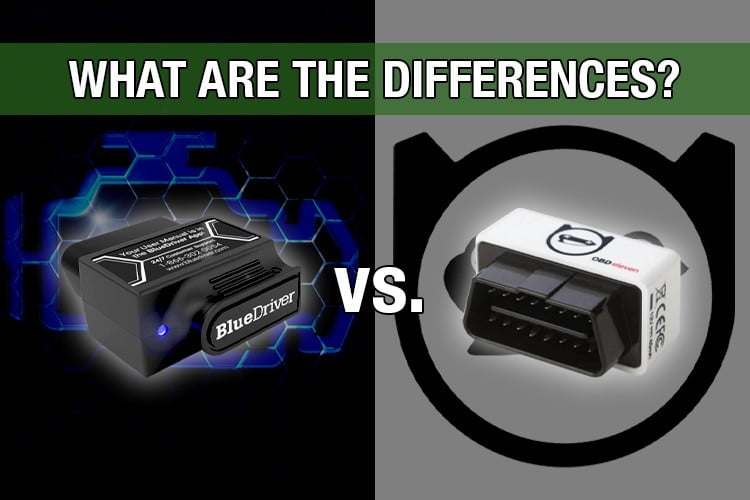 Bluedriver and OBDeleven are advanced OBD scan tools that go beyond the diagnoses of an illuminated CEL.
However, although the two are similar at some point, they are very different when it comes to functionalities. 
Here we will look at these two scan tools in detail and find out which one is worth your money.
|   | Bluedriver | OBDeleven |
| --- | --- | --- |
| Supported vehicles | 1996+ vehicles | Volkswagen, Audi, Seat, Škoda, Lamborghini, Bentley |
| Read & clear OBD2 codes | Faster | Slower |
| Live data | Yes | Yes |
| Graph | Yes | No |
| Other basic OBD2 modes | Yes | Limited |
| Coding | No | Yes |
| Extra fee | No | Yes |
Differences in vehicles coverage
There are two types of supported vehicles:
Supported vehicles for engine module (anything to do with the CEL)
Supported vehicles for other modules (ABS, SRS, transmission, TPMS, etc.)
Supported vehicles for engine module
Bluedriver can support any car model later than 1996.
Obdeleven only supports these cars (and it can access every available module in those): 
Volkswagen
Audi
Bentley
Seat
Škoda
Lamborghini
Supported vehicles for other modules
Bluedriver's supported vehicles for advanced diagnosis:
| | |
| --- | --- |
| Ford | Ford, Lincoln, Mercury |
| GM | Chevrolet, GMC, Cadillac, Buick, Saturn, Pontiac, and more |
| Chrysler | Chrysler, Dodge, Jeep, Ram, and Plymouth |
| Toyota | Toyota, Lexus, & Scion |
| Nissan | Nissan, Infiniti, & Renault |
| Mazda | All Mazdas |
| Subaru | Only vehicles sold in the US |
| Mitsubishi | 2008 models & newer |
| Hyundai | Hyundai & Kia (2011 models & newer) |
| Mercedes | Mercedes & Smart (2005 models & newer) |
| BMW | BMW & Mini sold in North America (2005 models & newer) |
| Honda | Honda & Acura sold in North America (2003 models & newer) |
| Volkswagen | VW, Audi, Lamborghini & Bentley sold in North America |
The Bluedriver is compatible with a lot more vehicles but there is a slight caveat. 
Weirdly enough, this scan tool can only access the engine module to diagnose CEL issues in Seat and Skoda vehicles. 
Note: Unlike the OBDeleven, Bluedriver CAN'T read the SRS codes on Volkswagen, Audi, Bentley, Lamborghini that are older than 2005.
Differences in functions
Although these scan tools have a few similar features, both of these have different functions. 
Mechanics and car owners use Bluedriver to fix their cars. The scan tool collects data and codes on the vehicle and runs them through their database. 
It generates a repair report that users can use to fix their vehicles, helping them save time during diagnoses.
On the other hand, OBDeleven's main function is to turn a vehicle's features on or adjust the programming to increase efficiency and performance. 
What functions Bluedriver has but Obdeleven doesn't
Since the two have different functions, let's look at how Bluedriver is different when compared to OBDeleven.
Read & clear OBD2 codes
To be clear, OBDeleven reads and clears OBD2 codes. But the speed is relatively slower than Bluedriver's.
Moreover, as I mentioned above, OBDeleven has much more limited access to different kinds of vehicles.
Graph live data
OBDeleven can only show one live parameter at once, and it can't graph the live data. 
Bluedriver can help you graph many live parameters on one screen.
When it comes to car diagnosis, viewing different live parameters and how they alter each other can help figure out the real problem. 
Other basic OBD2 modes
Bluedriver also has:
Smog check: This feature scans a vehicle for any potential issues that might lead the car to fail a smog test.
Mode 6: This is an advanced feature that lets users in on the test results of various tests conducted by the vehicle. Some of these tests include checking the oxygen sensor, catalytic converter, and EVAP.
Freeze frame: Freeze frame takes a snapshot of the live data and graphs whenever any fault codes are triggered. OBDeleven only has this feature with the Pro license. 
These are some of the functions that Bluedriver has, but OBDeleven lacks. 
Let's look at some functions OBDeleven has over the Bluedriver.
What functions OBDeleven has but Bluedriver doesn't
Extra fee
Both these scan tools provide similar features that can be used for free. However, while Bluedriver does NOT have any extra fee, OBDeleven does!
OBDeleven comes in four different packages for users. 
Basic
Starter (Device and 100 credits)
Pro (Device, 200 credits, and a 12 month PRO subscription)
Ultimate (Device, 12 months ULTIMATE subscription, phone holder, and carry pouch)
One of the differences of using OBDeleven as compared to the free-to-use Bluedriver is that users have to purchase "credits" to use OBDeleven's unique features. 
"Credits" may be included in the pack, or they can be purchased from their website.
Overall, Bluedriver doesn't have coding features, so you can't really take the extra fee as a minus point for OBDeleven. Just something for you to be aware of.
Long coding 
OBDeleven has long coding, a feature used to configure different options in a control module. You can activate various features of your vehicle that were first inactive.
Adaptation
Adaption is a function where the OBDeleven truly shines.
Using this, you can edit or change the settings in a control module. With a bit of coding, you can improve the performance of your vehicle. 
Be careful! Entering wrong coding can negatively impact your vehicle's parts affecting performance. 
Output test
This function tests the electrical output on the control module and its wiring. It's a great feature to detect electrical faults in a vehicle. Output test is a free-to-use feature.
Caution: Do not conduct an output test while your vehicle is in motion. It can temporarily disable the braking system in your car!
Which one is worth your money?
There is no one product for everything. You need a product that fits your needs best. Both of these are great scan tools that serve different purposes.
If car diagnosis is your thing
Bluedriver
Need help diagnosing your car(s)? Bluedriver is a fantastic and comprehensive scan tool that takes diagnoses a step above entry-level code readers. Being compatible with many different vehicles, Bluedriver is a great option if you regularly do DIY repair.
The tool works well with iOS and Android. Along with one year warranty and free lifetime update, trust me when I say it is worth every penny.
If you want to tune Audi/VW
OBDeleven Starter Pack
Is your vehicle out of tune? Want to change some codes to improve your vehicle's performance? 
The OBDeleven is not only a decent code reader, but it also does a fantastic job tuning your car. You can access features of your vehicle that were present but had to be manually turned on.
These devices are great performers and far better than the entry-level code readers that you get on the market. You can use them as a code reader or get extra functionality according to your needs.