Are you looking for a reliable OBD2 diagnostic scanner? The CGSULIT SC880 can be your best choice. This tool performs all 10 OBD2 functions, all system automotive diagnostics, and over 25 reset service functions.
CGSULIT SC880 automotive diagnostic scanner is a cost-effective option and also compatible with many different vehicle brands and models. Having it in your toolbox will save you the time and cost of diagnosing and maintaining your car.  
Read on as we dig deeper into what CGSULIT SC880 diagnostic tool offers. This review reveals everything you should know about it before buying.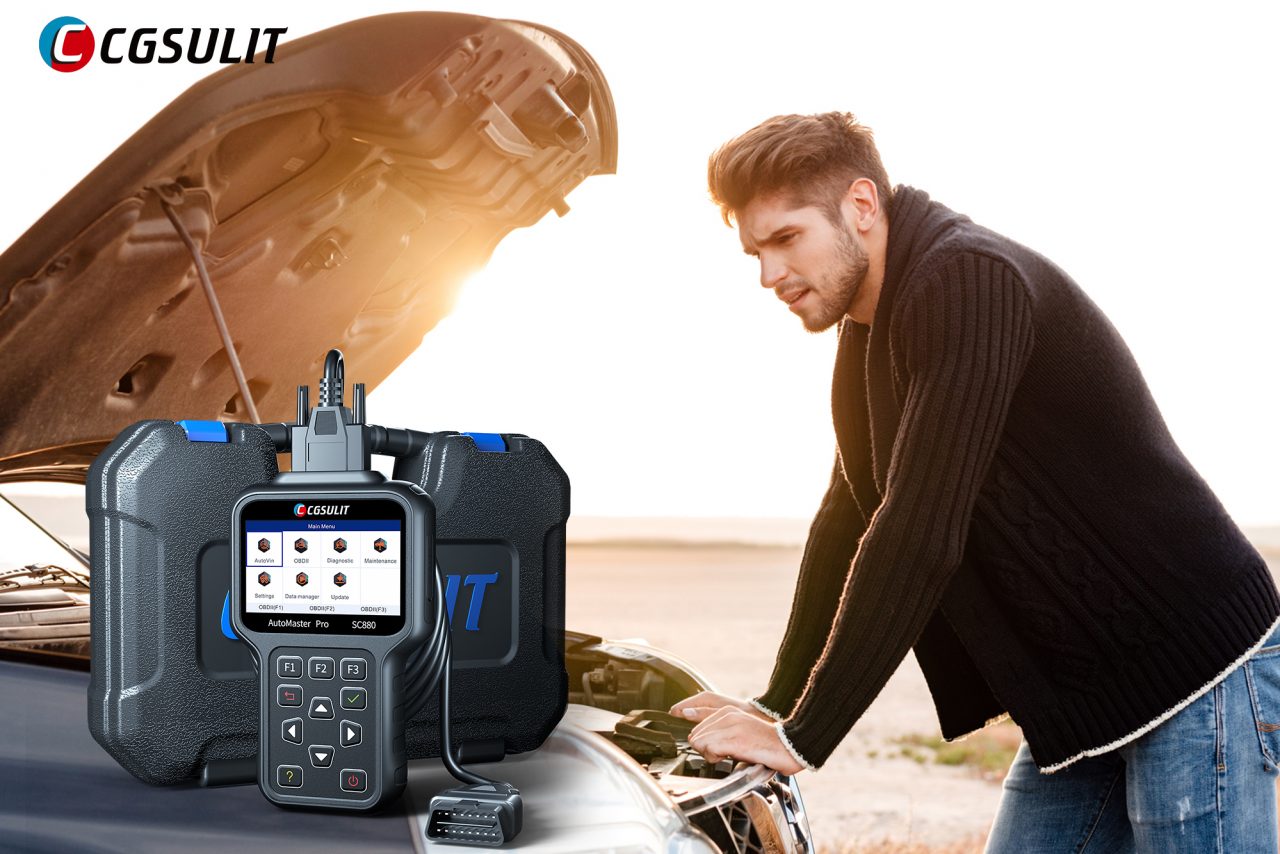 CGSULIT SC880 OBD2 Scanner Review
Price
First thing first, how much does CGSULIT SC880 cost? The price on the official website at the time of this writing is $299.98.
CGSULIT SC880 OBD2 automotive diagnostic tool is relatively affordable compared to other scanners with its capability. It may be the best choice if you want a product within this price range.
Vehicle Compatibility
CGSULIT SC880 OBD2 scanner is compatible with US, European, and Asian vehicles. It supports more than 80 car makes and covers 1000 car models. 
This professional diagnostic scanner covers OBD1, OBD2, and EOBD vehicles from 1995 to the latest 2022 vehicle models. You can use the CGSULIT SC880 tool to diagnose cars, SUVs, Pickup trucks, light-duty trucks, and some GM motor homes. However, it does not support new energy electric vehicles (EV/HEV/PHEV).
Performance
CGSULIT SC880 scanner has many features and functions, which make it one of the best tools available. Let's break it down for easy understanding.
Full OBD2 10 Modes
CGSULIT SC880 auto scanner is a complete tool for OBD2 scanning. It is one of the few tools within this price range which supports all 10 OBD2 functions. 
You can use CGSULIT SC880 to request freeze frame data, oxygen sensor monitoring results, onboard monitoring tests, vehicle information, etc.
Full System Diagnosis
CGSULIT SC880 auto scanner can read and clear diagnostic trouble codes (DTCs) of 98% of vehicle systems such as powertrain, transmission, chassis, electronic systems, etc.
This tool can troubleshoot the following systems:
Engine
ABS
EPB
SRS
Fuel
DPF
Transmission
TPMS
EPS
Battery
Headlamp
Immobilizer
Windows/Door
Keyless Access
LKAS Control
Air Conditioning
Audio, etc.
25+ Service Functions
CGSULIT SC880 has over 25 hot functions, the highest of any automotive scan tool within its price range. That capability makes it suitable for both professional mechanics and advanced DIYers. With it, you can maintain your vehicle and enhance its performance while saving energy and reducing emissions.
Reset service functions supported by CGSULIT SC880 include the following:
Oil Service Light Reset
Electronic Parking Brake
Steering Angle Sensor (SAS) Calibration
Battery Reset
Diesel Particulate Filter (DPF) Regeneration
Tire Pressure Monitoring System (TPMS) Service
Throttle Body Alignment (TBA)
Injector coding
Supplemental restraint system (SRS)/AirBag Reset
Gear learning
A/F Adjust
Seat Match
Odometer Reset
ABS Bleeding
Clutch Adaptation
Headlamp Reset
Transmission Learn, etc.
But note that these service functions are not supported in all vehicle brands and models. Refer to the official website or contact the technical support team to know if your car is on the list for the reset function you want.
Multilingual Support
CGSULIT SC880 diagnostic tool supports over 16 different languages. You can set it to English, Spanish, Japanese, Russian, French, Italian, Portuguese, Polish, Greek, Korean, etc. Other languages also come with every software update.
Trouble Codes Lookup Library
You don't have to be a professional mechanic to use CGSULIT SC880. It is also ideal for DIYers. Thanks to its lookup library with definitions of over 8000 DTCs. You can get a simplified explanation of every fault code stored on the car's system, simplifying the analysis and repair process.
Warranty
CGSULIT SC880 auto scanner is a reliable tool backed up with a 1-year warranty. Additionally, the manufacturer offers lifetime free updates on the firmware. That ensures it supports newer vehicle models that come to the market. The updates also improve its functions and features, fixing known bugs and other glitches.
Outstanding Features
CGSULIT SC880 carries the day compared to auto scanners within its price range. As mentioned, CGSULIT SC880 performs complete system diagnosis. Other scanners only support the engine, transmission, and maybe two more systems. Also, CGSULIT SC880 has over 25 special functions. It beats other tools since most have less than 10 reset functions.
Many OBD2 scanners do not include a DTC lookup library. And even if they do, their libraries are nowhere close to that of CGSULIT SC880. This tool makes diagnosis and repairs a piece of cake for any mechanic or DIYer. It boasts over 8000 fault code definitions.
Lastly, CGSULIT SC880 beats the competition with a free lifetime software update. Some auto scanners within this range do not support software updates, while others require subscriptions to get the latest versions. But for CGSULIT SC880, you get it all free for life. In other words, the scanner allows you to stay up-to-date with new developments in the auto industry. Every new software version has more vehicle coverage, parameters, and functionalities.
What I like and what I don't like about SC880?
What I Like
CGSULIT SC880 is a reliable auto scanner with all standard functions and features every mechanic or DIYer needs. It is the best choice for vehicle diagnosis and maintenance services compared to other tools within its price range. Instead of just displaying fault codes, CGSULIT SC880 also provides a compressive DTC lookup library with code definitions.
I also like the simple design of this auto scanner and its intuitive user interface. It has a large LCD display screen and buttons to help you quickly navigate the menu. Even newbies will find it very interactive to use.
I highly rate the CGSULIT SC880 canning tool because of the following advantages over other scanners:
Lifetime free update
Extensive DTC lookup library
25+ special functions
Full system diagnosis
Wide vehicle coverage
Lightweight and portable
What I Don't Like
According to my assessment, the CGSULIT SC880 auto scanner checks all the boxes with no concerns. The only function it lacks to make a complete diagnostic tool is bidirectional control. CGSULIT SC880 could have been an unrivaled tool with that ability.
Some users have reported having problems updating the software, but that is not a deal breaker. I would have rated it 10 out of 10 if not for the following:
Not straightforward to update
No bi-directional control
Final Thoughts
I recommend CGSULIT SC880 auto diagnostic tool to professional mechanics, car repair shop owners, and DIYers. It is ideal if you want fast and accurate vehicle diagnosis of any system and maintenance. Additionally, this scanner has an extensive DTC lookup library with code definitions to help you better understand fault codes and supports full OBD2 mode functions.
The CGSULIT SC880 diagnostic tool is a perfect product worth every penny. I highly recommend it!