Why should you buy an INNOVA scan tool? They're a great way to find out what's going on under your car's hood, for one thing, and can save you money at the mechanic by letting you make repairs at home. 
Comparing the INNOVA 3020RS vs. 3100RS vs. 3120RS, you'll see all can read engine codes and vehicle emissions levels. In this review, we'll break down their features and coverage side-by-side so you can decide which one is the best OBDII scan tool for your garage. 
INNOVA 3020RS vs. 3100RS vs. 3120RS: Comparison chart
| | | | |
| --- | --- | --- | --- |
| | BEST OVERALL | RUNNER UP | GREAT PICK |
| | INNOVA 3020RS | INNOVA 3100RS | INNOVA 3120RS |
| Customer Rating | | | |
| Price | | | |
| Item Weight | 6.9 ounces | 14.4 ounces | 3.23 pounds |
| Product Dimensions | 7.52 x 3.43 x 2.32 inches | 10.87 x 7.36 x 2.24 inches | 11.33 x 7.36 x 4.29 inches |
| Supported Protocols | OBD2 | OBD2 | OBD2, OBD1 (with included adapters) |
| Smog Test | ✔️ | ✔️ | ✔️ |
| Check Engine Light | ✔️ | ✔️ | ✔️ |
| Live Data | ❌ | ✔️ | ✔️ |
| ABS | ✔️ | ✔️ | ✔️ |
| SRS | ❌ | ✔️ | ✔️ |
| Oil Reset | ❌ | ✔️ | ✔️ |
| Battery/Alternator Testing | ❌ | ✔️ | ✔️ |
| Code Severity Levels | ✔️ | ✔️ | ✔️ |
| All-in-one Display & Hotkeys | ✔️ | ✔️ | ✔️ |
| OBD1 Adapter Kit | ❌ | ❌ | ✔️ |
| | | | |
INNOVA 3020RS vs. 3100RS vs. 3120RS: Detailed comparison
Key things in common
The basic design is the same for the INNOVA 3020RS, 3100RS, and 3120RS. All are portable hand-held INNOVA scanners with an easy to read display and intuitive button navigation. One handy shared design feature is the 3-LED green/yellow/red indicator, which shows you at a glance whether your car will pass a smog test. 
You can also use INNOVA's RepairSolutions2 app with the 3020RS, 3100RS, or 3120RS. This gives you access to verified repair suggestions specific to your vehicle, lets you easily find and purchase replacement parts, and shows you any recalls or technical bulletins for your car or truck. 
These scanners share some functions, too, like reading and clearing engine trouble codes and checking the engine's emissions status. Basically, you can use any of them as an code reader for any OBD2-compliant vehicle.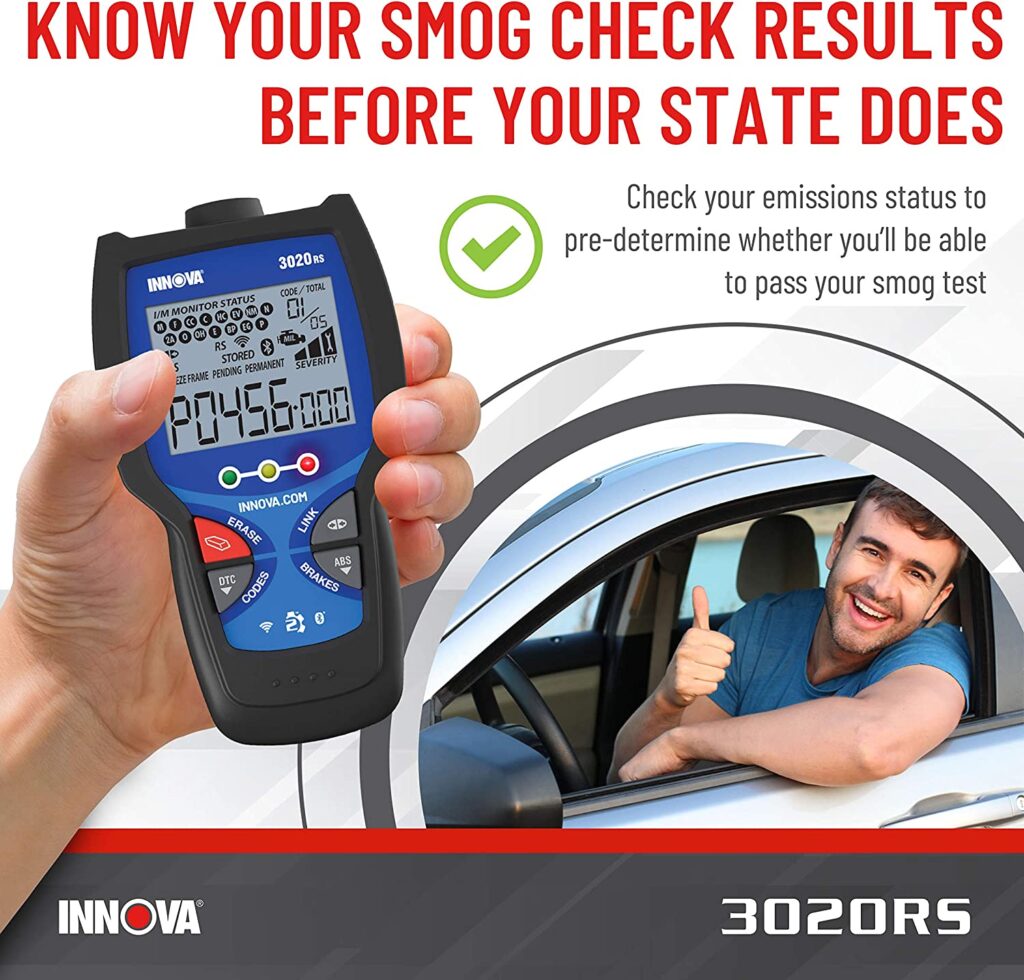 Key differences
Design and specifications
The INNOVA 3020RS is compact and simple in its design, with a 4-button interface and a black-and-white display. On the plus side, the display is quite detailed, showing up to 20 pieces of information at once. It can be tricky to read and interpret, though, especially for automotive beginners. 
The screens of the 3100RS and 3120RS are full color, and we find that makes them easier to read. You'll still get up to 20 pieces of information on-screen at a time, but it's better to interpret all of that data. 
While the button panel of the 3020RS is more straightforward, the expanded options for navigating the INNOVA 3100RS and 3120RS make sense, considering they offer more features. Having more hotkeys lets you diagnose issues more quickly once you learn how to navigate the OBD2 diagnostic tool. 
Overall features and functions
You can think of the 3020RS as an OBD2 code reader. Its primary function is to read and clear diagnostic trouble codes (DTCs) from the engine so you can turn off the check engine light. The 3020RS will also check vehicle emissions in preparation for a smog test, but its ability to read engine data is limited.
The INNOVA 3100RS is a more in-depth OBDII scanner. Along with retrieving trouble codes, it shows the freeze frame data from when the code was triggered. You can also use it to read real-time live data like the oil temperature and RPMs, which helps troubleshoot problems and make repairs. 
The basic functions of the 3120RS are similar to those of the 3100RS. This includes streaming and graphing live data, reading freeze frame information, and clearing trouble codes to turn off the check engine light. 
Extra features/functions
With 3020RS, you can read codes from the anti-lock brake (ABS) system for most vehicles made after 2006. That's an unexpected feature from an OBD2 scanner at this price point. 
The extra functions of the INNOVA 3100RS and 3120RS are similar. Both scanners can read ABS and SRS (airbag) codes from most vehicles made after 1996. This gives them a lot of diagnostic power when combined with their live data scanning and graphing capabilities.
You'll get some basic repair functions on the 3100RS and 3120RS, as well. The charging system test tells you if your battery and alternator function correctly or if you should replace them. They also support oil reset so you can turn off the oil light after changing the car's oil at home. 
Supported protocols
This is where the INNOVA 3120RS has a distinct advantage. It supports all 5 OBD2 protocols, including CAN networks. In addition, it supports many OBD1 protocols and comes with OBD1 adapters for common manufacturers like Chrysler, Ford, GM, Honda, and Toyota. 
The 3100RS and 3020RS support all universal OBD2 protocols but don't have the OBD1 support of the 3120RS.
Supported vehicle makes
For OBD2 functions, the 3020RS and 3100RS support all vehicles sold in the United States after 1996, including hybrid vehicles. That compatibility is more limited for extra features like ABS/SRS diagnosis, oil reset, and battery testing. 
The INNOVA 3020RS can read ABS codes from most vehicles made after 2006, but it does have some gaps. Similarly, the ABS/SRS support of the 3100RS and 3120RS varies depending on the manufacturer, and the battery testing function won't work for hybrid vehicles. 
The INNOVA 3120RS has the broadest vehicle support. Since it works with many OBD1 vehicles, it can diagnose the majority of cars and trucks made since 1985. That makes it a better choice for owners of older vehicles. 
If you want to verify which features are available for your vehicle, use a compatibility checker on their website that can help. Enter your vehicle information and choose a tool, and it will show you the specific supported functions. 
Software and updates
All three tool are plug-and-play and can be used right out of the box. If you do need to update them, doing so is free for life. You can find all updated files, along with instructions for installing them, at the INNOVA support page.
This is also where you can download the RepairSolutions2 app for Windows. There's also an Android and iOS version (available through the Google Play Store and Apple App Store, respectively).
One thing to note is that you'll need a Windows-based PC to download any tool updates. That's not a huge issue for most, though, considering you can still access up-to-date technical bulletins and recall information through RepairSolutions2 on any device. 
Pros and cons of 3020RS vs. 3100RS vs. 3120RS
INNOVA 3020RS OBD2 code reader
Pros
Read and clear codes from the engine and ABS
At-a-glance smog test indicator
Works with any OBD2-compatible vehicle
Simple, compact design
Most affordable option
Cons
Black and white display is more difficult to read
No freeze frame data or live data
Check Price at Amazon
INNOVA 3100RS OBD2 scanner
Pros
Reads engine, ABS, and SRS trouble codes
Shows freeze frame data for engine DTCs
Live data streaming and graphing capability
Oil light reset lets you change oil at home
Wide vehicle support for ABS, SRS, and engine diagnostics
Wi-Fi and Bluetooth enabled
Cons
Doesn't work with vehicles made before 1996
Check Price at Amazon
INNOVA 3120RS OBD2 scan tool
Pros
3-system code reading (engine, ABS, SRS)
Multiple hotkey options for easy, fast diagnosis
Reads live data and freeze frame data
Supports battery testing and oil reset
Widest vehicle support
Includes adapters for OBD1 vehicles
Cons
Not as compact
Higher cost
Check Price at Amazon
Recommendation
For us, INNOVA 3020RS is the best OBD2 scan tool for everyday drivers because it's easy to use, super portable, and is affordable enough for any budget. 
The INNOVA 3100RS and 3120RS are great tools for more advanced DIYers. They have features lacking from the 3020RS that allow you to troubleshoot and repair problems, like live data and oil reset. 
If you mostly diagnose newer cars, the 3100RS is the better value. Conversely, owners of vehicles made before 1996 will appreciate the OBD1 coverage of the 3120RS, which is its main advantage over the other tools. 
FAQs
❓ Can the INNOVA 3020RS read pending and manufacturer-specific trouble codes?
In most cases, yes. The 3020RS supports all universal OBD2 protocols and can read pending or manufacturer-specific codes that use them. However, it doesn't support proprietary protocols like Ford's MS-CAN. 
❓ Do you need to download the RepairSolutions2 app to use these scan tools?
No. The RepairSolutions2 app is optional. You'll get more information and repair suggestions if you use the app, but these scanners will work right out of the box. No app required. 
❓ Does the INNOVA 3100RS read transmission codes or data?
Some transmission trouble codes are included in OBD2 diagnostics. Those codes can be viewed with the 3100RS, but it won't read non-OBD2 transmission codes or data. 
❓ Can the 3120RS adjust the odometer?
No. You can read information like your speed and RPMs with this scan tool, but it doesn't have the bi-directional control required to make changes. 
❓ Do these scan tools work with diesel engines?
Yes, as long as the vehicle uses OBD2 protocols. Some heavy-duty diesel trucks use a different diagnostic protocol. You can check your repair manual if you're unsure what kind of on-board diagnostics it uses, or enter your vehicle information on INNOVA's compatibility checker to verify if these tools work with your engine. 
Final thoughts
Choosing between the INNOVA 3020RS vs. 3100RS vs. 3120RS comes down to two factors: functionality and coverage. Everyday drivers will find the 3020RS offers the best bang for their buck. 
If you want a scanner that supports DIY repairs, both the 3100RS and the 3120RS fit the bill. While they're a bit pricier than the 3020RS, they're still an excellent value for the features and coverage.
We hope this review has helped you pick the right one for your needs and budget!