Are you looking for the best scan tool but don't have a lot to spend? The AUTOPHIX OM129 or OM126P could be your answer, giving users fast code and data reading in a portable, affordable package.
Comparing the AUTOPHIX OM129 vs. OM126P, you'll see they're similar in overall design and function. You can think of the OM129 as an upgraded version of the OM126P, with a few extra diagnostic features and a more user-friendly interface. 
Let's check them side by side so you can see the differences between them and decide which one is the best fit in your garage.
AUTOPHIX OM129 vs. OM126P: Comparison chart
| | | | |
| --- | --- | --- | --- |
| | BEST OVERALL | RUNNER UP | GREAT PICK |
| | AUTOPHIX OM129 | AUTOPHIX OM126P | ANCEL AD530 |
| Customer Rating | | | |
| Price | | | |
| Item Weight | 1.1 pounds | 11.2 ounces | 15.2 ounces |
| Product Dimensions | 10 x 5 x 3 inches | 9 x 1.5 x 6.4 inches | 10.12 x 7.09 x 1.69 inches |
| Total Language Supported | 16 | 10 | 16 |
| Screen | 2.8-inch TFT true color | 2. 4" TFT 262K true color LCD | 2.8-inch TFT true color |
| Read/Clear DTCs | ✔️ | ✔️ | ✔️ |
| One-click I/M Readiness | ✔️ | ✔️ | ✔️ |
| Live Data | ✔️ | ✔️ | ✔️ |
| DTC Look-up | ✔️ (with repair advice) | ✔️ (definition only) | ✔️ (with repair advice) |
| O2 Sensor | ✔️ | ✔️ | ✔️ |
| EVAP | ✔️ | ✔️ | ✔️ |
| Battery Test | ✔️ | ❌ | ✔️ |
| Compatible Platform | Windows XP/7/8/10 | Windows XP/7/8/10 | Windows 7/8/10 |
| Update Method | Via PC | Via PC | Via PC |
| | | | |
AUTOPHIX OM129 vs. OM126P: Detailed comparison
Key things in common
The AUTOPHIX OM129 and OM126P are similar in their overall design. Both are compact hand-held scan tools with true color TFT displays and straightforward navigation buttons with hotkeys for the most frequently used functions. 
Neither of these tools needs external power, another reason they're perfect for on-the-go diagnostics. Instead of using internal batteries, they use the vehicle's battery through the OBD2 port.  
Many of those functions are shared by both tools, too. The AUTOPHIX OM129 or OM126P can be an effective OBD2 code reader for most vehicles made after 1996. With a plug-and-play design and lifetime free updates, either one is an affordable, user-friendly choice for everyday drivers.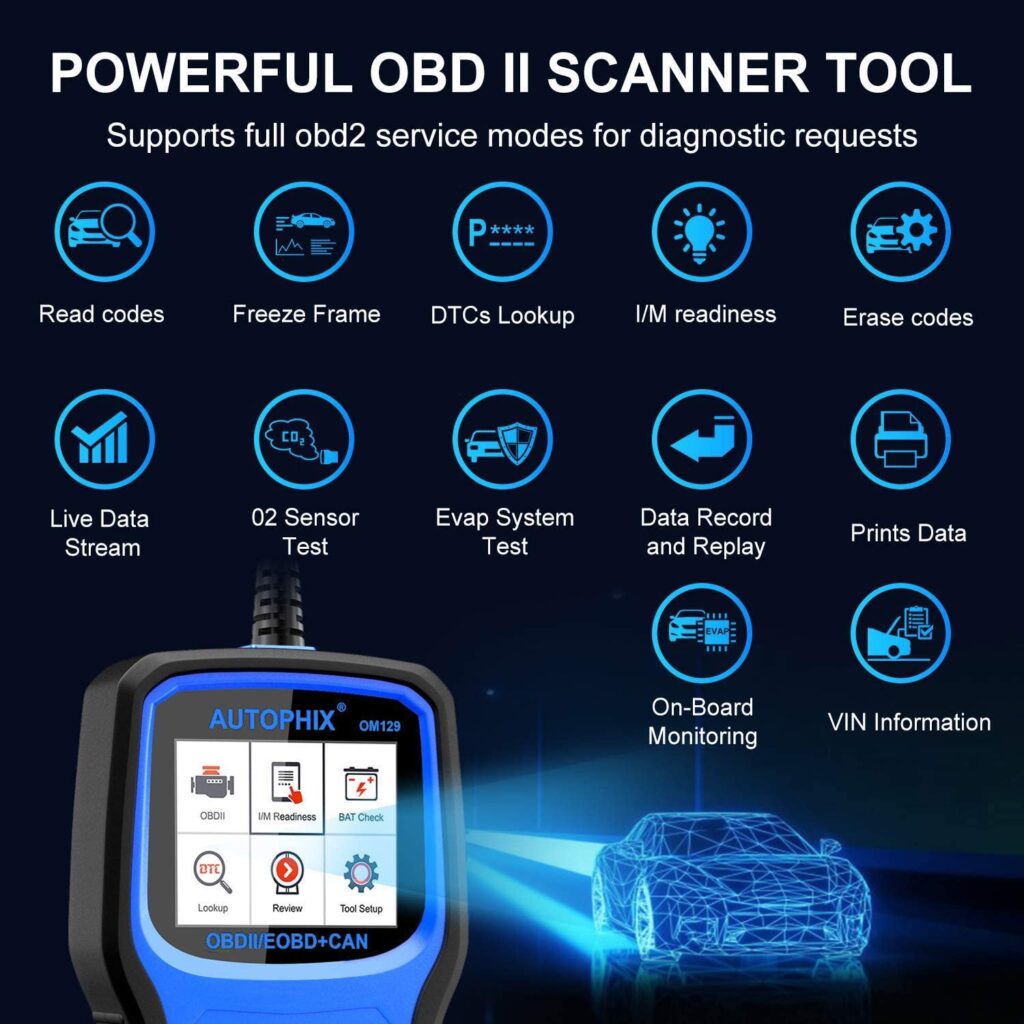 Key differences
Design and specifications
The OM129's display screen is 2.8 inches, slightly larger than the 2.4-inch screen of the AUTOPHIX OM126P. It's a slight but noticeable difference and makes the AUTOPHIX OM129 easier to read, especially for those whose eyesight isn't perfect. 
Navigating the menus on the OM129 is faster since it has 4-direction navigation buttons, as opposed to the up/down controls on the OM126P. Its hotkeys are more sophisticated, too. The OM126P has a "Read DTC" hotkey that shows you all triggered trouble codes. Pressing the "i" hotkey on the AUTOPHIX OM129 shows the code, its definition, and possible repairs, letting users troubleshoot and fix problems more quickly. 
Overall features and functions
The AUTOPHIX OM126P has 14 total functions and is a useful OBDII scan tool. It reads and clears trouble codes, including pending and permanent codes, and can show both freeze frame and live data in graph or text format. 
One-click I/M readiness is another handy feature of the AUTOPHIX OM126P, letting users quickly check if their car is ready for a smog test. Its emissions testing features are wider than what you'd expect from an OBD2 scanner at this price, including O2 sensor tests and EVAP system leak tests.
All of these OBD2 functions are supported on the OM129, too – and it does them better and faster. The 32-bit CPU inside the OM129 can process live data more quickly with a higher degree of accuracy. Up to 4 parameters can be graphed and compared at once, and all data can be saved and printed via PC, helpful for creating a repair log or sharing diagnostic data with a mechanic. 
Extra features/functions
Along with its functions as an OBD2 diagnostic tool, the AUTOPHIX OM129 tests battery voltage and shows that data in real-time with an on-screen graph. That means it can diagnose problems with your charging system and tell you when it's time to change the battery.
You don't get this function on the more basic OM126P code reader. 
Supported protocols
The OM129 and OM126P support all 5 OBD2 protocols, including J1850PWM, J1850 VPW, ISO9141, KWP2000 (also called ISO14230-4), and CAN networks.
Additionally, the AUTOPHIX OM129 supports EOBD protocols for European-made vehicles. 
Supported vehicle makes
You can use the AUTOPHIX OM126P or OM129 with any vehicle that uses OBD2 protocols. This includes most cars, SUVs, and light trucks sold in the United States after 1996. 
Many internationally manufactured vehicles now use OBD2 protocols, particularly brands that are popular in North America. These two scanners can also diagnose European cars made after 2000 and Asian cars made after 2006.
The OM129 is a better choice for international users because it supports EOBD protocols, giving it a more extensive vehicle coverage than the OM126P.
One thing to note: the battery tester of the OM129 doesn't support hybrid electronic clusters. It can still diagnose the engine of OBD2-compliant hybrid cars, but it can't test a hybrid battery's voltage. 
Software and updates
The AUTOPHIX OM126P and OM129 come ready to use right out of the box, no need to update or register before using. If you do want to update the tool's software, you can do so free for life. Check the AUTOPHIX website for the current software version. 
You'll need a PC running Windows XP, 7, 8, or 10 to download and install updates. The same is true for saving and printing diagnostic data, which can only be done via a USB connection with a Windows-based computer. 
Pros and cons of OM129 vs. OM126P
AUTOPHIX OM129 OBD2 scanner
Pros
Larger screen 
Provides DTC definitions with repair suggestions
Wide range of OBD2 diagnostic functions
Supports OBD2 and EOBD protocols
Battery testing function
Cons
Battery testing won't work on hybrids
Requires Windows PC to update or print data
Check Price at Amazon
AUTOPHIX OM126P OBD2 code reader
Pros
Easy to use right out of the box
Full-color screen with data graphing
14 OBD2 diagnostic functions
Works with all OBD2-compatible vehicles
More affordable
Cons
No battery testing
DTC library is more limited
Check Price at Amazon
Recommendation
The AUTOPHIX OM126P is the best choice for everyday drivers on a budget. It's a bit cheaper than the OM129 and offers similar code and data reading capability. This is also the better choice for hybrid owners who won't get any value out of the battery testing on the OM129.
On the other hand, the AUTOPHIX OM129 is the better OBDII scanner. In our opinion, its faster data processing, battery testing, and informative code library are worth the slightly higher cost, and it's our top recommendation for beginning DIYers. 
FAQs
❓ Can the OM129 or OM126P read transmission data?
💡 It depends. Major issues with the transmission will trigger codes you can retrieve with these tools. Other transmission codes and data use a different diagnostic protocol not supported by these code readers, though. For more complete transmission diagnostics, a 4-system or all-system diagnostic tool is a better choice. 
❓ Can these AUTOPHIX scanners diagnose diesel engines?
💡 Yes, as long as they use OBD2 diagnostic protocols. Most cars and light trucks that use a 12-volt battery are included in this category, but some heavy-duty trucks aren't. Check your vehicle's repair manual if you're not sure what system it uses. 
❓ Is there a warranty for OM129 or OM126P?
💡 Yes. Both tools are covered by a 1-year warranty starting from the initial date of purchase. You can check the AUTOPHIX support page for more information. 
❓ Will these scanners turn off other dash lights, like the oil or airbag light?
💡 Unfortunately, no. They can clear DTCs to turn off the check engine light (MIL) but cannot clear or reset other dash warning lights. 
❓ Do I need to update these tools to continue using them?
💡 No, they're ready to use as-is. Updates are typically made to expand the coverage range. As long as the tool works for your car, it will continue to do so even if you never update it. 
Final thoughts
If you're looking for an affordable way to find out what's going on under the hood, AUTOPHIX OM129 and OM126P are both excellent choices. Most will find the superior diagnostics of the OM129 are worth the extra cost.
Whichever tool you buy, you'll end up saving money in the long run by troubleshooting engine trouble in your home garage.