Are you looking for the best BMW scan tool? Comparing the AUTOPHIX 7910 vs. 7810 vs. FOXWELL NT510 Elite, all three are strong contenders for the title. 
These scan tools have broad diagnostic power and a range of reset functions compatible with BMW, Rolls Royce, and Mini vehicles. You can use any of them as an OBD2 code reader for a wide range of vehicles, too, making them versatile tools to have on hand. 
Choosing between these scan tools is a matter of deciding which features you need and how much you want to spend. Let's take a closer look at their capabilities so that you can find the right one for you. 
AUTOPHIX 7910 vs. 7810 vs. FOXWELL NT510 Elite: Comparison chart
| | | | |
| --- | --- | --- | --- |
| | BEST OVERALL | RUNNER UP | GREAT PICK |
| | AUTOPHIX 7910 | FOXWELL NT510 Elite | AUTOPHIX 7810 |
| Customer Rating | | | |
| Price | | | |
| Item Weight | 1.3 pounds | 1.41 pounds | 9.6 ounces |
| Product Dimensions | 9 x 4 x 2.5 inches | 7.87 x 1.5 x 3.94 inches | 3.5 x 1.2 x 6.5 inches |
| Supported Protocols | OBD2 | OBD2, OBD1 | OBD2 |
| Full OBD2 Diagnostics | ✔️ | ✔️ | ✔️ |
| Oil Reset | ✔️ | ✔️ | ✔️ |
| TPMS Reset | ✔️ | ✔️ | ❌ |
| ABS Bleeding | ✔️ | ✔️ | ❌ |
| ECU Reset | ✔️ | ❌ | ✔️ |
| Throttle Position | ✔️ | ✔️ | ❌ |
| Bi-Directional Control | ❌ | ✔️ | ❌ |
| Battery Registration | ✔️ | ✔️ | ✔️ |
| | | | |
AUTOPHIX 7910 vs. 7810 vs. FOXWELL NT510 Elite: Detailed comparison
Key things in common
The AUTOPHIX 7910, AUTOPHIX 7810, and FOXWELL NT510 Elite are all compact hand-held OBD2 scan tools. While there are subtle differences in the exterior design, all three use an easy to read color screen and intuitive button interface. This makes them convenient ways to diagnose automotive issues anywhere.
Functionally, there are also similarities. All three support full OBD2 diagnostics for most vehicles on the road. Besides, they have extra functions for BMW vehicles, including multi-system diagnosis and reset features that make them an excellent value for the money.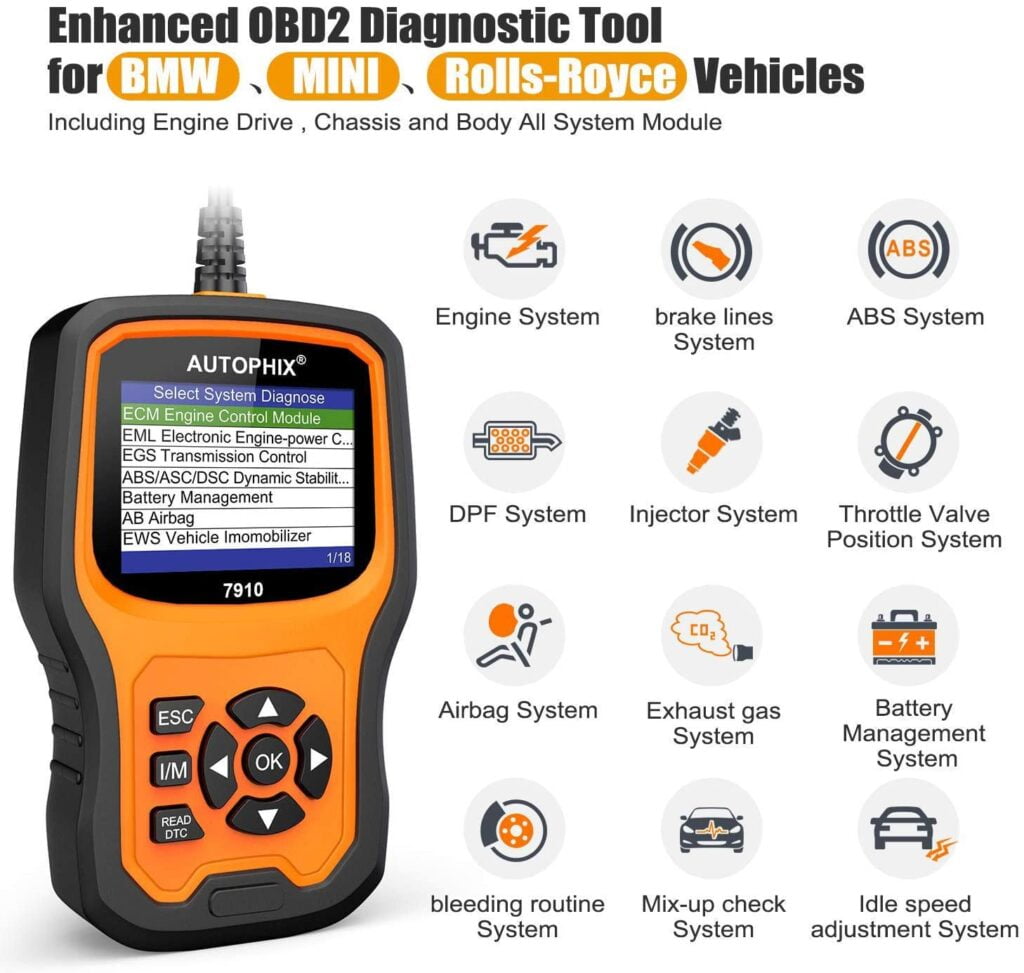 Key differences
Design and specifications
The design of AUTOPHIX 7810 is the simplest of the three. This AUTOPHIX scan tool uses direction buttons for navigation with a single I/M Readiness hotkey. 
The AUTOPHIX 7910 is a bit larger than the 7810 but also has a more advanced design. Its screen is both larger and has a higher resolution, especially helpful for interpreting graphed data. Its keypad also includes hotkeys for DTCs and I/M readiness for quick engine troubleshooting. 
Of the three, the FOXWELL NT510 Elite is the most complex, with three assignable hotkey buttons. Professional mechanics will appreciate it's also the most durable OBD2 diagnostic tool, with a sturdy rubberized sheath that prevents damage from drops or impacts. 
Universal features and functions
All three can function as a generic OBDII scanner for any vehicle compatible with the diagnostic protocol. They support all 10 OBD2 modes that let you read and clear trouble codes, view live and freeze frame data, or check the vehicle's emission status. 
The NT510 Elite FOXWELL scanner also saves and plays back diagnostic data. You can even print this data through a connected PC, a practical option for sharing reports with a mechanic. 
Advanced features/functions
This is where these scanners really shine and where you'll see the most differences between them. Keep in mind, with all of these tools, the advanced functions are limited to select vehicles (more on that later).
The AUTOPHIX 7810 has the fewest advanced functions, although it's still a very comprehensive OBDII scan tool. It diagnoses 103 vehicle systems, including the transmission, airbags, and anti-lock brakes. You can also use it to register a new battery, reset the oil light, force DPF regeneration, and more. 
All features of the AUTOPHIX 7810 are also included on the 7910 and done better in many cases. Its data reading from non-OBD2 systems is more robust. Besides, it provides TPMS maintenance functions, letting you reset the system after rotating or replacing the tires. 
One noteworthy feature of the AUTOPHIX 7910 and 7810 is extensive ECU reset control. They can perform tasks like clearing EGS adaptations, idle speed adjustment, and re-learning fuel injectors. That's an incredible level of control for an OBD2 scanner in this price range. 
Bi-directional control is the advanced standout function of the FOXWELL NT510 Elite. This enables you to manually control and test engine components like sensors and valves for easier troubleshooting. Included service functions like throttle body adjustment and brake bleeding round out its professional features. 
Supported protocols
The AUTOPHIX 7910 and 7810 support all 5 OBD2 protocols: SAE J1850 VPW, SAE J1850 PWM, ISO 9141-2, KWP2000, and CAN networks. 
In addition to the protocols listed above, the FOXWELL NT510 Elite also supports OBD1 protocols used in vehicles made prior to 1996. 
Supported vehicle makes
For basic diagnostics, all of these tools have universal compatibility with any OBD2-compatible vehicle. They work with cars, SUVs, and light trucks sold in the United States after 1996. 
The advanced features of the AUTOPHIX 7910 and 7810 are available for all BMW models after 2001 and most from 1998-2001. It also works with many Minis (R50, R52-R61, F54-F56, and F60) and Rolls-Royce RR1-RR5 series vehicles. 
The FOXWELL NT510 Elite has the widest vehicle support. It offers advanced functions for most BMW, Mini, and Rolls Royce models, including older vehicles not covered by other tools. 
Software and updates
Software updates are free for life with all of these scan tools.
To update the AUTOPHIX 7910 or 7810, go to the AUTOPHIX support page and find your scanner's model number on the list. You will need to connect the OBD2 scan tool to a Windows PC to install the update as they're not compatible with Apple operating systems. 
You can manage updates to the FOXWELL NT510 Elite through the FoxAssist app. Similar to the AUTOPHIX tools, it requires a Windows PC to run.
Pros and cons of 7910 vs. 7810 vs. NT510 Elite
AUTOPHIX 7910 BMW OBDII scanner
Pros
Full OBD2 diagnostics for any vehicle
Diagnoses all systems of BMW vehicles
Broad reset functions, including TPMS reset
ECU relearn and adaptation functions
Updates are free for life
Cons
Doesn't support BMWs made before 1998
No bi-directional control
Check Price at Amazon
FOXWELL NT510 Elite BMW scan tool
Pros
Bi-directional control for active testing
Reads data from all on-board systems
Full range of maintenance functions
User-friendly interface with assignable hotkeys
Supports both OBD1 and OBD2
Cons
Higher cost
Limited adaptation functions
Check Price at Amazon
AUTOPHIX 7810 BMW OBD2 scanner
Pros
Read codes and data from 103 systems
Wide range of reset functions
ECU functions include clearing adaptations
Intuitive user interface
Most affordable option
Cons
No TPMS reset
Advanced functions won't work on older BMWs
Check Price at Amazon
Recommendation
Firstly, the AUTOPHIX 7810 is our top pick for everyday BMW drivers. While it's missing some of the features of the 7910, it's one of the most powerful diagnostic tools you'll find for less than $100. That also makes it the best choice for buyers on a budget. 
Next, AUTOPHIX 7910 is the best option for advanced DIY mechanics. Since it includes TPMS reset and supports all the repair functions you'll need to keep your vehicle in top form. 
We recommend the FOXWELL NT510 Elite to advanced mechanics, too, but it's also the best choice for professionals. Mostly that's due to its broad vehicle coverage, including older vehicles that use OBD1 protocols. 
FAQs
❓ Can the FOXWELL NT510 Elite read manufacturer-specific codes?
💡 For BMWs, it absolutely can. However, it doesn't support proprietary protocols for other brands like Ford's MS-CAN and may not read manufacturer-specific codes from those vehicles. 
❓ Does the AUTOPHIX 7910 work with BMWs that use a 20-pin diagnostic port?
💡 In most cases, yes, though you will need to purchase an adapter since this tool only comes with a 16-pin plug. 
❓ Will the AUTOPHIX 7810 work with BMW motorcycles?
💡 Unfortunately, no. Motorcycles don't need to use OBD2 protocols (current law), and most use a different diagnostic system. The main targets of this scan tool are 4-wheeled vehicles like cars, SUVs, and pickup trucks. 
❓ Can the AUTOPHIX 7810 program the electronic motor electronics (EME)?
💡 No. You can read and clear codes from the EME using 7810, but it doesn't support any programming features.
❓ What is the warranty coverage offered for the FOXWELL NT510 Elite, AUTOPHIX 7910, and 7810?
💡 All three scan tools come with a 1-year limited warranty. To take advantage, you'll first need to register your scanner with the company, which you can do at the manufacturer's website. 
Final thoughts
Buying a scan tool specific to your vehicle gives you access to more features for your money. The truth is, the FOXWELL NT510 Elite, AUTOPHIX 7910, and AUTOPHIX 7810 all give you a great bang for your buck. 
Think about which features you plan to use. If you're mostly interested in reading codes and performing basic maintenance like oil changes, the AUTOPHIX 7810 will meet your needs. More advanced repairs could call for a more advanced tool.
Whichever way you go, you can count on any of these scan tools for reliable, accurate data and big savings at the mechanic.