For BMW owners, an ANCEL scanner can be an affordable and effective way to monitor and improve your vehicle's performance. Comparing the ANCEL BM500 vs. BM700, you'll see both offer impressive features for the price.
While the ANCEL BM500 offers the best value, the advanced functions of the BM700 make it a more appealing option for professionals and advanced home mechanics. 
If you're unsure which ANCEL OBDII scan tool is the best one for you, read the review and comparison below. We'll break down the key features side by side so you can decide which of these excellent tools will be most useful in your garage. 
ANCEL BM500 vs. BM700 vs. AUTOPHIX 7910: Comparison chart
| | | | |
| --- | --- | --- | --- |
| | BEST OVERALL | RUNNER UP | GREAT PICK |
| | ANCEL BM700 | ANCEL BM500 | AUTOPHIX 7910 |
| Customer Rating | | | |
| Price | | | |
| Item Weight | 1.28 pounds | 12.6 ounces | 1.3 pounds |
| Product Dimensions | 6.1 x 4 x 1.2 inches | 9.13 x 6.38 x 1.54 inches | 9 x 4 x 2.5 inches |
| DTC and I/M Readiness Hotkeys | ✔️ | ❌ | ✔️ |
| Oil Reset | ✔️ | ✔️ | ✔️ |
| Battery Maintenance and Registration | ✔️ | ✔️ | ✔️ |
| EPB Service | ✔️ | ✔️ | ✔️ |
| EGS Adaptation | ✔️ | ❌ | ✔️ |
| DPF Regeneration | ✔️ | ❌ | ✔️ |
| Injector Coding | ✔️ | ❌ | ✔️ |
| SAS Calibration | ✔️ | ❌ | ✔️ |
| | | | |
ANCEL BM500 vs. BM700: Detailed comparison
Key things in common
At first glance, the ANCEL BM500 and BM700 are very similar. These compact hand-held ANCEL scan tools have a user-friendly interface with an easy to read full-color screen. 
They're functionally similar, as well. The BM500 and BM700 can work as an OBD2 code reader for any 12-volt OBDII-compliant vehicle. For vehicles made by BMW, Rolls Royce, or Mini, either ANCEL scan tool will perform advanced diagnostic and reset functions well beyond what you'd expect from a scanner at this price point.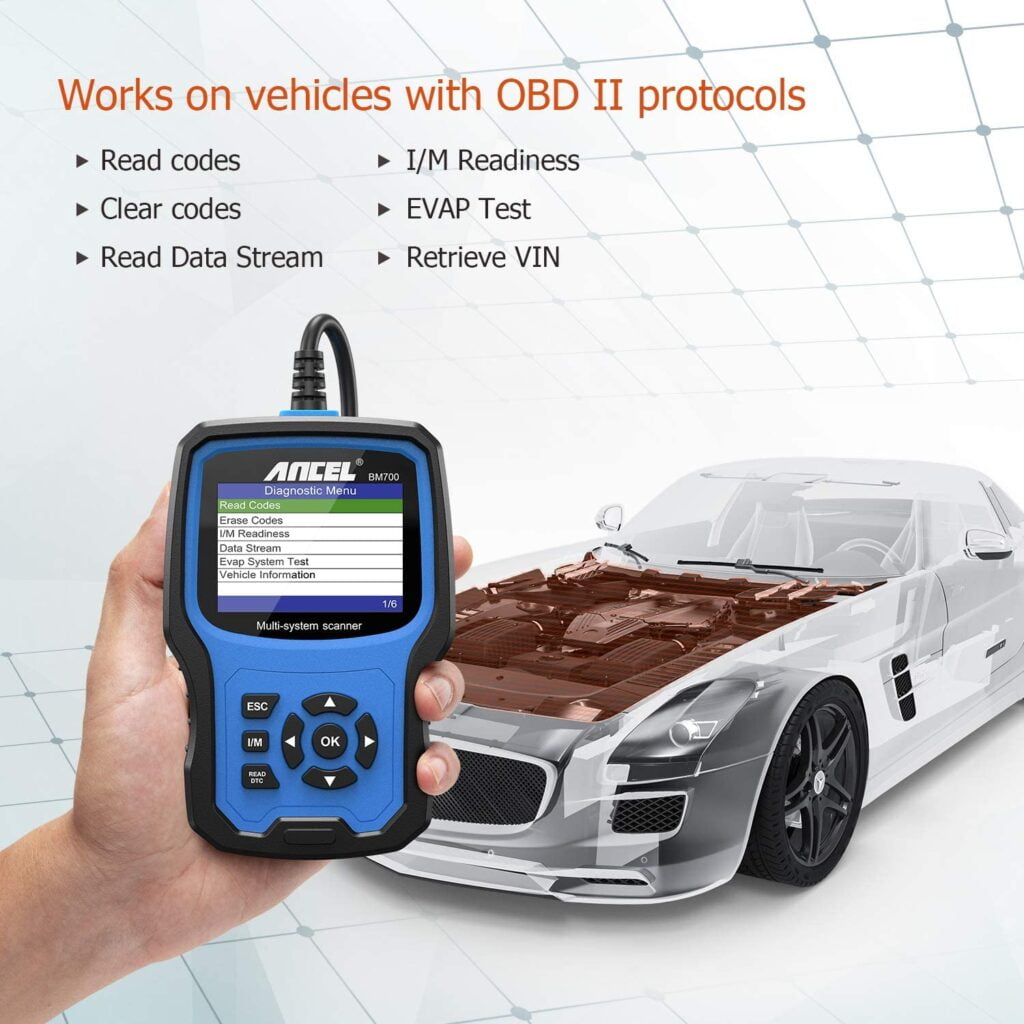 Key differences
Design and specifications
The design differences between the ANCEL BM500 and BM700 are subtle. The BM700 has a slightly larger screen, making it easier to read graphed information and other data. Its button panel also has two convenient hotkeys for quickly checking emissions or reading fault codes, which you won't find on the simpler interface of the BM500. 
Overall features and functions
Firstly, the base features of the ANCEL BM500 are focused on OBD2 diagnostics. It's a useful OBD2 scan tool, with functions like reading and erasing trouble codes, viewing freeze frame or live data, and checking whether your vehicle is ready for an emission test. Additionally, it can test the battery voltage to help diagnose starting issues. 
BM700 offers similar basic functions, with battery testing and 6 modes of OBD2 testing available for vehicles from any manufacturer. It's a robust OBD2 scanner, capable of testing the EVAP system and retrieving VIN information along with reading codes and viewing PID data streams.  
Extra features/functions
For BMW Group vehicles, the ANCEL BM500 is an all-system OBD2 diagnostic tool. It reads and clears trouble codes from all the on-board systems, including the transmission, HVAC system, and even your headlights and audio system. Bi-directional control lets you activate specific components in the ABS or SRS systems and more easily identify the source of trouble codes. 
The ANCEL BM500 also supports a range of useful maintenance functions for vehicles in the BMW group. DIY mechanics will love features like battery registration, oil reset, and electronic parking brake service, allowing you to perform necessary vehicle maintenance at home. 
Whereas, BM700 adds a range of professional features to the advanced functions offered on the BM500. This includes calibration and programming features like relearning the steering angle, injector coding, and idle speed adjustment, giving you complete control over the vehicle's performance. 
Supported protocols
The ANCEL BM700 and BM500 both support all OBD2 protocols, including J1850 VPW, J1850 PWM, ISO9141, KWP2000, and CAN networks. 
Supported vehicle makes
Some functions of the ANCEL BM500 will work on any vehicle with a 16-pin OBD2 port, which includes all cars and light trucks sold in the United States after 1996. This universal compatibility applies to the OBD2 diagnostics and battery test functions of this ANCEL code reader. 
The advanced diagnostic and maintenance functions of the BM500 are supported for most vehicles manufactured by the BMW group. Supported BMW models include vehicles from 22 BMW series from 1996-2020, including X, Z, and I series. You'll also get these advanced functions on many Rolls Royce and Mini models that use a 16-pin diagnostic port. 
The vehicle compatibility of the BM700 includes all those supported by the BM500. Along with that, you can use this OBD2 scan tool with many older BMW group vehicles that use a 20-pin diagnostic port. While you will need to buy an adapter to use the ANCEL BM700 OBDII scanner with these models, its broader support makes it a more versatile option for both mechanics and enthusiasts. 
Software and updates
BM500 and BM700 are usable right out of the box, without the need to first register the tool or download updates. When updates are available, they're free for life and easy to download and install from ANCEL's website. You will need to have a PC with a Windows operating system to download updates, something to keep in mind for Mac and Linux users. 
Pros and cons of BM500 vs. BM700
ANCEL BM700 OBDII code reader
Pros
All-system diagnosis for BMW Group vehicles
Wide range of maintenance and reset functions
Supports injector coding and SAS calibration
Convenient hotkeys on the interface
Can be used with 20-pin vehicles made in 1998 and earlier
Cons
Requires Windows system to update (no Mac compatibility)
Doesn't include an adapter for 20-pin vehicles
Check Price at Amazon
ANCEL BM500 OBD2 scanner
Pros
Supports OBD2 diagnostics and battery testing for any vehicle
ABS/SRS diagnostics with bi-directional control
Reads trouble codes from all electronic systems
Maintenance functions include battery registration and oil reset
Resets PCM, EPB, ETC
Cons
Doesn't work with older 20-pin vehicles
No learning or calibration functions
Check Price at Amazon
Recommendation
The ANCEL BM500 is the ideal tool for hobbyists and everyday BMW drivers. Its all-system diagnostics and helpful maintenance functions make it a perfectly good buy for the price.
For professionals and advanced DIYers, the expanded functionality of the ANCEL BM700 will be well worth the slightly higher price. Since it also works on 20-pin vehicles, it's a top choice for BMW shops that see many different vehicles. 
FAQs
❓ Does the ANCEL BM500 support brake bleeding?
💡 Yes, you can automatically bleed the brakes with both the ANCEL BM500 and BM700 diagnostic tool.
❓ Can the ANCEL BM500 turn off the brake warning light on the dash?
💡 Yes, you can reset the EPB system using the ANCEL BM500. This allows you to turn the dash warning light off once you've made repairs or replaced the brake pads. 
❓ How can I find out which features of the BM500 or BM700 are supported for my vehicle?
💡 The best bet is to reach out to ANCEL support with your specific vehicle make and model year and the model number of the scan tool you're considering. They'll let you know whether it supports the features you need. 
❓ Will the BM500 or BM700 work on BMW motorcycles?
💡 Not right out of the box. While many motorcycles do have an on-board diagnostic protocol, they don't use an OBD2 connector. If you have the right adapter, you may be able to use these ANCEL scanners to run basic OBD2 diagnostics on a motorcycle. However, you shouldn't expect to access the advanced features available for 4-wheeled BMW vehicles. 
❓ Will ANCEL BM700 work on BMW vehicles sold in Europe?
💡 The BM700 OBDII diagnostic tool supports EOBD as well as OBD2 protocols and should work just as well on European BMWs as it does on those from the US. If you want to be sure, reach out to ANCEL support. 
Final thoughts
Comparing the ANCEL BM500 vs. BM700, you'll see the BM700 is the professional upgrade of the BM500 ANCEL scanner. While the advanced coding and adaptation features of the ANCEL BM700 give it excellent value for professionals, the lower cost and more straightforward interface of the ANCEL BM500 could be the better choice for hobbyists. 
Whichever of these ANCEL scan tools you buy, you can count on them to provide accurate diagnostics and useful maintenance functions for any BMW Group vehicle. We hope this review has helped you decide which one best fits your needs!