FOXWELL is a famous brand that sells OBD2 scan tools and has shown excellent products over the past several years. Among the many products in the lineup are the 3 we are going to look at today: FOXWELL NT201 vs. NT301 vs. NT630 Plus.
Our comparison will outline their similarities and differences. We also include some additional information about who they are for and a few commonly asked questions.
Let us start the comparison with what they have in common and what sets them apart.
FOXWELL NT201 vs. NT301 vs. NT630 Plus: Comparison chart
| | | | |
| --- | --- | --- | --- |
| | BEST OVERALL | RUNNER UP | GREAT PICK |
| | FOXWELL NT301 | FOXWELL NT630 Plus | FOXWELL NT201 |
| Customer Rating | | | |
| Price | | | |
| Item Weight | 1.08 pounds | 2.65 pounds | 12 ounces |
| Product Dimensions | 8.66 x 3.15 x 6.69 inches | 17.72 x 9.84 x 2.36 inches | 4.7 x 3 x 0.8 inches |
| DTCs Definition | ✔️ | ✔️ | ✔️ |
| I/M Readiness | ✔️ | ✔️ | ✔️ |
| ABS/SRS | ❌ | ✔️ | ❌ |
| ABS Bleeding | ❌ | ✔️ | ❌ |
| EVAP | ✔️ | ✔️ | ✔️ |
| O2 Sensor | ✔️ | ✔️ | ✔️ |
| Bi-directional Test | ❌ | ✔️ | ❌ |
| Print Data | ✔️ (via PC) | ✔️ (via PC) | ❌ |
| | | | |
FOXWELL NT201 vs. NT301 vs. NT630 Plus: Detailed comparison
Key things in common
The overall shape and design of all 3 devices are similar. They are all handheld devices with the screens on top and the buttons on the bottom. Besides navigational keys, there are also some hotkeys for quick access.
All three OBD2 scanners support full OBDII protocols. Although they work in almost OBD2 compliant vehicles, none of the OBD2 code readers in this article supports electric vehicles.
One more thing is that you can update software for free regarding what model is. This helps you save lots of money.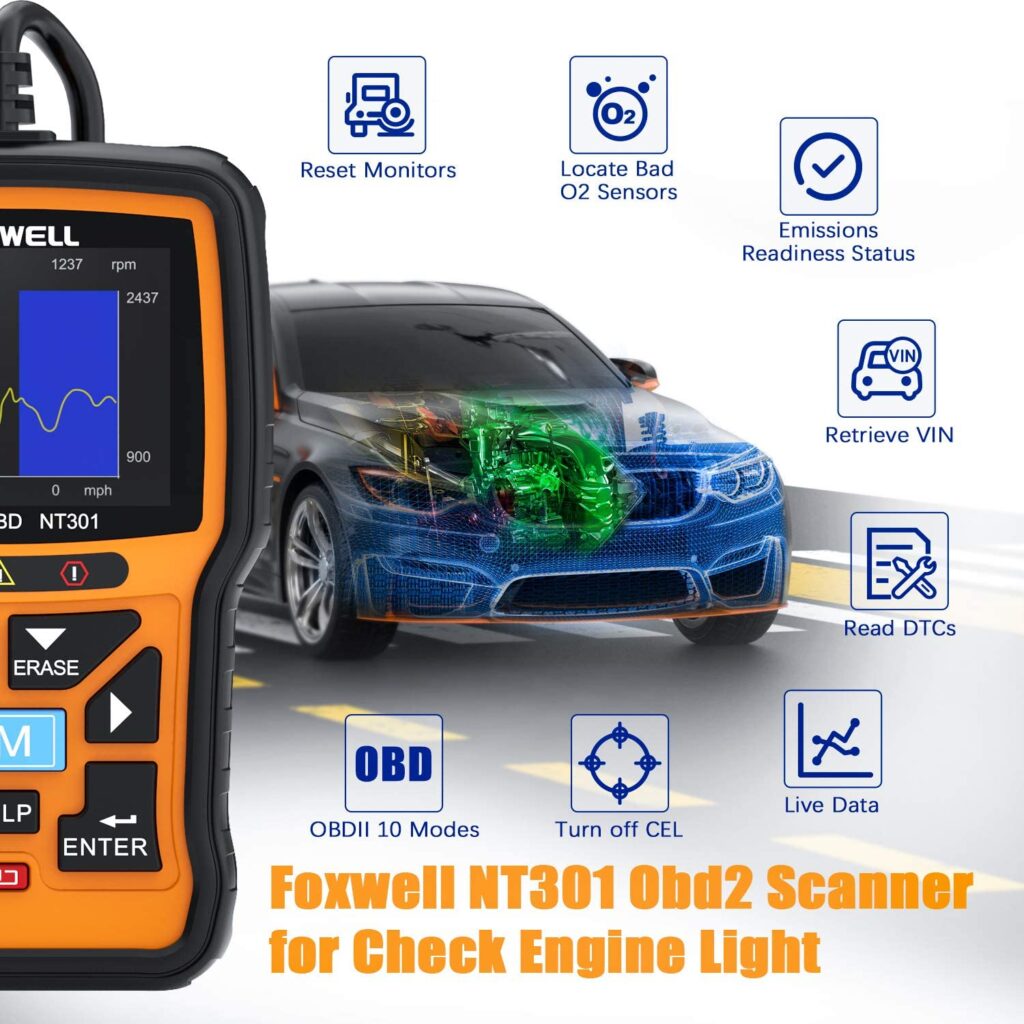 Key differences
Design and specifications
All 3 FOXWELL OBD2 scan tools may seem similar on the outside, but they have a few things unique to each one. Screen-wise, the NT201 has a slightly smaller screen measuring at 2.4 inches, while the other two are slightly larger at 2.8 inches.
Since you are looking at handheld devices, all of them are relatively light. The heaviest of them all is the NT630 Plus at almost 2 pounds. The NT301 and NT201 are slightly closer with 1.3 and 0.6 pounds respectively.
Each of these FOXWELL OBD2 scanners is powered using the cable and the OBD connector on your car, meaning that there are no internal batteries.
Overall features and functions
Considering that these OBD2 diagnostic tools fall in different price ranges, we should expect to see many differences in their features and functions.
The NT201 OBDII scan tool falls in the lowest class offering the basic functionality that you'd need. You can grab all the ECU data and see how the engine is working and if there are any error codes. If there are, you can erase them. In addition to that, you can do I/M readiness, EVAP, and O2 sensor tests. There is also an option to view live data and record it to review it later. As usual, a free frame option is available.
Next in the line is NT301, which provides the same functionality as the NT201 with a few extras like a built-in error code library and an option to export the scan results.
If you want to cover more systems in your car, the NT630 Plus is the OBD2 scan tool you'd like. It can do everything the other two can and scan the SAS, ABS, and SRS systems. Keep in mind that it cannot erase all codes in these systems. For the ones that it can erase, you first need to eliminate the problem. Unfortunately, it cannot check the transmission.
Extra features/functions
As for additional features, considering the price and category, you shouldn't expect too much. The NT201 and NT301 offer the base basics, so no other extras there. The NT630 Plus has a few additional functions that enable you to check each ABS and airbag systems component. Additionally, you can also bleed the ABS through the NT630 Plus after a service.
On top of that, the software for the tools come in 3 language packs. The first one includes 5 languages: English, French, Spanish, German, and Italian. Also with 5 languages, the second pack has English, Portuguese, Hungarian, Dutch, and Swedish. The last one has English and Russian only.
The NT630 Plus is the only OBD2 scanner out of these three that comes with a carry pouch.
Supported protocols
Regarding the supported OBD2 protocols, there are no differences between all three FOXWELL diagnostic tools. They support all five OBD2 protocols: KWP2000, ISO9141, J1850 VPW, J1850 PWM and CAN.
Supported vehicle makes
This is where things get a bit confusing. FOXWELL claims that their OBDII scan tools work with any car manufacturer that is OBD2 compliant. That would usually include cars from 1996 and newer. Despite that, the list for some of them is not as extensive.
The NT301 supports US cars from 2001, European from 2004, French from 2006, Asian from 2006, and Chinese from 2011. This is still a relatively wide range of supported models, but there are still a few limitations. It will not work with Renault models from 2012 to 2018, no Clio 2 or Megane, Dacia Logan, VAZ, UAZ, and Lada. There are also some limitations to the Ssangyong brand.
Our recommendation is to reach out to FOXWELL and confirm that your car model is supported.
Software and updates
The software is baked into the OBD2 diagnostic tool itself, but you will need the FOXWELL application on your computer. While all 3 will work independently, you will need a Windows PC to upgrade or print the reports.
Speaking of upgrades, they get lifetime upgrades, and that goes through the Windows app as well.
Pros and cons of NT201 vs. NT301 vs. NT630 Plus
Considering how different all three OBDII scanners are, they have a diverse variety of pros and cons. Let's look at them.
FOXWELL NT301 OBD2 scan tool
Pros
Full OBD2 diagnostic
Lifetime upgrade
A built-in error code library
Report printing through a PC
Easy-to-use
Cons
Some common models not supported
Doesn't check other systems
Check Price at Amazon
FOXWELL NT630 Plus OBDII diagnostic tool
Pros
Bi-directional test
Pouch included in the packaging
Ability to scan SAS, ABS, and SRS
ABS bleeding
More durable than the other two
Cons
It doesn't work with Mac
Cannot scan transmission
Can't clear airbag crash code
Check Price at Amazon
FOXWELL NT201 OBD2 scanner
Pros
10 testing modes
Multi-language support
Affordable
Lightweight
Wide range of supported models
Cons
Can only check the engine
Offers most basic functionality
Check Price at Amazon
Recommendation
Despite all 3 being different, the target group for all of them is more or less similar. In our FOXWELL NT201 vs. NT301 vs. NT630 Plus comparison, we found that these models are mostly aimed at amateurs and home users.
On the topic of choosing between them, it will depend on several factors.
If you are on a tight budget, the NT201 will do just fine.
For a slightly higher price, you can get the NT301 with a few extra features.
To scan as many aspects of your car, the NT630 Plus could be the best choice.
If you need more in-depth scanning, ECU programming, or you are a mechanic, you should look at some professional OBDII diagnostic tools.
FAQs
❓ Does NT301 do throttle body relearn?
💡 The main aims of FOXWELL NT301 is to scan OBDII system, read/clear codes, etc. It will not do throttle body relearn.
❓ Can I use NT301 on diesel vehicles?
💡 Yes, NT301 OBD2 code reader is compatible with OBDII compliant diesel vehicles.
❓ Will NT630 Plus scan transmission system?
💡 Unfortunately, no. It can only diagnose ABS/SRS systems.
❓ Can I use NT201 to check and clear ABS errors?
💡 No. the main function of FOXWELL NT201 is checking engine system. Hence, it don't offer the ABS function.
❓ Will I get an explanation of the code in these OBDII scan tools?
💡 Yes, there are built-in error code libraries that explain the identified code.
❓ How to register these FOXWELL scanners?
💡 The registering process is relatively simple. You need to visit FOXWELL's website and enter the serial number of the tool. Once the code is accepted, you will need to download the FoxAssist on your computer and update the OBD2 diagnostic tool's software.
❓ How often do I need to update the software?
💡 The updates depend on how often FOXWELL pushes them out. It is recommended to do the update as soon as it is released to ensure full functionality.
Final thoughts
If you need an OBD2 diagnostic tool, the choice is vast. There are tons of tools available, and FOXWELL is one of the many companies that sell excellent products.
We hope that you find the most suitable OBD2 scanner through the comparison of FOXWELL NT201 vs. NT301 vs. NT630 Plus. All of them are great tools but are aimed mostly at amateurs looking to diagnose their car's problems at home.