Why do you need a FOXWELL scanner? Comparing the FOXWELL NT634 vs. NT624E vs. NT624 Elite, it's clear that while there are differences in their functions and features, all 3 are powerful automotive diagnostic tools. 
An OBD2 scanner like the NT634, NT624E, or NT624 Elite will do more than just read trouble codes. Their range of diagnostic and repair functions can potentially save you hundreds at the mechanic, giving you the power to make repairs in your home garage. 
The real question is: which of these OBDII scan tools serves your needs the best? We'll help you answer that here by comparing their design, compatibility, and capabilities side-by-side. 
FOXWELL NT634 vs. NT624E vs. NT624 Elite: Comparison chart
| | | | |
| --- | --- | --- | --- |
| | BEST OVERALL | RUNNER UP | GREAT PICK |
| | FOXWELL NT624 Elite | FOXWELL NT624E | FOXWELL NT634 |
| Customer Rating | | | |
| Price | | | |
| Item Weight | 2.99 pounds | 2.99 pounds | 3.01 pounds |
| Product Dimensions | 7.67 x 1.18 x 3.74 inches | 13.18 x 9 x 3.25 inches | 16.92 x 10.86 x 6.14 inches |
| Total Language Supported | 13 | 12 | 11 |
| Supported Protocols | OBD2 | OBD2 | OBD2, EOBD |
| Full OBD2 Modes | ✔️ | ✔️ | ✔️ |
| All-system Diagnosis | ✔️ | ✔️ | ❌ |
| Oil Reset | ✔️(1000+ vehicles) | ✔️(49 manufacturers) | ✔️(50 manufacturers) |
| EPB Reset | ✔️(with bi-directional control) | ✔️(42 manufacturers) | ✔️(40 manufacturers) |
| Battery Service | ✔️ (Battery System Management) | ❌ | ✔️(Registration/Replacement) |
| SAS Calibration | ❌ | ❌ | ✔️(39 manufacturers) |
| DPF Regeneration | ✔️ | ❌ | ✔️ |
| | | | |
FOXWELL NT634 vs. NT624E vs. NT624 Elite: Detailed comparison
Key things in common
The FOXWELL NT634, NT624E, and NT624 Elite are nearly identical in their exterior design. All three use a durable, rubberized housing that's easy to grip and built to last. Additionally, they have similar navigation button interfaces, including general controls and hotkeys for quick access to your most-used functions.
In terms of functionality, each FOXWELL scan tool's core is a full OBD2 diagnosis. Thanks to that, you'll get access to all 10 modes of OBD2 with any of these diagnostic tools, including smog, EVAP system tests, reading/clearing codes, and viewing live or freeze frame data.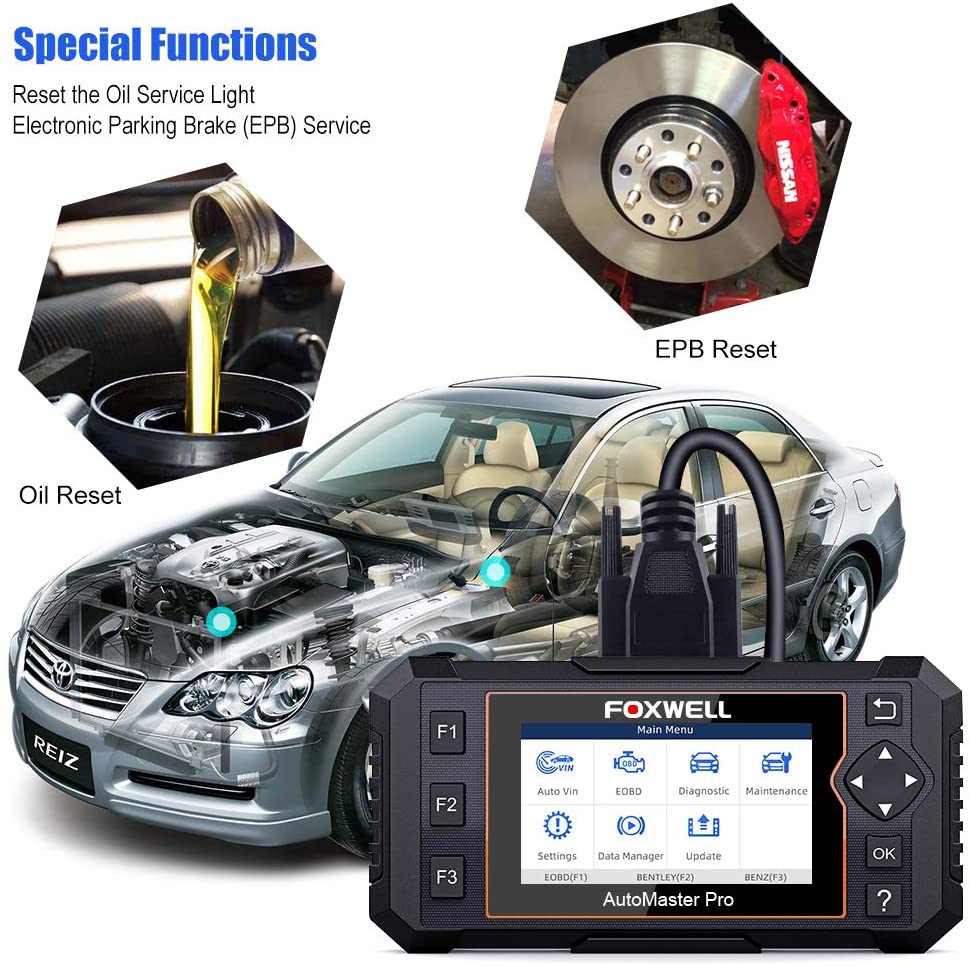 Key differences
Design and specifications
From a design standpoint, the differences between these tools are limited. The NT634, NT624E, and NT624 Elite OBD2 scan tool are roughly the same size and shape, and the menu layout of all 3 products is similar.
The FOXWELL NT624 Elite is the fastest OBDII scan tool of the three when it comes to the software specifications. Of interest to international users will be its broad language support, with 13 options including less-common languages like Hungarian and Thai. 
Overall features and functions
In addition to OBD2 diagnosis, the FOXWELL NT634 can also read codes and live data from the transmission, ABS, and SRS systems. Its built-in data manager produces a diagnostic report based on all these readings, which can be easily downloaded and printed through a PC.
Both the NT624E and NT624 Elite expand on this to offer an all-system diagnosis. Because of that, they can identify issues in the HVAC system, tires, and other electronic systems other OBDII scanners can't diagnose. 
The FOXWELL NT624E OBD2 scan tool doesn't just read codes, either. It graphs data from a range of electronic modules and can even merge PID graphs. You'll get a full, comprehensive picture of what's going on in your engine. 
Similarly, the NT624 Elite has robust data reading and graphing capabilities. This OBDII scanner is even more potent than the NT624E, showing information from drive systems and auto body parts like the chassis, door locks, and windows. Like the FOXWELL NT634, all of this data can be recorded, played back, and printed. 
Extra features/functions
For the price, the reset and service functions of the FOXWELL NT634 are especially impressive. It's far more than an OBD2 code reader, with 11 service functions, including advanced features, like gear learning and injector coding. 
Comparatively, the extra features of the FOXWELL NT624E are more limited. This OBD2 diagnostic tool includes oil reset and electronic parking brake (EPB) service, including EPB calibration and adaptation for many vehicle models. 
Finally, you'll also get both oil reset and EPB reset from the FOXWELL NT624 Elite. This functionality is equally comprehensive, including bleeding the brake fluid and reset of the system after replacing the discs or pads. That's incredibly helpful for those making at-home repairs. With this OBD2 scan tool, you can change your oil or maintain your brakes without the need to waste money on a mechanic. 
Supported protocols
The FOXWELL NT634 supports all 5 OBD2 protocols used on modern engines. Additionally, it supports EOBD protocols for vehicles made and sold in Europe. This is also true of NT624 Elite. 
On the other hand, the FOXWELL NT624E only supports OBD2 protocols, though it does have broad support within that category. 
Supported vehicle makes
Any of these OBDII diagnostic scanners will function as an FOXWELL code reader for any OBD2-compliant vehicle. Unfortunately, their compatibility isn't as comprehensive for non-OBD2 functions and systems, though they offer relatively broad support. 
The NT634 supports 4-system diagnosis for 63 manufacturers, up to and including 2019 models. Each of its 11 service functions has a specific range of supported vehicle makes, so you'll want to verify what's supported for your vehicle by e-mailing [email protected] with your vehicle's information. 
All-system diagnostics are available for 58 manufacturers with the FOXWELL NT624E. However, it only supports oil reset for 49 manufacturers and EPB service for 42. 
The FOXWELL NT624 Elite supports the fewest manufacturers, though by a very narrow margin, with all-system diagnostics for 56 manufacturers. Its EBP service and oil reset support is similar to that of the FOXWELL NT624E.
Software and updates
Updates are free for life with all 3 of these OBDII code readers. For the FOXWELL NT634, start by registering your device on FOXWELL's website. You can also download FoxAssist, an app that helps install updates. Keep in mind updates are only available through Windows PCs and aren't supported for Apple devices. 
You'll need to update FOXWELL NT624E and NT624 Elite through FoxAssist. Like the FOXWELL NT634, they require a Windows-based PC for updates. 
Pros and cons of NT634 vs. NT624E vs. NT624 Elite
FOXWELL NT624 Elite OBD2 scan tool
Pros
All-system diagnosis with 2 most common reset functions
Reads data from the most PIDs and modules
Includes bi-directional testing for EPB system
Widest language support 
Covered by a 2-year warranty
Cons
Most limited compatibility for non-OBD2 functions
Doesn't perform active tests of systems other than EPB
Check Price at Amazon
FOXWELL NT624E OBD2 scanner
Pros
All-system diagnosis 
Includes oil reset and EPB service
Lifetime free updates
Supports OBD2 functions for all vehicles made after 1996
Allows you to turn off any dash warning light
Cons
Doesn't support EOBD protocols
Service functions aren't supported for all vehicles
Check Price at Amazon
FOXWELL NT634 OBD2 scan tool
Pros
4-system diagnosis (engine, transmission, ABS, SRS)
11 reset functions
Supports both OBD2 and EOBD protocols
Widest vehicle compatibility for advanced functions
Includes data manager for saving and printing diagnostic reports
Updates are free for life and easy to install
Cons
Won't diagnose all vehicle systems
Requires Windows PC for printing and updating (no Mac support)
Check Price at Amazon
Recommendation
We'd recommend all 3 of these FOXWELL scan tools for both advanced home mechanics and traveling professionals.
The compact and sturdy build of these FOXWELL diagnostic scanners makes them a great choice for on-the-go diagnostics. Their comprehensive functionality includes many advanced functions you won't find on other scan tools. 
FAQs
❓ Will the FOXWELL NT634 do a buzz test on the injectors?
💡 Unfortunately, no. You can code and reprogram the injectors with the NT634 and view live data from the sensors on many vehicles, but it can't perform a buzz test. 
❓ Does the FOXWELL NT634 perform throttle relearn?
💡 Yes, this OBDII scanner supports this function. However, it may not work on all vehicles. You can e-mail the company with your make and model to determine if it will work for your car or truck. 
❓ How long does it take to update the FOXWELL NT624E?
💡 That depends on how long it's been since your last update and how substantial the update file is. You can speed up the upgrade by installing the update files through the included SD card rather than through a USB cable. The software can also be downloaded and installed in batches rather than all at once. 
❓ Does the FOXWELL NT624E have a factory warranty?
💡 Yes, the NT624E is covered for 1 year after the date of the initial purchase. 
❓ Will the FOXWELL NT624 Elite show previous codes and trouble code history?
💡 Yes, you can view all codes with the NT624 Elite. This includes pending codes and permanent codes, as well as previously triggered codes and the code history. 
❓ Does the FOXWELL NT624 Elite work on diesel engines?
💡 Yes, you can read data and perform system tests on many diesel engines. However, as is often the case, it ultimately depends on the vehicle's make and model. It's known to perform well for Ford and Chevrolet diesel engines and supports many other diesel vehicles. Check with the manufacturer for the specific compatibility with your vehicle. 
Final thoughts
FOXWELL scanner is an excellent long-term investment for any vehicle owner. Looking at the FOXWELL NT634 vs. NT624E vs. NT624 Elite, the difference between them comes down to the diagnostics' depth, the number of service functions, and the vehicle compatibility. Hopefully, the review here has helped clarify the difference between them so you can pick the perfect one for your garage.