Comparing BlueDriver vs. OBDLink MX+, you'll see both can be used to troubleshoot vehicle problems at a similar price point. But what's the difference between them—and which one is the better option for you?
This review will answer those questions and help you solve the issue. Read on to learn how they stack up side-by-side and the best OBD2 scan tool for your garage. 
BlueDriver vs. OBDLink MX+ vs. OBDLink LX: Comparison chart
| | | | |
| --- | --- | --- | --- |
| | BEST OVERALL | RUNNER UP | GREAT PICK |
| | BlueDriver | OBDLink MX+ | OBDLink LX |
| Customer Rating | | | |
| Price | | | |
| Item Weight | 2.08 ounces | 1 ounces | 1.1 ounces |
| Product Dimensions | 2.2 x 1.9 x 1 inches | 2.01 x 0.91 x 1.81 inches | 1.77 x 0.91 x 1.97 inches |
| Supported Protocols | OBD2 | OBD2, EOBD, JOBD | OBD2 |
| Supported Devices | iOS or Android | iOS, Android, or Windows | Android or Windows |
| Read/Clear CEL Codes | ✔️ | ✔️ | ✔️ |
| Live Data | ✔️ | ✔️ | ✔️ |
| ABS/SRS Diagnostics | ✔️ | ✔️ | ❌ |
| Transmission | ✔️ | ✔️ | ❌ |
| GM-LAN | ❌ | ✔️ | ❌ |
| MS-LAN | ❌ | ✔️ | ❌ |
| TPMS | ✔️ | ✔️ | ❌ |
| Repair Reports | ✔️ | ❌ | ❌ |
| Remote Start | ❌ | ✔️(Select Vehicles) | ❌ |
| Remote Door Lock Control | ❌ | ✔️(Select Vehicles) | ❌ |
| Intelligent Sleep Mode | ❌ | ✔️ | ✔️ |
| | | | |
BlueDriver vs. OBDLink MX+: Detailed comparison
Key things in common
BlueDriver and OBDLink MX+ work in the same way. In each case, it's a wireless OBD2 scanner that works in conjunction with diagnostic software installed on a phone or other device. This enables easy, fast OBD2-based troubleshooting of vehicle issues, along with providing helpful information about your engine.
These scanners work for any US vehicle made after 1996. In this sense, their basic functionality is similar, but there are key differences in what data they'll read from which systems. Let's dig deeper to show you what we mean.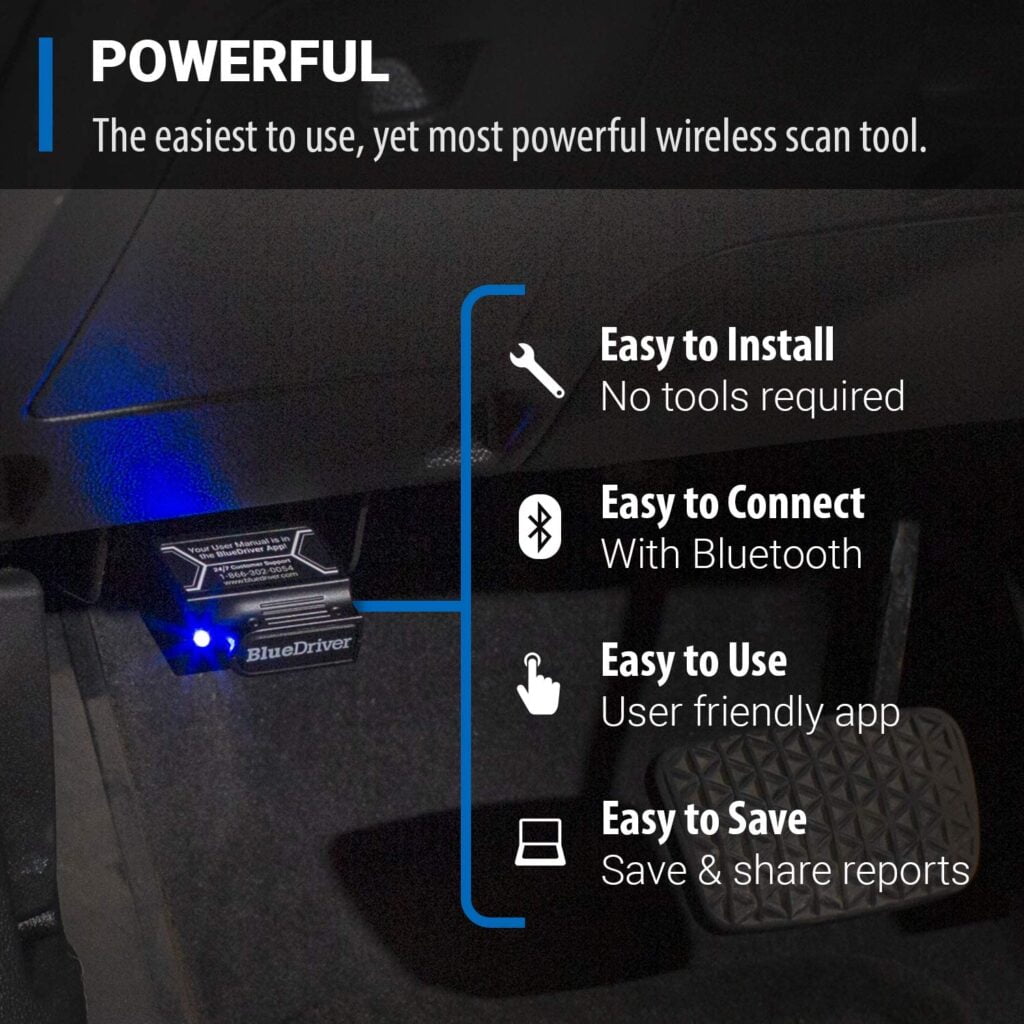 Key differences
Design and specifications
BlueDriver communicates with the proprietary BlueDriver app via a Bluetooth connection. You can use it both for one-time diagnostics and continuous monitoring of your engine. Besides, you can leave it plugged in full-time without worrying that it will drain your battery. 
The same is true of the OBDLink MX+, which has built-in protections against overloads and over-voltages in addition to a low-current sleep mode. This OBDII scanner is overall more secure, as well, with hacker-proof security mechanisms and strong encryption that keeps your network safe. 
When it comes to performance, the OBDLink MX+ has a speed advantage over BlueDriver. Its data processing rate is three times faster than most wireless OBD2 diagnostic scanners. The result is smoother, more accurate readings that let you make repairs more quickly. 
Overall features and functions
The capabilities of the BlueDriver scan tool start with OBD2 diagnostics. It doesn't only read and clear trouble codes, either. BlueDriver shows freeze frame data and reads live data from a range of monitor PIDs, displaying it with customizable graphs and gauges. 
All of this data can be saved, logged, and exported. Along with that, BlueDriver conducts emission and smog checks and has advanced Mode 6 capability, showing results of on-board monitor tests like misfire counts. 
The OBDLink MX+ scan tool also performs a broad range of OBD2 diagnostics. Paired with the right diagnostic software, these functions are more robust than what you'll get with BlueDriver. This includes full OBD2 support and the ability to display multiple parameters at once.
Extra features/functions
BlueDriver's enhanced codes allow diagnosis of the ABS, SRS, and transmission systems that typical OBD2 code readers can't access. In some cases, it will even show information from electronic systems like climate control. Keep in mind these capabilities aren't available for all vehicles, though (you can check which manufacturers are supported on their website).
We also appreciate the Repair Reports function on BlueDriver. With this feature, you'll get verified repair suggestions from certified mechanics tailored to your specific vehicle and issue. 
Similarly, OBDLink MX+ offers Enhanced Diagnostics on a select range of vehicles. Its capabilities go further than BlueDriver, including the tire pressure and HVAC system along with the transmission, ABS, and SRS. Which systems you'll get access to varies depending on which software you're using and what kind of vehicle you drive. 
OBDLink MX+ has some features BlueDriver doesn't offer. It can track your fuel economy, start vehicles remotely, and lock or unlock car doors. Like other enhanced features, access to these functions varies depending on your car and the software you're using. 
Supported protocols
BlueDriver supports all 5 OBD2 protocols in common use on modern vehicles. The protocol support of OBDLink MX+ is broader. It can read GM-LAN and MS-CAN networks specific to manufacturers like Ford and GM. It's also compatible with international diagnostic protocols like EOBD and JOBD. 
Supported vehicle makes
For basic diagnostics, BlueDriver is compatible with any OBD2-compliant vehicle, which is any car or light truck sold in the United States in 1996 or later. Enhanced diagnostics are available for 35+ manufacturers, including common vehicles like GMs, Fords, and Toyotas.
OBDLink MX+ supports basic diagnostics for most vehicles made and sold around the world. The only notable exception is that it doesn't work with all-electric or hybrid vehicles. Enhanced diagnostics vary depending on the manufacturer. You can check its OEM enhanced diagnostic support online (available here) to verify what it can do for your car or truck. 
Software and updates
BlueDriver is designed to work with the proprietary BlueDriver app, so it is not compatible with third-party diagnostic software. All updates are free and automatic for the life of the OBDII scan tool. The BlueDriver app is compatible with iOS and Android devices.
Conversely, OBDLink MX+ is compatible with dozens of third-party apps, including popular options like DashCommand, Carista, Torque, and FORScan. While some of these are free, others require an additional payment. Firmware updates for the adapter are free for life with your purchase. However, the availability and cost of software updates will depend on which diagnostic software you choose. 
Pros and cons of BlueDriver vs. OBDLink MX+
BlueDriver OBDII Bluetooth scan tool
Pros
Supports OBD2 diagnostics for most US vehicles
See verified fixes through the Repair Reports function
Enhanced Codes read non-OBD2 systems on 35+ manufacturers
User-friendly interface 
Comes with the diagnostic app included
Cons
No support for 3rd-party apps
Enhanced Codes and functions are more limited
Check Price at Amazon
OBDLink MX+ OBD2 Bluetooth scanner
Pros
Offers comprehensive OBD2 diagnostics
Reads non-OBD2 systems on a wider range of vehicles
Supports EOBD and JOBD protocols
Faster, more accurate diagnosis
Hacker-proof and secure Bluetooth connection
Cons
May need to pay extra for your diagnostic software
Doesn't work with hybrid or electric vehicles
Check Price at Amazon
Recommendation
We recommend BlueDriver for everyday drivers who want more insights into their vehicle's performance. Its simplicity and ease of use are its main advantages, and the Repair Reports feature helps demystify the repair process. It's also convenient that the software comes included, sparing you the need to track down the right program for your vehicle. 
For advanced home mechanics, OBDLink MX+ is our top choice. It has more features than BlueDriver, as well as wider compatibility for international vehicles. Experienced mechanics will also appreciate having the option to choose the diagnostic software that works best for them. 
FAQs
❓ Does the vehicle engine need to be on to use these OBD2 Bluetooth scan tools?
💡 The ECM needs to be powered since that's what powers these devices. You don't need the engine to be running, but the ignition will need to be in the "on" position. 
❓ Will BlueDriver perform repair functions like ABS bleeding?
💡 No. This OBDII adapter doesn't support bi-directional communication and cannot activate or control modules for these processes.
❓ Can you view short and long term fuel trim data with BlueDriver?
💡 Yes, for many vehicles. You can check on their website to see if this data is available for your car or truck.
❓ Can OBDLink MX+ be used to reset vehicle mileage and odometers?
💡 Unfortunately, no. Modification of vehicle odometers is forbidden under current auto industry laws, and OBDLink MX+ does not support that feature. 
❓ What is the best app to use with OBDLink MX+?
💡 That depends on what kind of vehicle you drive. OBDLink has a list of recommended apps that's a good place to start if you're unsure which app to use. 
Final thoughts
When you're looking at BlueDriver vs. OBDLink MX+, it comes down to convenience vs. versatility. The all-in-one functionality and quick setup of BlueDriver is an advantage for everyday drivers. On the other hand, OBDLink MX+ lets you do more if you pair it with the right app. 
That's all we'd like to share with you. Good luck with your choice!