An OBDLink scan tool is an affordable, convenient way to troubleshoot and repair engine issues in your home garage. These compact wireless adapters are surprisingly versatile, too, with features ranging from reading trouble codes to recoding the ECU. 
You're probably wondering the differences between the OBDLink CX vs. MX+ vs. LX, especially since they look very similar at first glance. In this review, we'll highlight the key functions and design elements of these three scanners so you can make an informed purchase. 
OBDLink CX vs. MX+ vs. LX: Comparison chart
| | | | |
| --- | --- | --- | --- |
| | BEST OVERALL | RUNNER UP | GREAT PICK |
| | OBDLink MX+ | OBDLink CX | OBDLink LX |
| Customer Rating | | | |
| Price | | | |
| Item Weight | 1 ounces | 2.39 ounces | 1.1 ounces |
| Product Dimensions | 2.01 x 0.91 x 1.81 inches | 1.3 x 1.8 x 0.9 inches | 1.77 x 0.91 x 1.97 inches |
| Supported Protocols | OBD2, EOBD, JOBD | OBD2 | OBD2, EOBD, JOBD |
| Operating System Compatibility | Android, iOS, Windows | Android, iOS | Android, Windows |
| Intelligent Sleep Mode | ✔️ | ✔️ | ✔️ |
| Overvoltage Protection | ✔️ | ✔️ | ✔️ |
| ABS/SRS | ✔️ | ❌ | ❌ |
| TPMS | ✔️ | ❌ | ❌ |
| Save/Share Data through DropBox | ✔️ | ❌ | ✔️ |
| Single-Wire CAN (GMLAN) | ✔️ | ❌ | ❌ |
| Ford Medium-Speed CAN (MS-CAN) | ✔️ | ❌ | ❌ |
| | | | |
OBDLink CX vs. MX+ vs. LX: Detailed comparison
Key things in common
The OBDLink CX, MX+, and LX are all wireless OBD2 scanners. They plug into a vehicle's OBD2 port and retrieve diagnostic data, sending it via Bluetooth to a phone, tablet, or computer. 
Another benefit shared by these three tools is their low power consumption. They can be left plugged in full-time without draining the vehicle's battery. Thanks to that, you can use them to continuously monitor your engine, making sure you find out immediately about potential issues. 
These scanners share core features, as well. All three can be used with the free OBDLink app, providing instant access to live data streams and engine error codes. This OBD2 support is also helpful when you're preparing for an inspection since you can check the emission status and turn off the check engine light.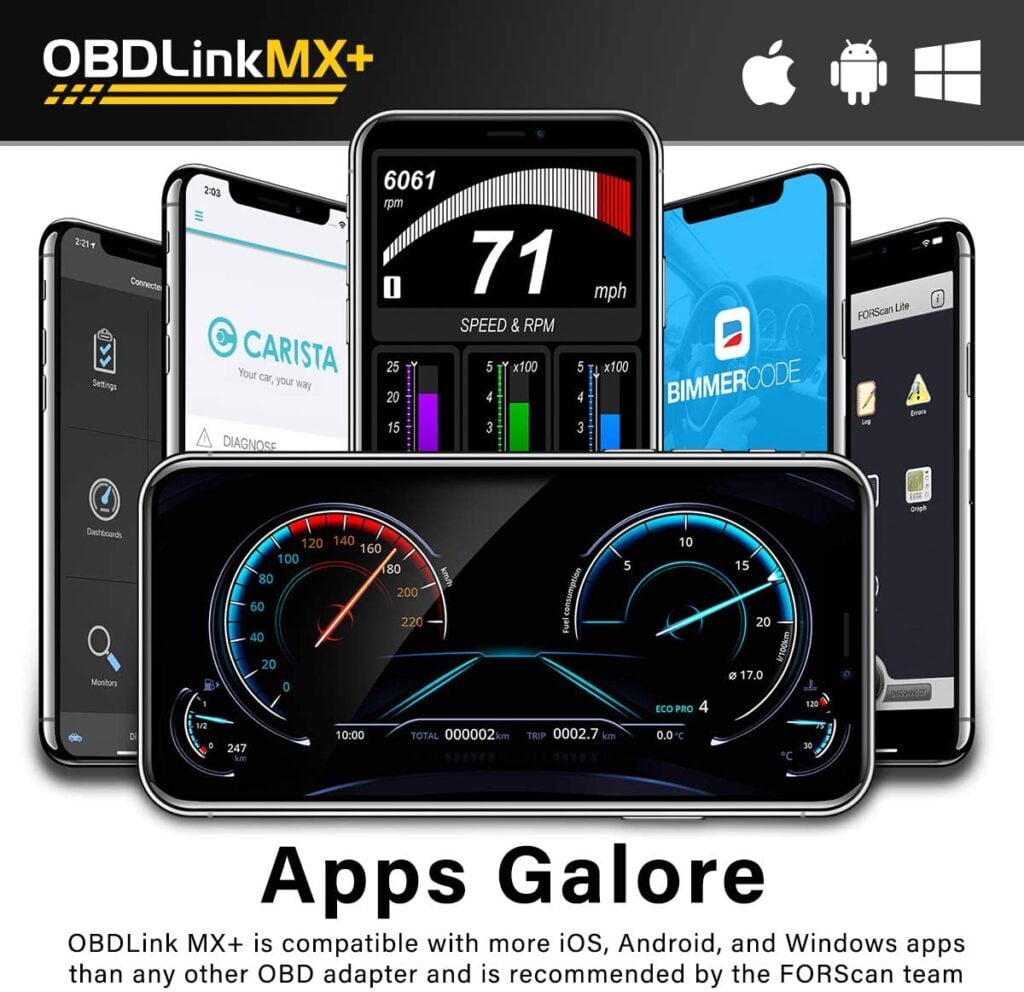 Key differences
Design and specifications
The slim profile of the OBDLink CX is its main advantage from a design perspective. It sticks out less than an inch from the diagnostic port, making it the most unobtrusive OBDLink scanner of the bunch. 
The OBDLink MX+ and LX are still very compact, if slightly larger than the CX. This extra space means more room for processing power. They read data up to 3 times faster than most hand-held scanners, with a high degree of accuracy for readings you can trust. 
Overall features and functions
For most vehicles, the OBDLink CX is a solid OBD2 diagnostic tool. It supports a wide range of on-board monitors, providing useful real-time engine data. You can also view freeze frame data, run EVAP tests, and perform other diagnostic tests to identify and repair engine issues. 
Similarly, the OBDLink LX supports the full range of OBD2 functions. This includes conducting tests of the EVAP and fuel system, reading oxygen sensor data, and reading/clearing trouble codes. 
The OBDLink MX+ does everything the CX and LX can do and more. Along with engine data, it reads live data from the ABS, SRS, and TPMS systems. Its OBD2 coverage is more robust, as well, retrieving manufacturer-specific codes you may not see with other tools. 
Extra features/functions
The OBDLink CX has impressive extra features for BMW or Mini vehicles. It works with BimmerCode to customize engine settings, letting you adjust things like the mirror position and audio settings that you can't access using a typical OBDII scanner. 
The multi-system diagnostic power of the OBDLink MX+ is its main extra feature. Which systems you can access depends on the vehicle. In some cases, you can even see information from electronic systems like the HVAC. 
One practical feature we love on the OBDLink LX is its trip logger, which can calculate the average miles per gallon and other real-time performance data while you're driving. It also makes it easy to download vehicle data, which you can save or share through DropBox. 
Supported protocols
The OBDLink CX supports all OBD2 protocols widely used in the United States. This includes KWP2000, ISO15765, ISO9141, ISO11898, and SAEJ1939. 
For international vehicles, the LX is an excellent OBDLink code reader. It supports OBD2 and all its global variants, including EOBD for European vehicles and JOBD for those made in Japan. 
The protocols supported by the OBDLink MX+ is the broadest of the three. Along with OBD2, EOBD, and JOBD compatibility, it supports proprietary networks like GM-LAN and Ford MS-CAN. 
Supported vehicle makes
The OBDLink LX has the most consistent, universal coverage. Any vehicle that uses OBD diagnostics is compatible with this OBD2 scan tool. That's most vehicles sold after 1996 in the United States with the exception of electric or hybrid vehicles, which may not be supported. 
For OBD2 diagnostics, the OBDLink CX has the same universal compatibility as the LX. However, it's best for BMWs and Minis since it can also perform advanced coding and customization functions on these specific vehicles. 
Figuring out which features of the OBDLink MX+ work with your vehicle is a bit more complicated. Like the other two models, its OBD2 diagnostics are universal. However, the Enhanced Diagnostics are only available for 5 manufacturers (Ford, GM, Mazda, Nissan, and Toyota). 
Read more: Best GM scan tools
Software and updates
The OBDLink CX, MX+, and LX all come with the OBDLink app. This app is available for both iOS and Android devices, though the OBDLink LX isn't compatible with Apple devices. If you're an iPhone owner, go with the CX or MX+. 
You'll also get OBDwiz for Windows with the OBDLink LX. It's similar in its functions to the OBDLink app, though with a more streamlined interface some users appreciate. If you play to conduct diagnostics through a PC, both the LX and MX+ support Windows OS. 
Please keep in mind that you don't need to use the included app. All three of these devices are compatible with a range of 3rd-party apps, including popular options like Torque, DashCOmmand, and AlfaOBD. The OBDLink CX works exceptionally well with BimmerCode and BimmerLink. 
The software update process will differ depending on which app you use. Firmware updates are free for life for all three tools, and you can install them on the OBD2 scanner using the same device you've paired for the software. 
Pros and cons of CX vs. MX+ vs. LX
OBDLink MX+ OBD2 Bluetooth scan tool
Pros
Full OBD2 diagnostics
Reads codes and data from ABS, SRS, TPMS, and more
Fast data processing
Supports proprietary GM-LAN and MS-LAN protocols
Works with iOS, Android, and Windows devices
Cons
Most expensive option
Enhanced Diagnostics not available on all vehicles
Check Price at Amazon
OBDLink CX Bimmercode scanner for BMW/Mini
Pros
Wide compatibility for OBD2 diagnostics
Slim, unobtrusive design
Reliable Bluetooth connection with no data corruption
Most affordable option
Supports coding functions for BMW and Mini
Cons
Can't read data from non-OBD2 systems
Not compatible with Windows devices
Check Price at Amazon
OBDLink LX OBDII Bluetooth scanner
Pros
International support for OBD2 diagnostics
Reads data quickly and accurately
Trip logging function shows helpful driving data
Supports data saving and sharing
Hacker-proof data encryption
Cons
Doesn't work with iOS devices
No Enhanced Diagnostic functions
Check Price at Amazon
Recommendation
For more advanced home mechanics, the OBDLink MX+ is our number one choice. Not only does it read data from more systems, but it also has a more powerful processor so you can read data and make repairs faster. 
While the OBDLink CX is an affordable OBDII scan tool for any driver, we especially recommend it for BMW and Mini owners. The customization and coding functions it offers for these vehicles are rare to find from a scanner under $50. 
The OBDLink LX is our top pick for everyday drivers. Its broad vehicle and device compatibility and easy OBD2 diagnostics give it a lot of value, especially at this price range. 
FAQs
❓ Can the OBDLink CX diagnose BMW motorcycles?
💡 Unfortunately, no. BMW motorcycles use the MotoScan diagnostic app, which isn't yet supported by this scanner. 
❓ Do the OBDLink CX, MX+, and LX work with older vehicles?
💡 No. The diagnostic port's shape is different on vehicles made prior to 1996, and these scanners won't fit it. 
❓ How can I find out if the OBDLink MX+ supports Enhanced Diagnostics for my vehicle?
💡 The OEM-Specific Enhanced Diagnostics Support Coverage shows the specific manufacturers, vehicle makes, and model years currently compatible. 
❓ Does OBDLink LX work with diesel engines?
💡 Yes, as long as they use OBD2, EOBD, or JOBD protocols. Some heavy trucks with diesel engines use a different diagnostic protocol that may not be supported. You can find out what diagnostic protocol your vehicle uses by checking the repair manual. 
❓ How do I download the OBDLink app or OBDwiz software?
💡 You can find these downloads on the OBDLink website. You can also find it in the Google Play store and the Apple App Store. 
Final thoughts
An OBDLink scan tool turns any device into a powerful diagnostic tool. Whether you buy the OBDLink CX, MX+, or LX, you'll get accurate data and the convenience of continuous monitoring.
Choosing the right model comes down to the features you need and the kind of car you drive. We hope this article will help you decide which one is ideal for you!