An ANCEL scanner can save you a ton on car repairs by showing you trouble codes and other info without the need for a mechanic. Comparing the ANCEL AD310 vs. AD410 vs. AD530, all three offer code reading capabilities in a convenient, user-friendly package and at a great value. 
Are you wondering which model is the best OBD2 scan tool for you? Answering that question comes down to what features you're looking for. Let's break them down side by side so you can better understand the difference between them.
ANCEL AD310 vs. AD410 vs. AD530: Comparison chart
| | | | |
| --- | --- | --- | --- |
| | BEST OVERALL | RUNNER UP | GREAT PICK |
| | ANCEL AD310 | ANCEL AD410 | ANCEL AD530 |
| Customer Rating | | | |
| Price | | | |
| Item Weight | 9.6 ounces | 11.2 ounces | 15.2 ounces |
| Product Dimensions | 9.21 x 6.46 x 1.46 inches | 9 x 6.3 x 1.6 inches | 10.12 x 7.09 x 1.69 inches |
| Total Language Supported | 8 | 8 | 16 |
| Display | 128 x 64 backlit LCD | 2.4" 240 x 320 true color TFT | 2.8" 480 x 272 true color TFT |
| Read/Clear DTCs | ✔️ | ✔️ | ✔️ |
| DTC Look-up | ✔️ | ✔️ | ✔️ |
| Freeze Frame Data | ✔️ | ✔️ | ✔️ |
| O2 Sensor Test | ❌ | ✔️ | ✔️ |
| EVAP System Test | ✔️ | ✔️ | ✔️ |
| On-Board Monitoring | ❌ | ✔️ | ✔️ |
| Live Data Graphing | ❌ | ✔️ | ✔️ |
| Battery Testing | ❌ | ❌ | ✔️ |
| Update | ❌ | ✔️ | ✔️ |
| | | | |
ANCEL AD310 vs. AD410 vs. AD530: Detailed comparison
Key things in common
The ANCEL AD310, AD410, and AD530 are all hand-held diagnostic scanners, and they share a similar basic design. They all use a basic button navigation format with an easy to read LCD screen, and they're all lightweight and compact, ideal for diagnostics in the garage or on the road. 
Function-wise, the capabilities of these scan tools all start with reading and clearing OBD2 diagnostic trouble codes. Additionally, you can use all of them to check the freeze frame, identifying the source of the problem.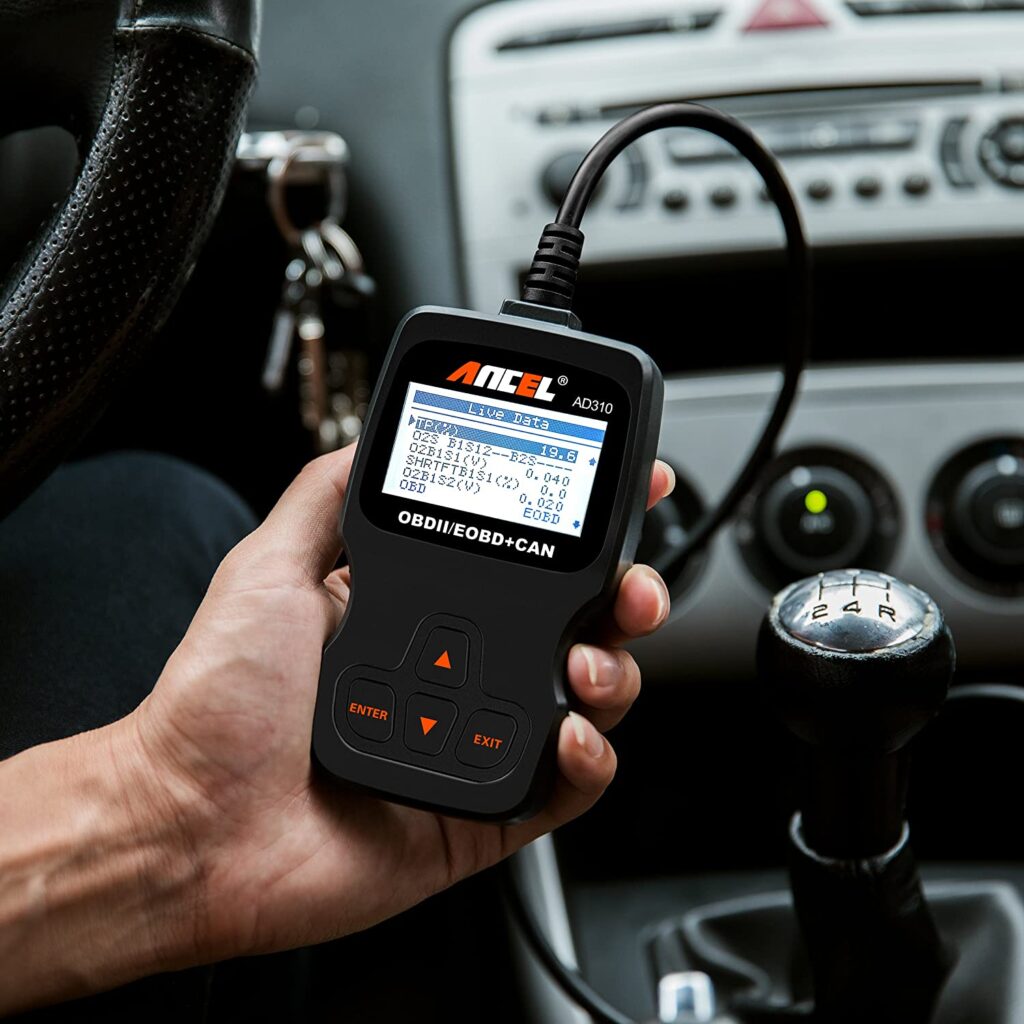 Key differences
Design and specifications
The design of the ANCEL AD310 is the simplest of the three. The streamlined interface has only 4 buttons, with a backlit display for navigating the menus and viewing trouble codes and other data. 
Comparatively, AD410 OBD2 scanner is more robust. Its button interface includes a hotkey for I/M readiness tests. The display is upgraded, as well, with full-color and better definition than the AD310.
The ANCEL AD530 also uses a full-color display, with the capability to show graphical data and text. Its processor is upgraded as well. The 32-bit CPU in the AD530 provides faster and more stable diagnostics, especially when you're viewing live data. 
Overall features and functions
You can think of the AD310 as an OBD2 code reader. Its primary function is to retrieve and clear trouble codes. While it does support a few other functions, like freeze frame data and I/M readiness testing, its capabilities are as basic as its interface. 
The ANCEL AD410 supports more in-depth OBD2 diagnostics than the AD310. Along with reading and clearing codes, it can run tests of the EVAP system and O2 sensors. This lets you monitor your fuel system's performance and maintain the right air-to-fuel ratio. 
For OBD2 diagnostics, the AD530 is the most robust ANCEL scan tool. It supports all 10 modes of the OBD2 protocol, including Mode 6 for conducting PID monitor tests and Mode 7 for EVAP system leak tests. It also supports graphing of live data, showing vital performance specs in real-time.
Extra features/functions
The built-in DTC look-up library on the ANCEL AD310 and AD410 is their most helpful extra feature. While you can find this info online, it's a nice time saver to have it right on the screen of your ANCEL code reader. 
The AD530 takes this feature a step further with its enhanced fault code definition function. Press the info hotkey, and you'll get repair advice tailored to your vehicle, along with information about the code that triggered. 
Not only that, ANCEL AD410 and AD530 both have a Review & Print function for recording DTCs and diagnostic reports. You can also print this report through a connected PC. These features help create maintenance and performance logs and make it easy to share diagnostic information with a mechanic when you need repairs. 
Furthermore, AD530 also has a battery test function that monitors the battery's voltage in real-time. You can view this data graphically, as well, letting you track fluctuations and identify when it's time for a new battery. 
Supported protocols
The AD310, AD410, and AD530 support all OBD2 protocols. This includes J1850 VPW, J1850 PWM, ISO9141, KWP2000, and CAN networks. They also support EOBD protocols for vehicles produced in Europe. 
Supported vehicle makes
All three of these ANCEL scanners support a wide range of vehicles. They're compatible with any vehicle that uses OBD2 diagnostic protocols. That includes cars, light trucks, SUVs, and hybrids made in the United States after 1996, as well as those made in Europe after 2000.
Software and updates
Users worldwide can diagnose engine issues with ANCEL OBD2 diagnostic tools, with software that supports a wide array of languages. The AD310 and AD410 support 8 languages from the Americas and Europe. This is expanded by the AD530, whose 16 supported languages include options like Japanese and Polish.
The ANCEL AD310 doesn't require updating. You may occasionally need to update the software for the ANCEL AD410 and AD530, though they are set up to be ready to go right out of the box. Updates are free for life, and you can download them from ANCEL's website, with helpful on-screen instructions that walk you through the process. 
Pros and cons of AD310 vs. AD410 vs. AD530
ANCEL AD310 Enhanced OBDII scanner
Pros
Reads and clears trouble codes to turn off the check engine light
Displays freeze frame data
Streamlined interface is easy to use
Built-in DTC library
Most affordable option
Cons
Doesn't support all 10 OBD2 modes
No capability for graphing live data
Check Price at Amazon
ANCEL AD410 Enhanced OBDII code reader
Pros
Quickly read and erase active, pending, and stored trouble codes
See live data graphically or in text form
Supports oxygen sensor and EVAP system tests
True color LCD screen
Records and prints diagnostic reports
Cons
No battery test functions
Limited access to on-board monitoring tests
Check Price at Amazon
ANCEL AD530 Enhanced OBD2 scan tool
Pros
Supports all 10 modes of OBD2
Quickly and accurately reads live engine data
Enhanced fault code definition provides accurate repair advice
Data can be recorded, played back, and printed
Battery voltage test with real-time graphing
Cons
Higher cost
Limited non-OBD2 functions
Check Price at Amazon
Recommendation
If you want a basic code reader, the ANCEL AD310 gets the job done quickly and accurately, and at the best price. It's our top recommendation for budget-conscious buyers for that reason.
We recommend the ANCEL AD410 to everyday drivers who don't plan on making home repairs. It shows you all the vehicle information you need to identify serious issues and address basic concerns. The scanner can also record and print data, in case you do go to the mechanic. 
For hobbyists and home mechanics, the ANCEL AD530 is the best OBD2 diagnostic tool. Full support of all 10 OBD2 modes, along with battery testing and repair suggestions, give you the information you need for performing vehicle maintenance. 
FAQs
❓ Will these ANCEL scanners read transmission data?
💡 Some transmission information is recorded through the OBD2 system, so you'll be able to read those codes and live data using these ANCEL scan tools. However, they can't read transmission-specific information that's not available in OBD2 diagnostics. 
❓ Will the ANCEL AD310 work on diesel engines?
💡 Yes, as long as they support the OBD2 system. Some heavy diesel trucks use a different diagnostic system and aren't required to use OBD2. If you're not sure what diagnostics your vehicle uses, you can find that information in the repair manual. 
❓ Which data can be displayed graphically using the ANCEL AD410?
💡 The AD410 lets you graph values like RPMs, temperature, speed, or voltage, as well as system status information like the fuel system status. You can check on the full capabilities of the OBDII scanner by downloading the manual from ANCEL's website.
❓ Does the ANCEL AD530 work with the latest 2019 and 2020 vehicles?
💡 Yes, the ANCEL AD530 supports any OBD2 vehicle made after 1996, up to and including the current model year. 
❓ How do I know if the AD410 or AD530 needs an update?
💡 Start by registering your scan tool on ANCEL's website. Once you do that, you'll have access to all the product download files. Connect the scan tool to your PC through a USB cable to verify that you're running the latest software (and install it if you're not).
Final thoughts
With an ANCEL scanner in your garage, you can monitor your engine's health and stay on top of any issues that come up. This doesn't just save you trips to the mechanic, it can also help you maintain the long-term health of your vehicle.
The main difference between the ANCEL AD310 vs. AD410 vs. AD530 is the depth of their OBD2 diagnostics. While the AD310 is the most budget-friendly option, the ANCEL AD530 is still under $100, and an excellent value for the features it includes.
We hope this comparison has helped you decide which of these tools is ideal for you! Whichever ANCEL OBDII scan tool you buy, odds are it will pay for itself not long after.