As a mechanic or car owner, you must have an ANCEL scanner. These ANCEL code readers can help in resting or checking engine malfunctions to solve complex vehicle system diagnoses.
This article will take you through ANCEL VD500 vs. VD700 with an unbiased review of the code compatibility and functions.
ANCEL VD500 vs. VD700 vs. AD530: Comparison chart
| | | | |
| --- | --- | --- | --- |
| | BEST OVERALL | RUNNER UP | GREAT PICK |
| | ANCEL VD700 | ANCEL VD500 | ANCEL AD530 |
| Customer Rating | | | |
| Price | | | |
| Item Weight | 1.2 pounds | 12 ounces | 15.2 ounces |
| Product Dimensions | 9 x 9 x 2 inches | 9.25 x 6.9 x 1.8 inches | 10.12 x 7.09 x 1.69 inches |
| OBD-II Modes Compatibility | 6 | 3 | 10 |
| Read/Clear Codes | ✔️ | ✔️ | ✔️ |
| ABS/SRS | ✔️ (for VAG vehicles) | ✔️ (for VAG vehicles) | ❌ |
| Transmission | ✔️ (for VAG vehicles) | ✔️ (for VAG vehicles) | ❌ |
| VIN | ✔️ | ✔️ | ✔️ |
| Oil Reset | ✔️ (for VAG vehicles) | ✔️ (for VAG vehicles) | ❌ |
| TPMS | ✔️ (for VAG vehicles) | ✔️ (for VAG vehicles) | ❌ |
| SAS | ✔️ (for VAG vehicles) | ✔️ (for VAG vehicles) | ❌ |
| Internet Update | ✔️ | ✔️ | ✔️ |
| Battery Test Function | ✔️ | ❌ | ✔️ |
| | | | |
ANCEL VD500 vs. VD700: Detailed comparison
Key things in common
These two ANCEL OBDII scan tools come closest in terms of functionality and adaptation. Both of them can run smoothly on Windows 7, 8, and 10. However, they don't support MAC OS.
Another great thing is that both the code reader features English and German display languages and comes with a life-time free software update to avoid bug attacks. You can easily install this yourself by following the simple on-screen instruction if you are not a professional.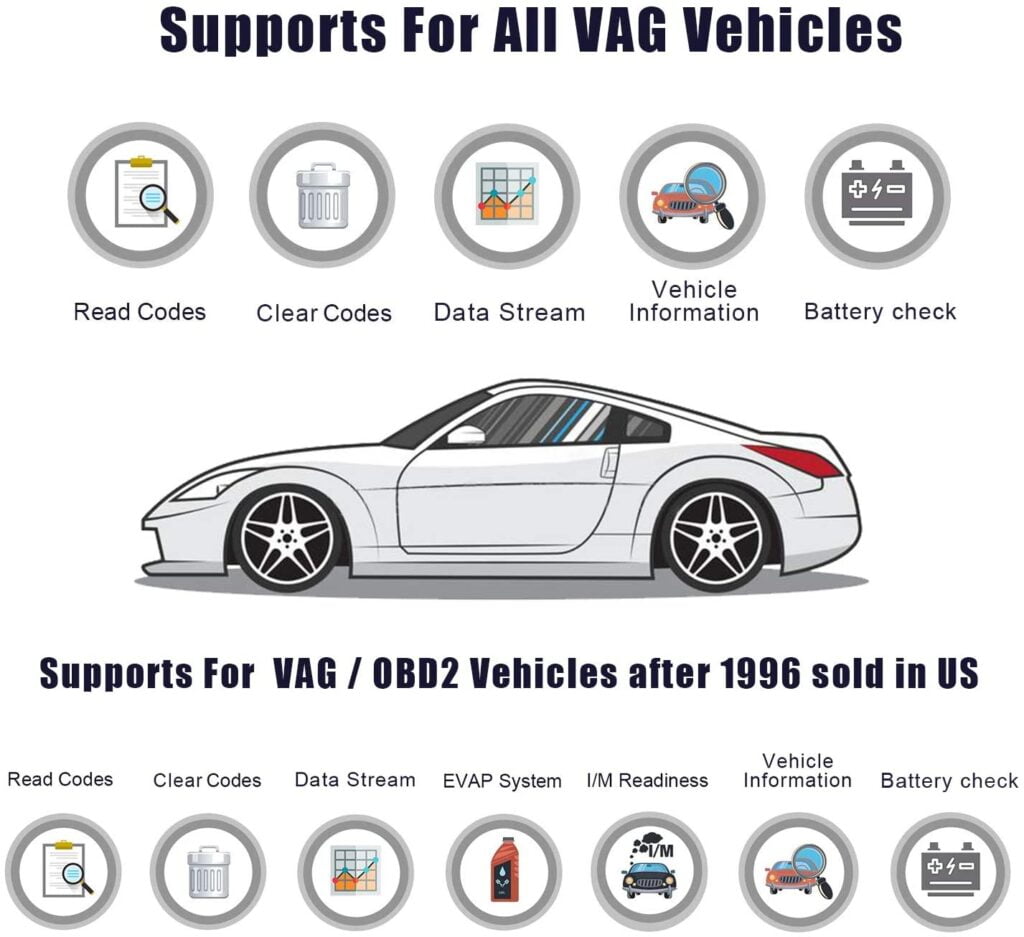 Key differences
While both of these OBDII diagnostic tools are meant to clear or detect early vehicle malfunction, they differ slightly. And this ranges from the design, software updates, features, and function as listed below.
Design and specification
ANCEL VD500 comes with a simple design. There are only four keys to navigate and perform your actions. Whereas, VD700 has more navigational buttons and also includes some hotkey for quick access to Read DTC or check I/M readiness.
Both OBD2 scanners have sturdy case and USB cable to connect with the computer. The display in VD700 is way bigger than VD500, making it easier to read the information.
Overall features and functions
Both scanners offer all system diagnosis for VAG vehicles. This includes 10 following functions:
Engine system
SRS (airbag)
TPMS
ABS
Transmission system
SAS
ESP system
Battery system
Immobilizer system
Retrieves VIN information
For other vehicle makes, some functions is limited and will not work properly.
Extra features/functions
While both can go through a hardware upgrade, the ANCEL VD700 is more technologically advanced to do more high-level reset than the former VD500. This allows it to read and clear code information, which VD500 cannot read and reset.
ANCEL VD700 all system comes with special functions such as:
Electrical park brake (EPB) reset

Steering angle sensor calibration
Battery registration and DPF regeneration
Oil service reset and injector learning
TPMS reset
Throttle position adaption
On the other hand, VD500 specializes is three main functions only:
Oil service reset
Throttle position adaption
Electric park brake reset
Of course, these special features is for VAG vehicles only.
Supported protocols
ANCEL VD500 works with a 16-Pin OBDII protocol (J1850 VPM, J1850PWM, ISO9141, KWP 2000, and CAN).
Not only covers those protocols, VD700 also supports TP16, KWP1281, TP20, and UDS protocols, making it more compatible. 
Supported vehicle makes
Both ANCEL VD500 and VD700 are ideal OBD2 diagnostic tool for Volkswagen group vehicles and other OBDII vehicles.
Software and updates
VD500 vs. VD700 only supports Windows 7/8/10 and does not work on Mac laptops.
The manufacturer also offers a life-time free update for both models to add new parameters and fix the latest bugs. Hence, you can rest assured that these scanners provide the most accurate information possible.
Pros and cons of VD500 vs. VD700
ANCEL VD700 OBD2 scan tool
Pros
Works well across different ranges of vehicles.
Its functionality and extra features are more advanced.
Compatible with OBD2 vehicles.
Comes with additional features like injector adaptation and DPF regeneration.
Its advanced feature gives a quick, accurate, and timely diagnosis.
Cons
More expensive due to its slightly advanced version.
The software needs to be updated to reduce the risk of bugging.
Check Price at Amazon
ANCEL VD500 OBDII scanner
Pros
Design is easy to use and function.
Affordable and gives options for updating to the latest software.
Provides rapid diagnosis when necessary.
The design is light and portable, making it efficient.
The scanner comes with USB support features. 
Cons
Does not support the Mac Operating System(OS).
Requires software updates, and this can be time-consuming.
Check Price at Amazon
Recommendation
ANCEL VD500 is well-suited for personal Volkswagen vehicle owners or DIYers. Since it can also scan through multiple protocols, the tool can also be ideal for startup technicians.
We recommend VD700 for professional mechanics and technicians. Designed for a full diagnostic, this ANCEL code reader can help scan all 12V cars and non-electric light trucks.
FAQs
❓ Will ANCEL VD700 relearn TPMS?
💡 Yes, this OBDII scan tool has this function (but for VAG vehicles only).
❓ Can VD500 reset the throttle body?
💡 Yes, the VD500 scanner will allow you to reset the throttle body. If it doesn't, you'll need to take your car to repair shop.
❓ Where to download update for these scanners?
💡 You can update the software directly from the ANCEL website.
❓ How do I know if wheel speed sensor is bad using VD700?
💡 ANCEL VD700 should show you the speed of each wheel in the live data. You will then figure out if it's good or not.
❓ Will ANCEL VD500 read traction control?
💡 No, this OBD2 code reader doesn't support this function.
❓ Can one use these ANCEL scanners for all other types of vehicles?
💡 Yes, you can! Some tests may fail, but the system tests will run correctly. Remember that these OBDII code readers work best on VAG vehicles.
Final thoughts
In conclusion, ANCEL VD500 vs. VD700 are excellent budget-friendly tools for Volkswagen vehicle users. With great diagnostic functions and compatibility, these car code readers are a great choice. Whatever car diagnostics you are running, this ANCEL scanner has you covered.
As you can probably tell from the review, both the ANCEL tools are quality, and their effectiveness comes unmatched. And ANCEL products come highly recommended for their durability and affordability.
If you are looking for a professional and quality scan tool that will serve you well, ANCEL diagnostic tool is the way to go.