Veepeak is a US company that has been developing and selling OBD2 scan tools for a while. They have many products available, but Veepeak OBDCheck BLE vs. BLE+ is among the cheapest Bluetooth OBD2 scan tools in their lineup.
We will do an individual review of both, but first, let's look at what makes them identical and sets them apart.
Veepeak OBDCheck BLE+ vs. BLE vs. BAFX Products: Comparison chart
| | | | |
| --- | --- | --- | --- |
| | BEST OVERALL | RUNNER UP | GREAT PICK |
| | Veepeak OBDCheck BLE+ | Veepeak OBDCheck BLE | BAFX Products |
| Customer Rating | | | |
| Price | | | |
| Item Weight | 1.58 ounces | 2.25 ounces | 2.88 ounces |
| Product Dimensions | 1.61 x 1.97 x 0.87 inches | 1.61 x 1.97 x 0.87 inches | 2.75 x 1.5 x 1 inches |
| Supported Protocols | CAN, KWP2000, ISO9141-2, J1850 VPW and J1850 PWM. | CAN, KWP2000, ISO9141-2, J1850 VPW and J1850 PWM. | All OBD2 protocols including J1850 and CAN |
| Compatible Platform | iOS & Android | iOS & Android | Android or Windows |
| ELM327 Commands Version | V2.2 | V1.4 | V1.5 |
| Warranty | 1 year | 1 year | 1 year |
| Live Data | ✔️ | ✔️ | ✔️ |
| ABS/SRS | ✔️ (Depends on app) | ✔️ (Depends on app) | ❌ |
| Read/Clear CEL | ✔️ | ✔️ | ✔️ |
| Transmission | ✔️ | ✔️ | ✔️ |
| ECU Programming | ✔️ | ✔️ | ❌ |
| Dashboard Customization | ✔️ | ✔️ | ❌ |
| | | | |
Veepeak OBDCheck BLE+ vs. BLE: Detailed comparison
Key things in common
If you put both OBD2 scan tools side by side, you will hardly see any difference. That's because they look exactly the same. The device's upper part is the connector that you plug into your OBD2 port on your car. The lower part contains the circuit board with the Bluetooth module.
Regardless of which OBD2 diagnostic tool you purchase, you will get all the possible supported protocols. Both can work with J1850 PWM and VPW, ISO9141-2, CAN, and KWP200 protocols.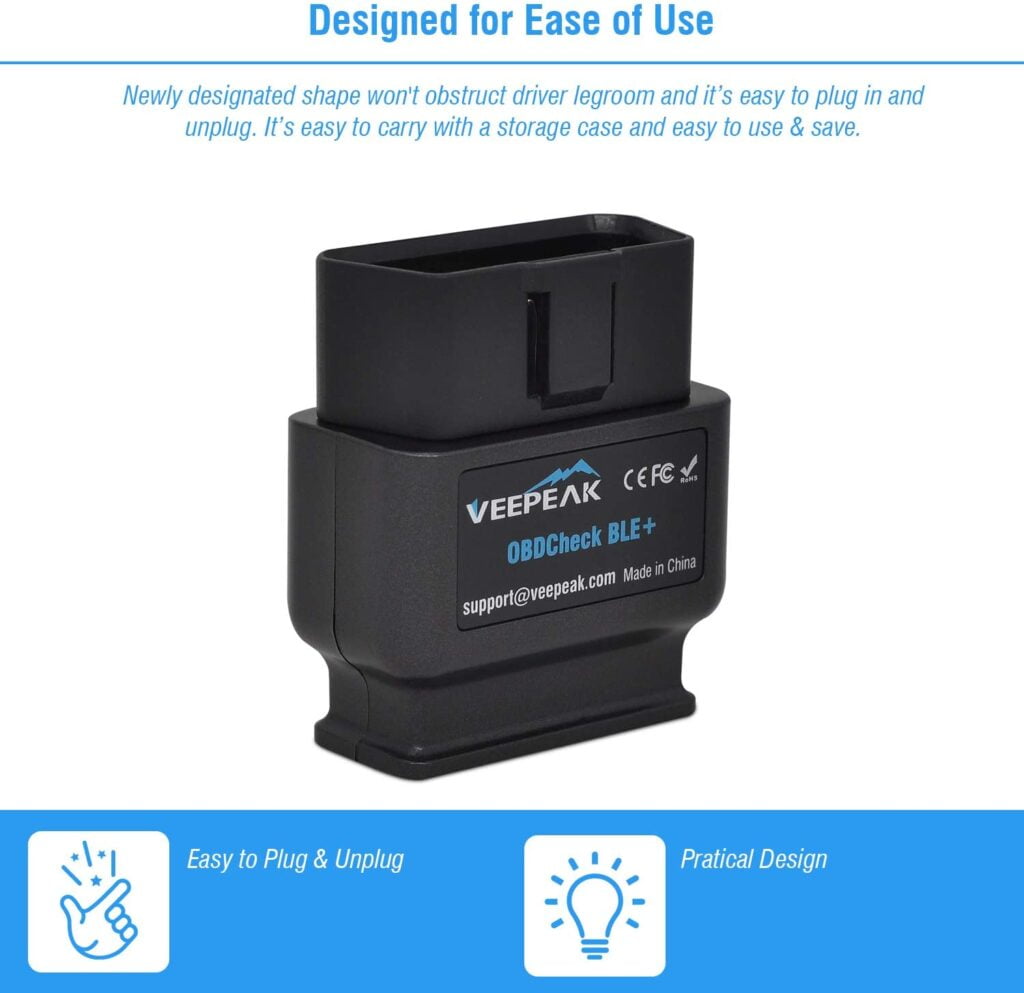 Key differences
Design and specifications
Most people get confused when they look at BLE and BLE+. You think you are looking at the same product on the surface.
The only slight difference is in the weight, which you probably won't notice because they are very light. The BLE is 2.25 oz, while the plus model is 1.58 oz.
To use them, you'll need to download the app on your phone. Once you connect the OBD2 code reader with your phone, you can use it. Unlike other Bluetooth OBD2 scanners, these don't have a built-in battery and draw power from the OBD port.
Overall features and functions
This is a very similar story to the previous section; both the BLE and BLE+ are almost identical. Like most other OBDII diagnostic tools in the class, these can run a check on your engine. You can get a readout on multiple parts of that system like: throttle, boots, O2, EGT, EOT, and more. If you have a check engine light on, you can reset the error using either the BLE or BLE+.
You can do some additional diagnostic for some car models, like battery checkup on electric and hybrid cars, PIDs, some customization, and a few other things.
Keep in mind that if you want to have more control over the scan or make advanced changes or tuning of your car, you will need to go for the professional models.
Extra features/functions
Apart from the engine checks and error code removal, a few additional features make the BLE and BLE+ a great choice.
Depending on which app you use, you have the option to customize the dashboard. Since both tools can read the sensors, you will have some flexibility in what your dashboard will show. You can also pull up gas-mileage and trip information.
Surprisingly, the BLE and BLE+ can also do some ECU reprogramming, as long as the app is capable.
Supported protocols
This is probably where the most significant difference between the BLE and BLE+ is.
The difference is in the commands. The BLE+ is a newer and updated model, giving you access to the ELM327 v2.2 commands. On the other hand, the BLE is the older OBD2 code reader, and you are limited to v1.4.
You should be aware that the BLE+ OBD2 scan tool doesn't have the latest ELM327 commands. The newest version is 2.3, so you are still getting a reasonably recent version.
Supported vehicles makes
As far as supported manufacturers and models, the BLE and BLE+ will support almost any car from 1996 to today if it is OBD2 compliant. Both are known to work very well with BMW and Mini models if you use BimmerCode. Carista, on the other hand, will provide you excellent support for Volkswagen, Toyota, Audi, etc. For these, you also have the option to make changes to the ECU.
As we mentioned previously, they are also compatible with hybrid and electric cars, providing you with a feature to monitor the batteries' health.
Software and updates
Some manufacturers that sell OBDII diagnostic tools will also have an app that works with the device. Veepeak only sells the OBDII scan tool, and you are free to use any application you want.
The company has outlined several applications that are compatible. BimmerCode and BimmerLink are great for BMW owners, but you also have GaragePro, Carista, LeafSpy, DashCommand, etc.
To use the OBDII code reader, you will only need an Android or iOS device with one installed application.
On the updates side of things, you will depend on the developer that created the applications. Veepeak doesn't offer a software solution, meaning that they cannot provide updates for third-party applications.
Pros and cons of Veepeak OBDCheck BLE+ vs. BLE
Considering how closely matched both products are, the list of pros and cons will be mostly similar.
Veepeak OBDCheck BLE+ OBD2 scan tool
Pros
Customizable dashboard
Affordable Bluetooth OBD2 diagnostic tool
Support for hybrid and electric cars
Real-time graphs
ELM327 v2.2 supported commands
Cons
Parring issues with iOS devices
Older Bluetooth technology
Check Price at Amazon
Veepeak OBDCheck BLE OBDII scanner
Pros
Wide range of supported models and manufacturers
It comes with a carry case
Support for all OBD2 protocols
Live data
Can check multiple systems
Cons
Older ELM327 commands version
Cannot reset Non-OBD errors
Check Price at Amazon
Recommendation
Considering the set of features and what both Veepeak models offer, it is hard to recommend them for professional mechanics. In general, they would be ideal for home garages and people who want to overview their car.
As for choosing between these two, it is a tight race. Since the only difference is the price and ELM327 commands, you have two options. If you need a newer version of the commands, go for the BLE+ OBD2 diagnostic tool. If you want to save a few dollars and don't need the more recent commands, the BLE will be an excellent choice.
FAQs
❓ Will I need a cable to connect these Veepeak code readers to my car?
💡 No. The OBDII scanners are the connectors themselves, so you will only need to plug them in.
❓ Which car models are supported by Veepeak OBDCheck BLE+?
💡 Both models support almost any car made after 1996 that is OBD2 compliant. You also have support for hybrid and electric vehicles.
❓ Can I use BLE and BLE+ on any Android or iOS device?
💡 The BLE and BLE+ will work with almost any Android or iOS phone or tablet. The requirements depend on which app you intend to use.
❓ What is the best app for the OBDCheck BLE OBD2 scan tool?
💡 It depends on your needs. The scan tools from Veepeak are compatible with multiple apps like BimmerCode, Carista, DashCommand, and more.
❓ What systems can these Veepeak OBDII scan tools diagnose?
💡 You can read the engine, transmission, ABS, and airbag systems.
Final thoughts
If you are looking for a decent OBD2 diagnostic tool for your home garage, the Veepeak BLE and BLE+ are excellent choices. They work with a wide range of cars and can read the 4 main systems in your car. That will help you know what the source of the problem is.
Considering how similar they are, it probably will not make any difference which one you go for.