Car tuning software gives you the power to customize and optimize your vehicle's performance. Many programs also include diagnostic and repair features, making them a helpful addition for any professional or home garage. 
Nowadays, the pricing and functionality of ECU tuning software programs vary widely. This makes it essential to do your research, especially if you want to get the best bang for your buck. 
However, the good news is there are tons of options out there, and one of them is sure to be a great fit for your vehicle. This review is a great place to start if you're looking for the best options in tuning a car. 
Best car tuning software: Comparison chart
BEST OVERALL
RUNNER UP
GREAT PICK
TOAD Pro
Viezu K-Suite
PrecisionCodeWorks
Summary
The user-friendly interface of TOAD Pro makes it accessible to tuning beginners, while its robust advanced features give experienced professionals lots of options to work with.
This powerful, comprehensive software package supports a range of tuning and mapping capabilities. It's a top choice for professionals, though it may be a bit complex for hobbyists.
The engineers at PrecisionCodeWorks write custom tuning profiles directly into your ECU file. This makes it a quick, easy way to tune your engine, especially for those without a lot of repair experience.
Pros
Includes diagnostic scanning, including vehicle health report
Compatible with all OBD2-compliant vehicles
Works with a wide range of adapter interfaces
Can write new ECU files and edits original ECU.
Offer a guided vehicle-specific tuning suggestions. Supports 3D tuning and compatible with a wide range of vehicles. Also provides 24/7 support with free lifetime updates.
Efficient custom tuning specific to your vehicle. Wide vehicle and operating system compatibility. Easy to use, even for beginners Lower risk of errors and compatibility issues.
Robust and responsive 24/7 support.
Cons
Requires Windows operating system (no Mac support)
Can be difficult to use. Requires Windows operating system.
Doesn't allow manual tuning or ECU writing. Higher long-term cost.
Best car tuning software (for laptop/PC) reviews
TOAD Pro
TOAD Pro makes tuning car ECUs accessible to everyday drivers. You can use it to optimize your engine's performance by improving the fuel efficiency or increasing torque and power, all safely and legally, without spending money at a mechanic. 
This versatile program is also a diagnostic scanner, making it an even more useful program for everyday drivers. The detailed engine health report gives you insights into your vehicle's long-term performance, extending the car's lifespan. Additionally, TOAD Pro will perform OBD2 diagnostics to find fault codes and other issues. 
That's not to say professionals won't love TOAD Pro, as well. It's priced much lower than diagnostic scan tools with similar features, making it a great value for mechanics as well as a useful tool for DIYers.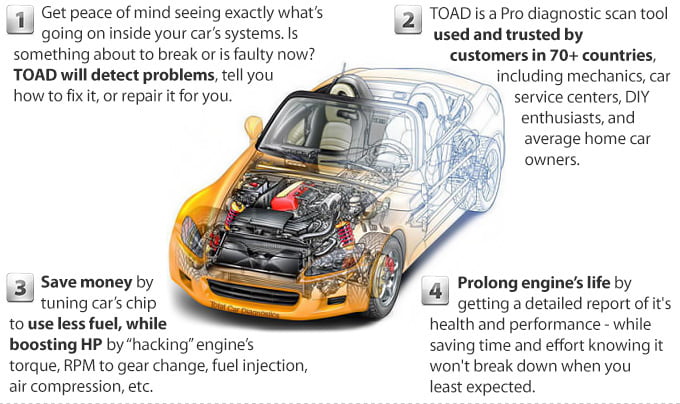 Verdict
The versatility of TOAD Pro makes it a top choice for everyday drivers, with wide vehicle compatibility and extensive diagnostic functions as well as tuning capabilities. 
Pros
Easy to use, even for everyday drivers
Includes diagnostic scanning, including vehicle health report
Compatible with all OBD2-compliant vehicles
Works with a wide range of adapter interfaces
Excellent value for the included features
Cons
Won't diagnose ABS or SRS faults
Requires Windows operating system (no Mac support)
Viezu K-Suite
Viezu's tuning software is written in-house by a team of dedicated experts, backed by one of the most robust R&D departments in the industry. You can count on their remap programs to deliver the promised upgrades without damaging your engine computer.  
With K-Suite, you'll get two powerful programs in one: Kess 3.0 and KTAG 3.0. Between the two, this is a powerful and comprehensive ECU remapping software. It can read original ECU files, write new ECU files, and support manual and automatic chip mapping for most vehicles on the road today. 
Of the two programs, KTAG is easier to use, with helpful features like vehicle-specific tuning suggestions that guide you through the process. Using Kess can be more difficult and is better-suited to professionals and advanced mechanics.
Verdict
The combination of two powerful remapping programs (Kess and KTAG) makes Viezu K-Suite the most comprehensive auto tuning software for professionals. 
Pros
Includes both Kess and KTAG software
Write and edit ECU files
Allows manual remapping 
Supports live tuning and 3D tuning
Wide vehicle compatibility, including both gas and diesel engines
Responsive, knowledgeable 24/7 customer support
Updates are free for life
Cons
Only works on Windows operating systems
Not as user-friendly as other options
MaxxECU MTune
MTune is an intuitive program with a user-friendly interface. Its main strength is in its simplicity. While it offers a robust range of functions, the most popular tuning programs can be accessed quickly and easily. Along with that, you'll get a live data logger and one-click access to real-time engine data, giving you the tools you need to both monitor and upgrade your engine. 
The vehicle compatibility of MaxxECU MTune is broad but inconsistent. Most of the basic functions are available for any OBD2-compliant vehicle, while other features are more selective in their support. It's a good idea to check out the support information on the company's website before you buy this software, just to make sure it has the features you need for your vehicle. 
In terms of device compatibility, the full MTune software is only available for PCs with a Windows operating system. There is a streamlined version (MDash) available for Android, but that's more focused on diagnostics than tuning. 
Verdict
MaxxECU MTune strikes an excellent balance of usability and functionality, with an impressive array of tuning and diagnostic functions for customizing and maintaining your vehicle. 
Pros
Easy to use 
Wide range of settings and functions
Access real-time engine data with one click
Supports 2D, 3D, and live tuning
Built-in fault diagnostics
Automatic, free updates
Cons
Not all functions will be supported on all vehicles
Not available for iOS or Android operating systems
Learn more about MaxxECU MTune here.
PrecisionCodeWorks
PrecisionCodeWorks is a car tuning program designed for professionals. This online tuning platform works a bit differently than other options on the list. Once you register and enter your vehicle information, upload your ECU file, and select your tuning profile. The CodeWorks engineers will write it to your specifications.
The advantage of this system is that it spares you the work of remapping and programming. Since the engineers write the changes into the ECU file, you don't have to be a tuning expert to use the service. You can count on the tuning to be accurate and tailored to your specific vehicle.
The flip side of this is that you don't get full manual control over the process. If you want to write ECU files yourself, this isn't the ideal option. For those who want to efficiently and easily tune a range of vehicle systems, though, PrecisionCodeWorks is an excellent choice.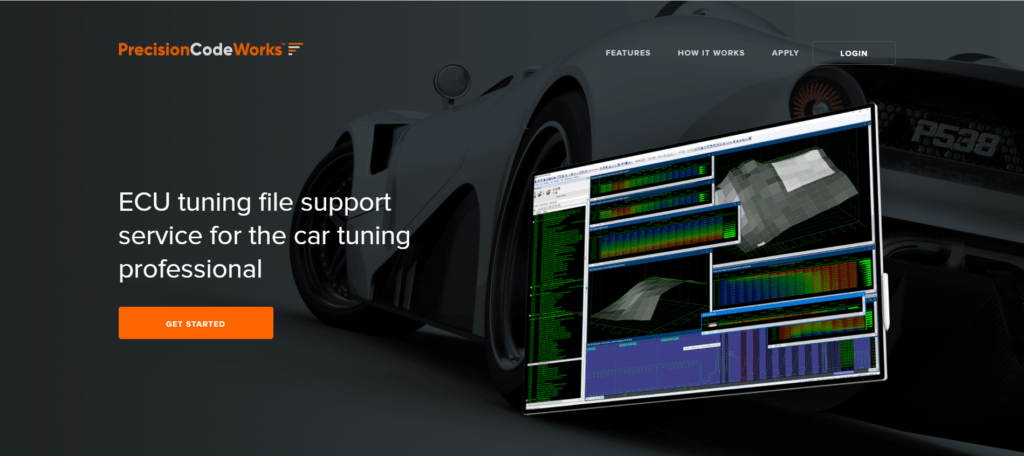 Verdict
PrecisionCodeWorks makes chip tuning effortless, providing custom ECU profiles for fast, error-free tuning, though it lacks the manual programming options you'll get with other systems. 
Pros
Safe and error-free chip tuning
Easy to use, even with limited tuning experience
Custom tuning files designed by ICE engineers
Live support is available 24/7/365
Detailed troubleshooting database of vehicle-specific tuning issues
Supports all flash tool formats
Cons
No manual tuning options
Requires additional tuning tool to use
Learn more about PrecisionCodeWorks here.
PCMTec
By limiting their focus to Ford, PCMTec offers specialized tuning that targets Ford owners' unique needs. You can modify thousands of parameters using this automotive performance tuning software, including the fuel injector settings, gear speed, and other features you won't get from other software. 
While the software itself is impressive, the support and community that come with PCMTec can be just as valuable when you're tuning. The developers address customer issues personally, so you can feel confident they know how to fix your problem. 
Of course, the drawback of PCMTec is pretty clear: it's designed to work with one specific manufacturer. That limits its usefulness for professionals who need to work on a variety of cars and trucks. For Ford Falcon owners, though, no tuning software can compete.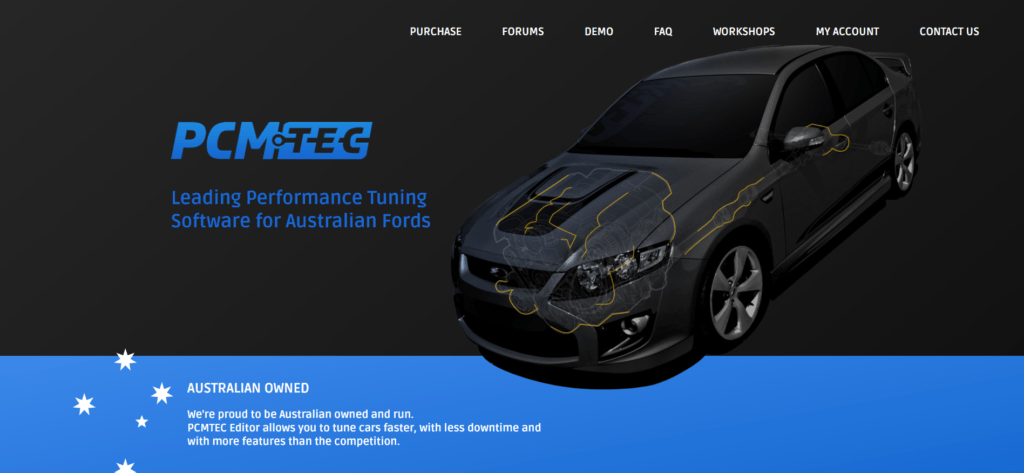 Verdict
For Australian Ford owners, PCMTec is the leading tuning software, with OEM-level tuning capabilities and excellent customer service. 
Pros
Configuration for 4,000+ parameters
Includes gear/speed boost control and camshaft control
Works with any J2534 cables (no proprietary hardware required)
Range of packages for hobbyists or professionals
Responsive, knowledgeable customer support
Supports all Ford Falcon models, including supercharged and turbo engines
Cons
Compatibility is limited to Fords
High cost for access to the full features
Learn more about PCMTec here.
Celtic Tuning DSG
If your vehicle uses a direct shift gearbox (DSG) system, Celtic Tuning DSG is the tuning software for you. Its range of calibration and remap options gives drivers full control over their gearbox, a key aspect of the engine's performance. 
Among the options with Celtic Tuning DSG are common tunings like increasing the maximum torque and shift speeds. It also allows you to deactivate the launch control or kick-down function, allowing you to drive your car the way you want. 
The flip side of Celtic Tuning's tight focus is that this software won't be useful for everyone. It's designed only for vehicles like Volkswagens that use the DSG system and doesn't have the diagnostic features or versatility of other programs on this list. 
Verdict
For modifying direct shift gearbox systems in Volkswagens and similar vehicles, Celtic Tune DSG is the top software on the market. 
Pros
Tuning includes increased RPM limiter and torque
Deactivates auto-kick-down and launch control
Software is customizable to meet your hardware and performance needs
Good range of calibration and remap options
Works with both diesel and gas engines
Cons
Use is limited to vehicles with DSG systems
No diagnostic functions
Learn more about Celtic Tuning DSG here.
OBDTuner
Another specialized program of note is OBDTuner. It's designed to work with Z22SE engines, also known as L61 engines, which are commonly found in GM vehicles. 
Full ECU calibration is the goal of OBDTuner, and it achieves this beautifully. Whether you're calibrating for after-market performance parts or just want to improve your throttle response, this software can get the job done. 
We appreciate the ease of use with this program, as well. It's ready to go out of the box with no lengthy set-up process. The range of base calibrations available means many users won't need to spend time changing the settings. Overall, OBDTuner is a speedy and straightforward way to improve your engine.
Below is the interface of OBDTuner.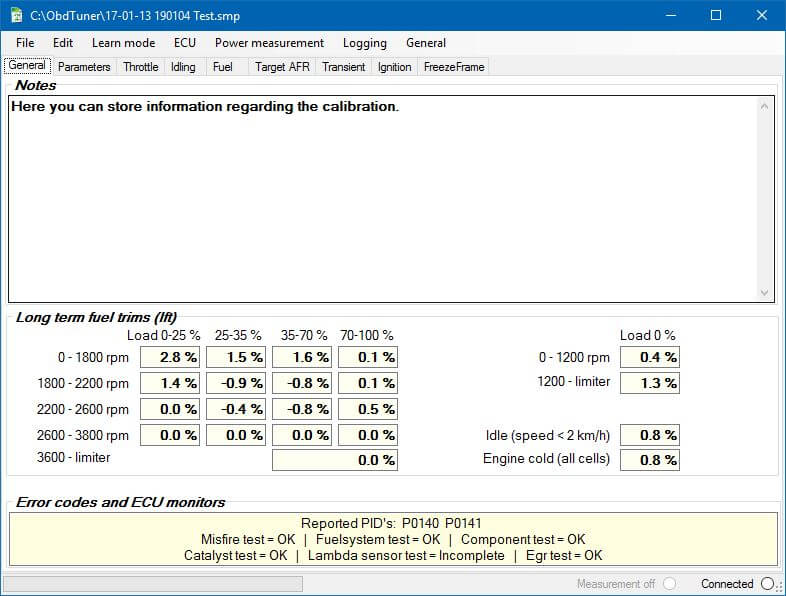 Verdict
GM drivers will appreciate the power of OBDTuner, which can make any Z22SE engine into a fully-programmable ECU. 
Pros
Works on any Z22SE/L61 engine
Plug-and-play operation
Easily recalibrate engine to integrate performance-enhancing components
Includes time-saving base calibrations
Supports most basic OBD2 interfaces
Wide range of injectors supported
Cons
Limited vehicle compatibility
Need to purchase Pro version for a full range of features
Learn more about OBDTuner here.
MoTeC M1 Tune
MoTeC is the official tuning software for M1 ECUs. Using this software, you can manage all the customizations you make to the ECU, with an adaptive interface that responds to any changes. 
The screen layout of MoTeC M1 Tune is one of its best aspects. It can be completely customized to meet your needs, showing the exact data you want to see when you need it. Automatic data logging helps keep track of your changes and analyze the results. 
Something else we love about MoTeC is that it's easy to learn and use. The built-in help function is robust and a great resource for beginners and more experienced users alike. If your main concerns are ease of use and affordability, this is a top option.
Verdict
Helpful features like a customizable screen layout and automatic data logging make MoTeC M1 Tune a flexible, comprehensive option for maximizing engine performance.
Pros
Flexible, customizable screen layouts
Automatically adapts to customizations and builds
Automatic on-screen data logging
Comprehensive help function guides you through the program
Free to download and try
Cons
Only compatible with Windows OS (XP, Vista, 7, or 8)
Specifically for M1 ECUs
Learn more about Motec M1 Tune here.
Q-Tuning
Quantum Tuning is the largest ECU programming software company in the UK, offering remapping and chip tuning services for everything from cars to RVs. Just upload your original ECU file, choose your modifications, and they'll write the changes for you—often in less than an hour. 
Q-Tuning is the ideal option if you're not sure whether chip tuning is right for your car. All original ECU files are saved and can be restored for free if you're not happy with the modifications. 
Since the Q-Tuning team makes the modifications for you, this isn't the best option for those who want full manual control over the engine computer. They offer a variety of map choices, including common tunings to optimize horsepower or improve fuel efficiency, so odds are you'll be able to find the one you're looking for.  
Verdict
Q-Tuning is a risk-free, fast, and easy way to optimize your engine, with a knowledgeable staff that can quickly remap the ECU to improve performance across a range of parameters. 
Pros
Wide variety of ECU maps
Knowledgeable tuning team with quick turnaround time
App layout is intuitive and easy to use
Works with most vehicles, including diesel and hybrid engines
Available for both PCs and mobile devices (Windows, Android, or iOS)
Saves original software and can restore it free
Cons
Doesn't support manual tuning
Each tune requires separate payment
Learn more about Q-Tuning here.
TunerPro
Finally, here's a top choice for hobbyists who want to explore their own chip tuning. TunerPro started as an educational product, and it's maintained its donation-based pay structure since its establishment in 2003. You can use its full features for free, and those features are continually improving.
The downside of this development structure is that its vehicle compatibility is both limited and somewhat random. It was initially designed for OBD1 GMs (1985-1995) and has been adapted for about a dozen other makes and models (you can see the full list on their website).
For those who love working on and tuning classic cars and motorcycles, TunerPro lets you take your tinkering to the next level. Its user community is a helpful feature unto itself, too, and can be especially beneficial for newcomers to chip tuning. 
Verdict
For hobbyists, TunerPro is a free way to get into chip tuning and has a good number of features, though its vehicle compatibility is limited. 
Pros
Free to use
Wide range of functions for OBD1 tuning
Supports 2D and 3D graphing
Frequent updates and improvements
Knowledgeable online community 
Cons
Only works with select models (mostly older vehicles)
Requires Windows operating system
Learn more about TunerPro here.
What is car tuning?
The simplest explanation of car tuning is the process of improving the vehicle's performance and optimizing it to the driver's needs. Most often, it refers to the process of modifying the parameters of components controlled by the ECU (a process known as "chip mapping" or "remapping"). It can also include physical upgrades like installing an after-market exhaust system or improved suspension. 
Automotive tuning software lets you communicate with the ECU to make these modifications. It's also helpful for making physical upgrades to your vehicle. For example, the electronic monitoring systems in modern vehicles need to be reset after replacing a part, something you can do with many car tuning programs. 
Benefits of car tuning software
Save money on repairs. For an experienced home mechanic, tuning software is a huge cost-saver, not just on vehicle customization. They also enable you to make a wider range of at-home repairs than basic OBD2 scanners. 
Improve your vehicle's performance. If you want more horsepower and better torque, tuning your engine can unlock its full potential. Alternatively, you could optimize the engine for efficiency and improve your gas mileage to save at the pump. Tuning software gives you the option to customize your vehicle to your specific needs. 
Easy vehicle upgrades. Chip tuning is less labor-intensive than replacing engine components. Many tuning programs come with pre-made remapping programs designed for specific vehicles and outcomes, letting you quickly and easily customize your car or truck.  
Extend your engine's life. With OBD2 tuning software, you can diagnose and monitor engine issues along with improving performance. This lets you catch potential issues before they can cause damage and makes sure you get the most out of your vehicle. 
Tips and buying guides
Key features
Read original ECU files. Before you can adjust vehicle parameters, it's important to review your current configuration. Most ECU tuning software supports reading files from the original ECU, though this service may not be available from services that write the changes for you. 
Write and edit ECU. Manual chip tuning software allows you to make your own modifications to the ECU. Programs with this feature offer the most control and customizability, though they also require a higher level of expertise to use correctly.
Automatic mapping. With automatic mapping, you choose an optimization goal from a range of provided pre-written maps. These changes are then made on your behalf, without the need for manual programming. This can be a helpful function for inexperienced users and a quick way for professionals and experts to make modifications.
Diagnostic capabilities. Many OBD2 tuning programs also include the ability to read live engine data, view trouble codes, and make repairs, along with their programming functions. This also allows them to take the place of a diagnostic scanner in your garage. 
Other considerations
Vehicle compatibility. Some programs support a range of vehicles, while others only work with a specific manufacturer (or even model). Before deciding on a program, check to make sure it will work with your car or truck.
Support and community. Responsive customer support can save you a lot of frustration when you have an issue with your software. A knowledgeable user community can be especially beneficial for hobbyists, giving you a chance to share information and learn more about chip tuning.
Ease of use. The more features a program has, the more complicated the interface will be. Simpler, more intuitive software is simpler to navigate, learn, and better for beginners. 
Recommendation: Best ECU tuning software
For professionals, Viezu K-Suite is by far the most robust automotive tuner software out there. While it can be tricky for beginners to use, it gives pros the most options and control. 
MaxxECU MTune is a great middle-ground option. It's user-friendly enough for hobbyists but still offers the advanced functions professionals need.
For everyday drivers, PrecisionCodeWorks is our top pick. It allows you to tune your engine without any programming knowledge, with no worries that you'll damage the ECU through human error. 
FAQs
❓ Will chip tuning void my car's warranty?
💡 Not if a certified dealer or mechanic performs it. However, home chip tuning can void your warranty if it's demonstrated that your modifications caused damage to the vehicle. Modifications made for racing purposes can cause an issue. If you're concerned, using a service like Q-Tuning or PrecisionCodeWorks is the safest option.
❓ Does tuning an engine increase emissions?
💡 Not if you do it correctly. Some modifications to increase horsepower or torque can cause you to burn more fuel, but you shouldn't see increased fumes or particulate emissions.
❓ Will tuning my engine increase the maximum speed?
💡 Sometimes, yes. One form of tuning is to remove speed limiters, which will increase your potential top speed. With more general performance tuning, the output is boosted more at low and middle speeds, but you may see a bump of 5-10 miles per hour to your top speed when you increase torque. 
❓ What does tuning actually do to the car? Can it cause damage?
💡 When you tune an ECU, it uses different parameters to control the behavior of the engine. Even if you're not replacing any physical components, this changes how the existing parts interact with each other. This can lead to engine damage if done incorrectly.
❓ How long does it take to tune a car?
💡 That depends on the program and what changes you're making. It can take as little as 15 minutes for an experienced mechanic to make basic modifications, and most tuning shouldn't take more than an hour. For more complicated tunes (or inexperienced users), it may take as long as 5 hours or more. Typically, though, this also involves replacing physical components and the labor involved in those modifications. 
Final thoughts
Which car tuning software is the best for you depends on the vehicle you drive, your level of experience, and what you hope to accomplish. Any of the programs reviewed above could be a great choice. Whichever way you go, tuning software is an affordable and easy way to optimize your vehicle's performance.