Have you ever wondered the differences between LAUNCH CRP909X vs. CRP909E vs. CRP909? If yes, you're in the right place.
Today, we will be making an in-depth comparison between these three excellent LAUNCH diagnostic tools.
LAUNCH CRP909X vs. CRP909E vs. CRP909: Comparison chart
| | | | |
| --- | --- | --- | --- |
| | BEST OVERALL | RUNNER UP | GREAT PICK |
| | LAUNCH CRP909E | LAUNCH CRP909X | LAUNCH CRP909 |
| Customer Rating | | | |
| Price | | | |
| Item Weight | 7.93 pounds | 3.93 pounds | 7.09 pounds |
| Product Dimensions | 16.6 x 14.15 x 4.95 inches | 16 x 14 x 4 inches | 16.7 x 14.1 x 5 inches |
| Supported Protocols | OBDII, EOBD and JOBD | OBDII, EOBD and JOBD | OBDII, EOBD and JOBD |
| Total Language Supported | 9 | 8 | 9 |
| Screen | 7 inch HD | 7 inch | 7 inch |
| Battery | 1 Lithium ion 6000 mAh | 1 Lithium ion 6000mAh | 2 Lithium Polymer 6000mAh |
| Compatible Manufacturers | 57+ | 57+ | 80+ |
| Warranty | 5 year | 5 year | 5 year |
| Update | 1 year free | 1 year free | 1 year free |
| Oil Reset | ✔️ | ✔️ | ✔️ |
| TPMS Reset | ✔️ | ✔️ | ✔️ |
| SAS Calibration | ✔️ | ✔️ | ✔️ |
| Throttle Body Reset | ✔️ | ✔️ | ✔️ |
| EPB Reset | ✔️ | ✔️ | ✔️ |
| Bi-directional Test | ❌ | ❌ | ✔️ |
| Previous Report | ❌ | ✔️ | ❌ |
| | | | |
LAUNCH CRP909X vs. CRP909E vs. CRP909: Detailed comparison
Key things in common
At first glance, all three LAUNCH scan tools will feel the same. They are big in size and have a large touchscreen interface so you can manipulate them easily. Navigation buttons also help you in using these OBD2 scanners.
When it comes to diagnosing an error on your car, any LAUNCH scanner from the list will perform admirably. They can scan any system of your car, starting from the engine to the radio.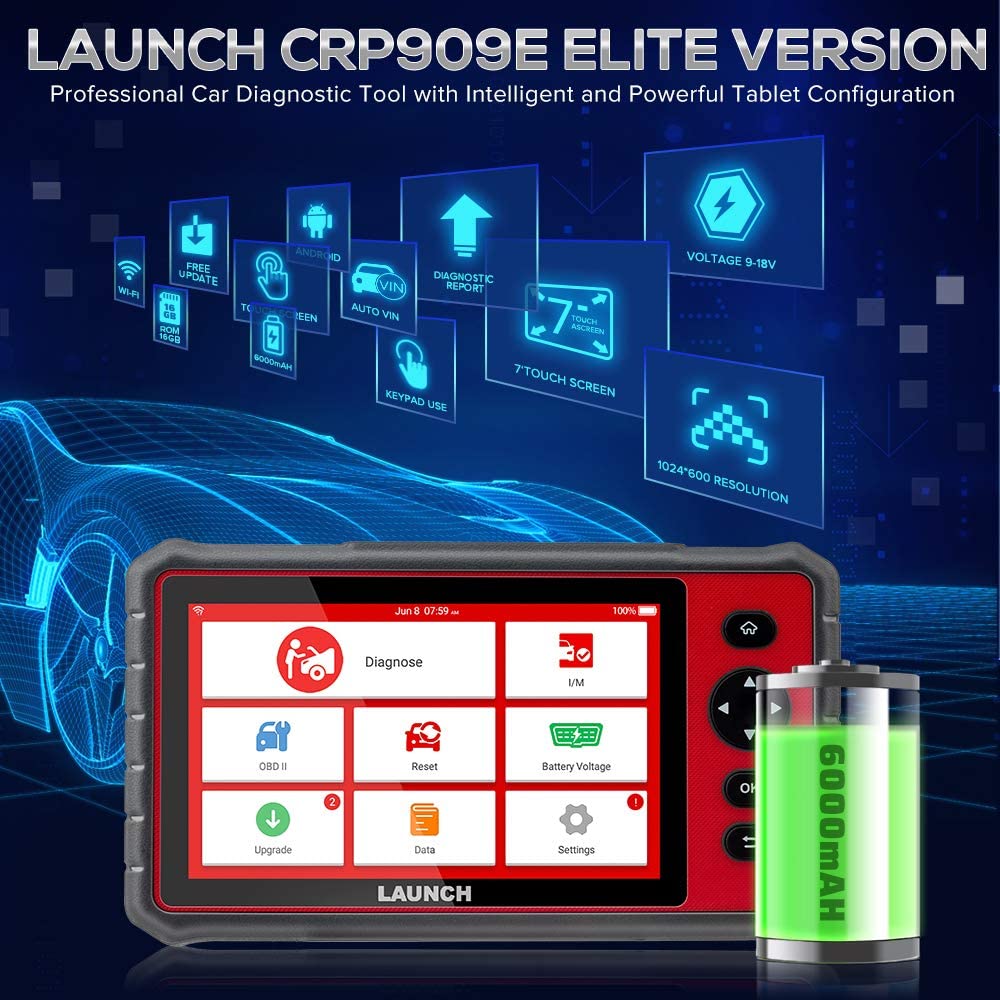 Key differences
Design and specifications
If you put all three scanners, you will find that design-wise, there are not many differences. All of them have more or less similar dimensions with 7-inch screens. The CRP909E is slightly different because it has a screen with higher brightness and HD resolution. 
They all have 6000mAh batteries and are running Android 7.1.
Weight-wise, CRP909E and CRP909 are heavier, tipping the scale over 7 pounds, while the CRP909X is only half of that, around 3.5 pounds. This makes it a better choice, as it is more portable without compromising durability.
Overall features and functions
The CRP909 offers a bi-directional control giving it a slight edge. With that, you have control of which parts of your car you want to scan.
Once the scan is complete, all LAUNCH OBD2 scanners will generate a report that you can transfer via WiFi. Each one will provide a full report, but all three have a different level of details included.
For the CRP909, the auto-detect feature is manual. The CRP909E, on the other hand, has a one-click diagnostic feature. It will perform a full diagnostic on your car and outline all modules that it includes. For a detailed scan, you will need to choose a specific system to scan.
The CRP909X's reports are almost identical to the CRP909. The only difference is that you can pull up previous reports. It is an excellent feature because you won't need to rescan the car or if you want to compare previous with current reports.
Extra features/functions
All three scanners on our list have the same set of additional features and functions. You can reset various errors and make some advanced changes to your car, like programming, gear learning, etc. With that said, the CRP909X seems to have a bit more data during the diagnostic process.
Supported protocols
LAUNCH CRP909X, CRP909E, and CRP909 support OBD, JOBD, and EOBD, meaning that they cover a wide range of support.
Despite that, CRP909X and CRP909E have some limitations, making the CRP909 slightly better.
Supported vehicles makes
The most significant difference between each LAUNCH OBD2 scan tool on this list is the supported models. Out of all three LAUNCH OBDII diagnostic scanners, the CRP909 has the most supported manufacturers and models, offering support for over 80 car manufacturers. The downside is that models from the last two years are not supported.
The CRP909E and CRP909X, on the other hand, have a similar list of supported manufacturers – over 57, a lot less than CRP909. The good news is that they will work with cars even from 2020.
Software and updates
Each LAUNCH scanner on our list comes with a one-year free update. After that, you will need to pay an additional fee for each following year. The payment is for future updates, so you can continue to use your LAUNCH OBD2 diagnostic tool for free without updating it.
Pros and cons of CRP909X vs. CRP909E vs. CRP909
Even though these OBD2 scanners may seem very similar, some of their pros and cons are not.
LAUNCH CRP909E OBD2 scanner
Pros
Better screen
One-click diagnostic feature
Detailed reports
Multi-language support
2020 models supported
Cons
Quite heavy
No option for reviewing previous reports
Check Price at Amazon
LAUNCH CRP909X OBD2 scan tool
Pros
Lightweight
Option to check previous reports
Ability to monitor battery in real-time
Compatible with newest models
Long battery life
Cons
Less than 60 supported manufacturers
Can't store reports on the device
Check Price at Amazon
LAUNCH CRP909 OBDII diagnostic tool
Pros
Over 80 supported car manufacturers
Bi-directional control
Ability to scan specific system
The report can be sent over WiFi
Cons
No support for cars newer than 2018
Older model
Check Price at Amazon
Recommendation
Each LAUNCH scanner we mentioned has its target group. From the list of pros and cons, it is easy to determine who should get this.
For the broadest range of supported cars, the CRP909 is the ideal choice if you don't need it for a car from the past two years.
If you need those covered, the CRP909E could be a better choice.
For those that are on the move and need something light and portable, the CRP909X is the one.
Even though it may be too much for home use, if you are an enthusiast, go for it. Otherwise, these kinds of OBD2 scanners are ideal for a mechanic.
FAQs
❓ Can these LAUNCH CRP909 code readers bleed ABS?
💡 Yes. All three are capable of ABS bleeding.
❓ Can CRP909 and CRP909E check older reports?
💡 No, the CRP909 and CRP909E will not store old reports, meaning that you will need to save them to a different device. The CRP909X can store previous diagnostic reports.
❓ Will LAUNCH CReader 909 OBD2 scan tool works with hybrid cars?
💡 Yes, it should work with hybrid cars. However, you should check the supported models to verify.
❓ Which of these three LAUNCH diagnostic tools can make mileage correction?
💡 None of the LAUNCH scanners in this article can make mileage correction.
❓ Can I use these LAUNCH OBDII scan tool while charging?
💡 Yes, the charging and OBD come as separate cables. Also, both go in different ports, meaning that you can use it while charging.
❓ How many updates will I get with these OBDII scanners?
💡 The number of updates you get will depend on LAUNCH company. For the first year, after purchasing and activating the product, you will get free updates. If you want to continue getting more updates, you will need to pay a fee.
❓ Can I use these LAUNCH diagnostic scanners without paying for updates?
💡 Yes. The fee you pay is for the updates only. You can decide not to pay after the first year and continue using the LAUNCH scan tool without updates.
❓ Can one of these LAUNCH tools reprogram an ECU?
💡 No, none of these can reprogram an ECU. LAUNCH has other models that have that capability.
Final thoughts
Today's market is flooded with OBD2 scanning tools. With a wide range of choices, it can be challenging to get the right one for your needs. Among the many companies that sell diagnostic tools is LAUNCH.
As you can see from our outline of LAUNCH CRP909X vs. CRP909E vs. CRP909, you are looking at three different products with similar specs. With that said, we hope that our breakdown of their features, specs, pros, and cons will help you choose the one you're looking for.