Are you looking for the right diagnostic system to refit your automotive by yourself?
If yes, you are lucky. This Autel Maxidas DS808 vs. MS908CV vs. Maxisys Elite comparison can help you solve your question.
Autel Maxidas DS808 vs. MS908CV vs. Maxysis Elite: Comparison chart
BEST OVERALL
RUNNER UP
GREAT PICK

Autel Maxisys Elite


Autel MS908CV


Autel Maxidas DS808

Customer Rating

Price
Item Weight
35.2 pounds
21.4 pounds
5.9 pounds
Product Dimensions
35.67 x 17.95 x 7.87 inches

25.51 x 17.01 x 7.52 inches
17.32 x 6.69 x 21.65 inches
EPB Reset
✔️
✔️
✔️
Battery Maintenance
Service (BMS)
✔️
✔️
✔️
O2 Sensor Test
✔️
✔️
✔️
ABS Bleeding
✔️
✔️
✔️
Freeze Frame Data
✔️
✔️
✔️
Fuel Injector Coding
✔️
✔️
✔️
I/M Readiness
✔️
✔️
✔️
ECU Programming
✔️
✔️
✔️
Autel Maxidas DS808 vs. MS908CV vs. Maxysis Elite: Detailed comparison
Key factors in common
ECU coding
These are heavy-duty diagnostic tools. They allow you to re-flash the control modules of your commercial vehicles. E.g. power loss, fuel efficiency, durability of mechanical parts, fault codes, and so on.
Please note that many Automotive Diagnostic & Analysis Systems do not support ECU coding. You can use this feature to work on unique vehicles. You won't need any expensive equipment either.
OE level functionality
The OE-level functionality of these car diagnostic tools is great. Their systems also facilitate advanced wireless connectivity between tablets. Moreover, VCI devices allow ease of work and superior mobility.
Advanced features
All these diagnostic system scanners be used with systems in over 80 Asian, European, and US vehicles. Functions like EPB services, DPF, SAS, and BMS services are also present.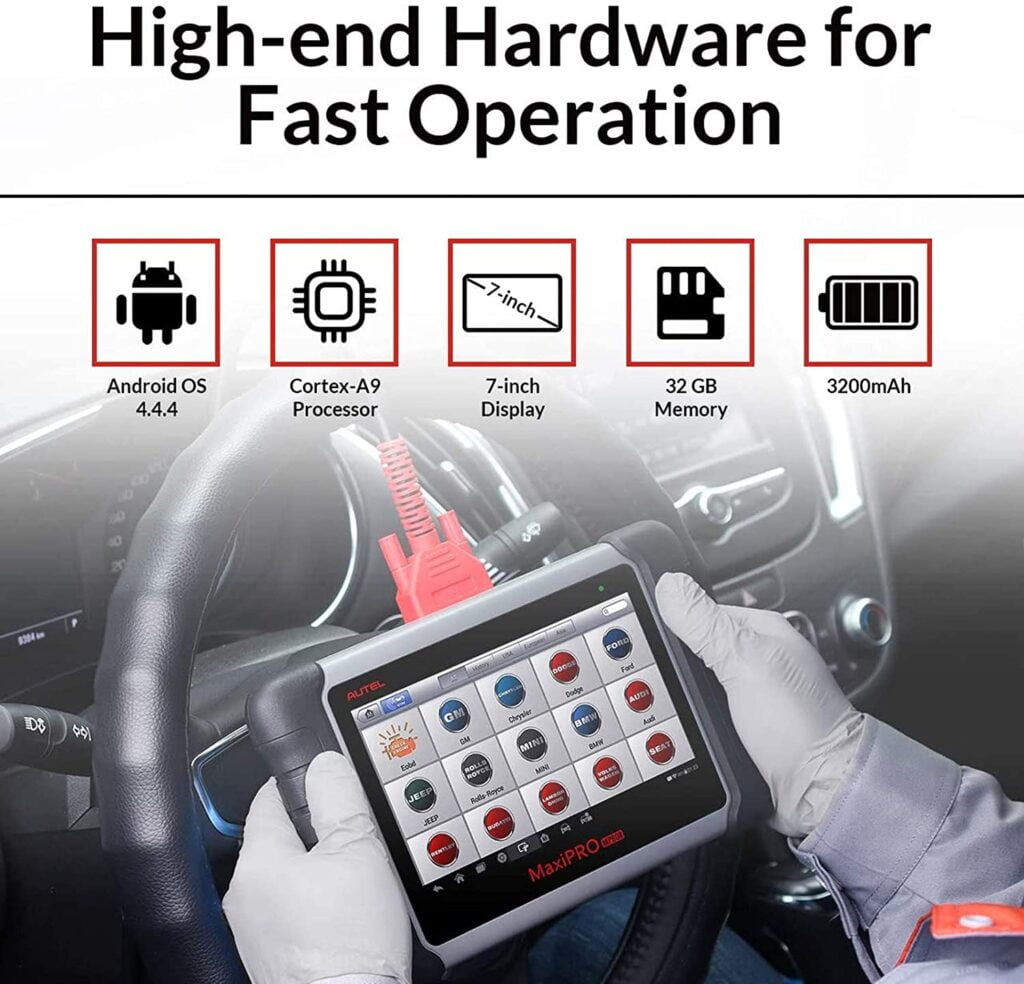 Key differences
Each of the best Autel Automotive Diagnostic & Analysis System carries some differences too. The key differences are as follows:
Design and specifications
When it comes to performance, the equipment is similar to MS906. It can provide live data, active tests, ECU information, matching, and adaptation. DS808 features an Android operating system and a fast quad-core processor.
The Autel MS908CV automotive system is designed to manage complex workshop operations. It offers a storage facility for all data files and vehicle records. Even the customer information is also stored.
The Autel Maxisys Elite boasts pro-level diagnostic services for commercial vehicles. E.g. trucks and buses. This system offers a wide range of features. To name a few are Active Test, 23 Adaptation Services, Read/Erase Codes, and Live Data display.
Overall features and functions
The three automotive types of equipment have their own distinctive features and functions.
The DS808 tool features various services. These include:
TPMS Programming,
Oil Reset,
EPB,
SAS Calibration,
DPF Regeneration
ABS/SRS.
Autel MS908CV has attributes such as:
Anti-theft matching,
Tire pressure reset,
One-click update, and
Auto-cloud technology.
The Autel Maxisys Elite displays the following:
After Treatment Maintenance,
Calibration of Rack Sensor,
Fuel Pressure Adaptation Accurate Reset,
Prompt navigation for optimal efficiency.
Extra functions and features
The Autel Maxidas DS808 system comprises several features as listed below. These make DS808 more advanced than the previous renditions, at a better price.
Smart AutoVIN service,
Shop Manager functions, and
Cloud-based MaxiFix.
Autel MS908CV diagnostic system is:
Powered by the world's fastest mobile processor, Tegra'4.
Features a 9.7-inch retina display
Complete Android compatibility.
Next, the Autel Maxisys Elite provides you all the essential functionalities. Like:
Powerful multitasking performance.
Android 4.0 operating system,
8 hours of non-stop operation, and 
A Quad-Core Processor.
Technical support
Autel's DS808 diagnostic system provides direct contact with Autel Technical Support. This facilitates first-hand troubleshooting of errors. The system also features a Cloud-based MaxiFix.
The MS908CV system offers remote technical support.  This leads to a convenient demonstration and guidance. As a result, there is an enhanced consumer satisfaction.
Autel Maxisys Elite provides remote control technical support. As a result, the troubleshooting is prompt and  24/7.
Supported vehicle makes
Autel Maxidas DS808: US, Asia, and European vehicles.
While Autel MS908CV: Commercial vehicles and machines produced in Asia, North America, and Europe.
And Autel Maxisys Elite: More than 80 domestic US, Asian, and European vehicle makes.
Software and updates
Based on the Android operating system, the Autel Maxidas DS808 features extensive OE-level diagnostics.
Autel MS908CV is RP1210 compatible, including Eaton, Bendix, Cummins, Detroit, etc.
The Autel Maxisys Elite diagnostic system features an Android software – 4.4.4 KitKat.
Pros and cons of DS808 vs. MS908CV vs. Maxisys Elite
Pros
The Autel DS808 system provides you with quick access to all kinds of vehicle systems. This is helpful for various services and maintenance purposes. It offers new, highly-functional software updates. These include specialized functions such as the Cloud-based MaxiFix and Shop Manager. Also, this is a robust diagnostic scanner with excellent features at a minimal price.
Unlike many other diagnostic systems, the Autel MS908CV covers most domestic and commercial vehicles. (Those manufactured in 1996 and later). It supports several languages such as English, Spanish, and French.
Autel Maxisys Elite diagnostic system offers 23 adaptive functions. These functions assist you in resetting the components of your vehicle after repair. Additionally, it features cloud-based data and smart technology to increase work efficiency.
Cons
There is a pre-existing application on Autel DS808 for Email sharing of the files. This application is not compatible with Gmail or Yahoo servers. Also, the free updates are only available for the first year after purchase.
The Autel MS908CV system is quite cumbersome to install. Additionally, there are issues connecting to the Autel servers.
The price of Autel Maxisys Elite scanner can be counted as a con since it is quite an expensive product.
Which one should you opt for?
The Maxisys Elite scanner tool by Autel is perfect for professionals. This is because it offers several advanced and basic functions. It is easy to use and offers touchscreen technology. The best part is, it eliminates the necessity to operate itself with wires. Thus, if you want to perform outstanding functions, you must invest in the same.
If you happen to be a mechanic who handles heavy-duty trucks, then Autel's MS908CV tool is ideal for you. This outstanding diagnostic scan equipment can perform many functions with its advanced features.
The DS808 is designed for professional mechanics and service operators. It has an excellent file management system that helps in organizing customer data. Thus, this professional automotive OBDII Scan Tool helps you maintain data. For e.g. the record of vehicles, diagnostic histories, and VIN.
FAQs
Below are the most frequently asked questions about these diagnostic systems:
❓ Can you view live data for the ABS and the engine?
💡 Yes. You can easily view live data for the ABS and the engine.
❓ How many years of free software use do you get?
💡 These products have one year of free update and software use.
❓ Are these automotive systems compatible with motorcycles?
💡 No. None of these are compatible with a motorcycle.
❓ Do these feature programming and relearning functions?
💡 Certainly! These systems support vehicle programming and relearn functions.
❓ Does each system come with a battery?
💡 Yes, each of these tools comes with a battery.
Final thoughts
That is all we would like to share about three excellent scan tools: Autel Maxidas DS808 vs. MS908CV vs. Maxisys Elite.
It's your job to choose the product that is best-suited your vehicle. Good luck!