Automotive Diagnostic Scanners are useful for professional and personal use alike. You might be a professional technician dealing with cars regularly, who likes to try out the best car diagnostic tool. You can also be a car enthusiast who likes to do the diagnosis yourself and understand the challenges.
In both cases, a car diagnostic tool comes in handy. These tools not only save your time and energy but also fastens the repair process. However, the step is to figure out the most appropriate diagnostic tool for you.  We know that the process of selecting one can be tedious and boring. Hence, we have come with a comparison of three popular products in the category of the Car Diagnostic Tool. Here is a detailed outlook on LAUNCH X431 V PRO vs. INNOVA 3160g Pro vs. FOXWELL NT510 Elite.
A tabular comparison is very useful for getting an overview and making the right choice henceforth. Let's check it:
LAUNCH X431 V PRO vs. INNOVA 3160g Pro vs. FOXWELL NT510 Elite: Comparison chart
| | | | |
| --- | --- | --- | --- |
| | BEST OVERALL | RUNNER UP | GREAT PICK |
| | LAUNCH X431 V PRO | INNOVA 3160g Pro | FOXWELL NT510 Elite |
| Customer Rating | | | |
| Price | | | |
| Item Weight | 10.68 pounds | 1.5 pounds | 1.41 pounds |
| Product Dimensions | 20 x 14.02 x 4.02 inches | 10.25 x 8.25 x 1.5 inches | 7.87 x 1.5 x 3.94 inches |
| Vehicle compatibility | Asian, American, European and Chinese | All OBD2 Compliant vehicles | BMW and Basic OBD vehicles |
| Airbag Diagnostics | ✔️ | ✔️ | ✔️ |
| Oil Reset | ✔️ | ✔️ | ✔️ |
| I/M Readiness | ✔️ | ✔️ | ❌ |
| TPMS Reset | ✔️ | ❌ | ✔️ |
| Fuel Injector Coding | ✔️ | ✔️ | ✔️ |
| Freeze Frame Data | ❌ | ✔️ | ✔️ |
| O2 sensor Test | ✔️ | ✔️ | ✔️ |
| Read live PCM DataStream | ✔️ | ✔️ | ❌ |
| Battery Maintenance (BMS) | ✔️ | ✔️ | ✔️ |
| | | | |
LAUNCH X431 V PRO vs. INNOVA 3160g Pro vs. FOXWELL NT510 Elite: Detailed comparison
Key things in common
As all three are popular car diagnostic tools, they have certain features in common. Even if the features might not be the same, they are similar to a large extent. The common characteristics are:
OBD2 scanner
In today's vehicles, one of the most important features of a car diagnostic tool is to perform the basic OBDII functions. The products have an OBDII scanner to perform the diagnosis.
The OBDII scanner helps to perform a full car diagnosis. This includes reading and clearing codes, live data streaming and recording, and test sensors. 
The LAUNCH X431 V PRO scanner, INNOVA 3160g Pro scanner, and FOXWELL NT510 Elite OBDII scan tool have all the above-mentioned features. 
System diagnosis
The scanner performs active tests on the cars. The tests diagnose issues in various car systems like ECMBMS, TPMS, TCM, ABS, SAS, SRS, BCM, IMM,  Fuel System, Wiper System, Light System, etc.
The diagnostic tools can perform the basic functions, including but not limited to the following:
Engine System
Fuel System
SRS
Light system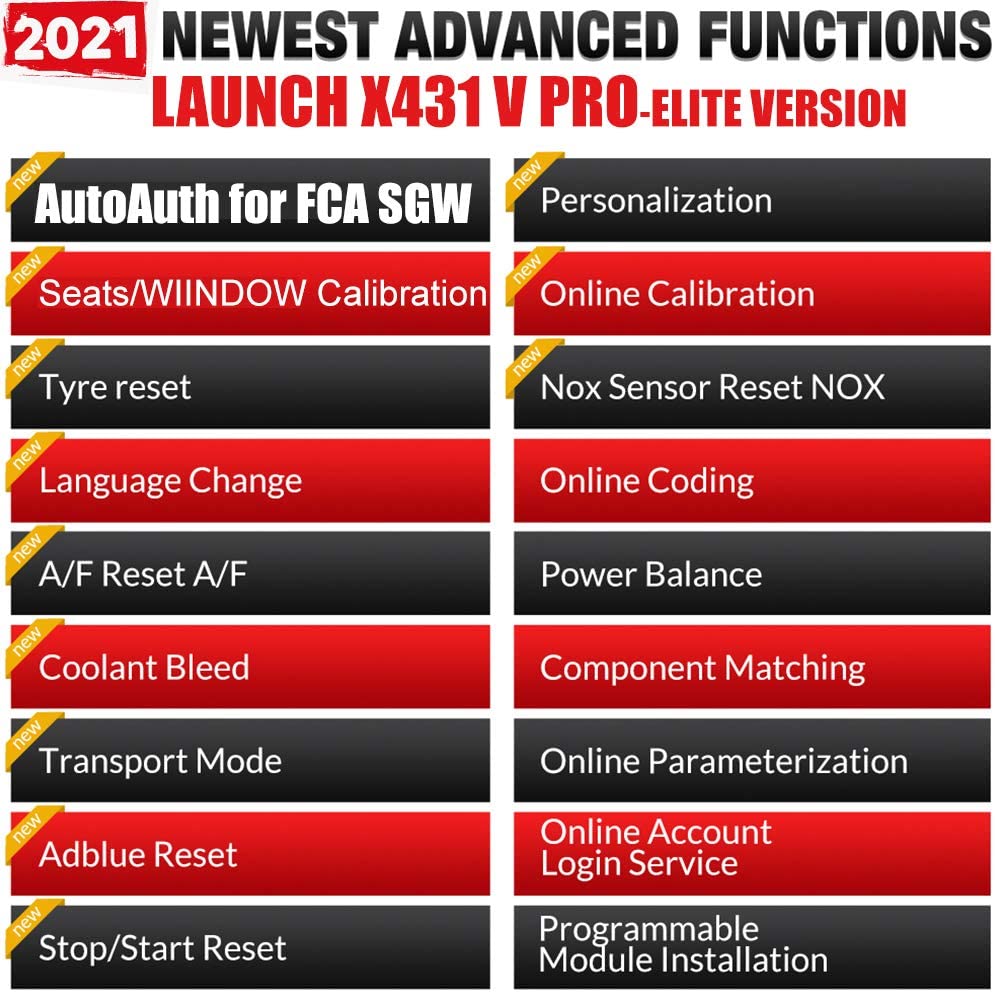 Key differences
If you see an overview of the three products, you might not find many differences. However, all 3 specialize in different vehicle types and features.
Design and specification
While the INNOVA 3160g Pro and FOXWELL NT510 Elite are similar in the dimensions and weight, LAUNCH X431 V PRO varies significantly. INNOVA 3160g Pro scan tool and FOXWELL NT510 Elite scan tool are handheld monitors that provide ease of use and storage. The average weight of the devices is approximately 1.4 pounds. Whereas, LAUNCH X431 V PRO is a tabular device with wider dimensions. It weighs about 10 pounds and a thicker body.
Special functions
In all the newer diagnostic tools, special features bring uniqueness to the tool. The important functions like Oil reset, Battery Maintenance, Throttle reset and Fuel Injection are common within the products. However, there are a lot of other functions that vary significantly.
For INNOVA 3160g Pro tool especially, the below-mentioned features lack in the scanner:
DPF Regeneration
SAS calibration
TPMS
IMMO keys
EPB reset
Gear Learning
Vehicle compatibility
All these diagnostic tools are compatible with the basic OBD vehicles. However, there is a set of the vehicle each of the tools is more compatible with.
LAUNCH X431 V PRO is compatible with more than 10,000 car models, including American, Asian, and European car models.
In the meantime, INNOVA 3160g Pro is not compatible with OBD1 vehicles. It has specialized in OBD2 vehicles in both America and abroad since 1996.
FOXWELL NT510 Elite OBDII scan tool works best with the following vehicles:
BMW, MINI, and Rolls Royce from 1998 to 2019
Compatible with global OBDI/OBDII/EOBD
Pros and cons of X431 V PRO vs. 3160g Pro vs. NT510 Elite
LAUNCH X431 V PRO scan tool
Pros
Support many vehicles including old models.
Live wheel speed observing
Offer WiFi printer
Allow BCM and PCM
Identify missing cylinder
Informative user manual
Cons
Most expensive option of the three
Quite heavy
Not possible to check crank voltage and battery health
Check Price at Amazon
INNOVA 3160g Pro OBD2 scanner
Pros
Regular software update
Large screen
Free subscription for one year
Access live data and charts
Highly compatible
Cons
Some specific vehicles is not compatible properly
A bit difficult to learn how to use
Quite high subscription cost
Check Price at Amazon
FOXWELL NT510 Elite diagnostic tool
Pros
Lifetime update
Perform both basic & advanced features
Easy to add other car models
Read standard and advanced codes
Solve brake issues with the reset feature.
Cons
Only hold up to 5 different car models at a time.
Some special diagnostics works only on OBD1 & OBD2 vehicles from 2015.
Check Price at Amazon
Recommendation
As mentioned, all three car diagnostic tools specialize in their areas. This comparison review makes them appropriate for a specific set of users.
LAUNCH X431 V PRO scan tool provides the highest number of functionality among the three. Along with superior system diagnosis and OBD2 scanner, this LAUNCH scan tool specializes in high special functionality for the vehicles. Keeping all factors in mind, the OBD2 scan tool is more appropriate for professional use. For personal use, the OBD2 scan tool might seem a little expensive and difficult to store.
The INNOVA 3160g Pro provides the minimum number of features among the three choices. However, it has all the basic functions needed for car diagnostics. It is recommended for personal use by DIYer, due to the unique design and features.
Lastly, FOXWELL NT510 Elite specializes in luxury vehicle brands like BMW, MINI, and Rolls-Royce. The functionality and features of this tool are highly elaborate and diversified. It is most appropriate for BMW users but is also a great choice for any OBD2 vehicle.
FAQs
❓ What is the warranty period for these three products?
💡 The warranty period for the 3 car diagnostic tools are:
LAUNCH X431 V PRO: 5 years warranty. It also includes a 60-day hassle-free refund policy
INNOVA 3160g Pro: 1-year limited warranty from the date of purchase
FOXWELL NT510 Elite: 1-year warranty from the date of purchase
❓ Are these tools compatible with iOS systems?
💡 Out of the three, only INNOVA 3160g Pro is compatible with iOS. LAUNCH X431 V PRO is an Android tablet and is not compatible with iOS. Similarly, FOXWELL NT510 Elite is not compatible with the iOS system and can only be upgraded through a Windows system.
❓ What is the mode of power supply for the scanners?
💡 LAUNCH X431 V PRO uses a lithium-ion battery for operation. It is already included in the product. The battery can run for 9 hours nonstop and be recharged thereafter.
Meanwhile, the INNOVA 3160g Pro scan tool uses 3 AA alkaline batteries, which are provided with the package.
The FOXWELL NT510 Elite connects directly to the car and does not require batteries.
❓ Is software updating free of cost?
💡 For LAUNCH X431 V PRO, software updates are free for 2 years, and chargeable henceforth. However, you can still use the software without any issues after 2 years.
For the other two scanners, you can update the software from their websites.
❓ Can I read the history of the vehicle?
💡 Yes, based on the codes and the storage available, you can view the car data history of the vehicle.
Bottom line
That is all about the common features and differences of the three scan tools: LAUNCH X431 V PRO, INNOVA 3160g Pro vs. FOXWELL NT510 Elite. We hope that you learn a lot after this review. It's now up to you to choose the best-suited scan tool for your auto demands.