Are you looking for the best Autel scanner? Comparing the Autel AP200C vs. AP200H vs. AP200M, you'll find all 3 offer convenient wireless OBD2 diagnosis, with accurate data and a user-friendly software interface.
As a result, any of these diagnostic scanners will save you money in the long run and give you an easy way to keep up with your vehicle's health and maintenance. 
So what's the difference between them? Ultimately, it comes down to which systems you want to diagnose and repair. Let's break down their functions side by side so you can see what we mean. 
Autel AP200C vs. AP200H vs. AP200M: Comparison chart
| | | | |
| --- | --- | --- | --- |
| | BEST OVERALL | RUNNER UP | GREAT PICK |
| | Autel AP200C | Autel AP200M | Autel AP200H |
| Customer Rating | | | |
| Price | | | |
| Item Weight | 1.12 ounces | 3.98 ounces | 3.2 ounces |
| Product Dimensions | 2.3 x 1.7 x 0.85 inches | 6.4 x 4 x 1.4 inches | 2.5 x 2 x 1 inches |
| Full OBD2 functions | ✔️ | ✔️ | ✔️ |
| ABS/SRS Diagnosis | ✔️ | ✔️ | ✔️ |
| Transmission Diagnosis | ❌ | ✔️ | ✔️ |
| Engine Diagnosis | ❌ | ✔️ | ✔️ |
| Oil Reset | ✔️ | ✔️ | ✔️ |
| Report | Repair report | Repair report | Repair report & health rating |
| Battery Maintenance (BMS) | ✔️ | ✔️ | ✔️ |
| EPB Reset | ✔️ | ✔️ | ❌ |
| DPF Regeneration | ✔️ | ✔️ | ❌ |
| SAS Calibration | ✔️ | ✔️ | ❌ |
| ABS Bleeding | ✔️ | ❌ | ❌ |
| Throttle Match | ✔️ | ✔️ | ❌ |
| | | | |
Autel AP200C vs. AP200H vs. AP200M: Detailed comparison
Key things in common
The Autel AP200C, AP200H, and AP200M are similar in design. All are OBD2 adapters that communicate with your vehicle's on-board computer and send that information to diagnostic software on an Android or iOS device. Because of this, they'll conduct quick, wireless diagnosis and repair of a range of vehicle systems. 
Functionally, all three of these Autel scanners start with full OBD2 compatibility. Any of them will conduct a smog or I/M readiness test, read trouble codes, and turn off the check engine light. It's when you get beyond OBD2 that the difference between these automotive diagnostic scanners becomes more apparent, however.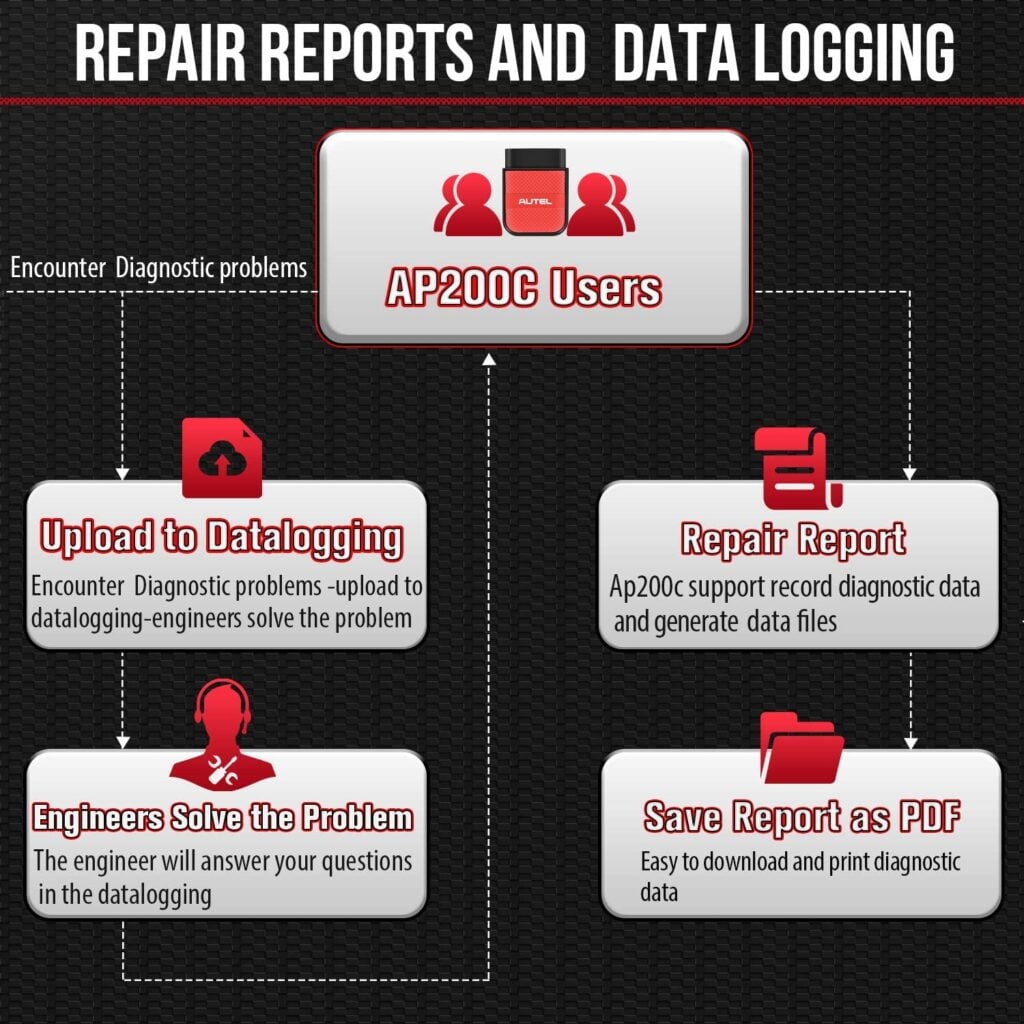 Key differences
Design and specifications
Unlike many OBD2 adapters, each of these Autel scan tools comes with diagnostic software designed to pair perfectly with the adapter. The MaxiAP AP200 app included with the AP200C can be downloaded on iOS or Android phones and is simple to set up and connect. For that reason, it won't work on computers or tablets, so that's something to keep in mind. 
The MaxiAP AP200H app (included with the Autel AP200H) can be installed for free for one vehicle make. Also, any supported functions and features for that vehicle come with the software for free, though you will need to pay for additional vehicle support. 
As the newest wireless Autel code reader, the Autel AP200M has the most robust and most stable Bluetooth connection, ranging up to 30 feet. Its included software has the broadest language support, as well, with 13 language options. The software is free for one vehicle for the first year. Beyond that, you'll need to pay a $19.99 subscription fee each year for each vehicle. 
Overall features and functions
The Autel AP200C supports all 10 modes of OBD2. This OBD2 diagnostic tool allows you to check emissions, read and clear codes, or view the live data stream from any vehicle that supports OBD2 diagnostics. The AP200C OBD2 scanner can also diagnose ABS and SRS. These functions are free for the first year. After that, you'll need to pay $39.99/year to maintain the subscription. 
Similarly, you'll get full OBD2 support with the Autel AP200H. The live data on this Autel scan tool is comprehensive, reading more monitors so you can see things like the coolant temperature or air/fuel ratio quickly and accurately. The Health Check Application is especially helpful for this, too, showing your vehicle's overall performance at a glance. You'll also get access to 4-system diagnosis, reading codes and data from the transmission, ABS, and SRS along with the engine. 
For diagnostic functions, the Autel AP200M is the most comprehensive. Along with all 10 OBD2 modes, it can read trouble codes and data from the HVAC, gearbox, immo/security, and other non-OBD2 systems. Thanks to it, you will have a clear picture of your vehicle's health. 
Extra features/functions
The AP200C supports ABS bleeding in addition to ABS diagnosis. Along with that, this OBDII scan tool can perform repair functions like oil reset, DPF regeneration, and SAS calibration. These functions require an in-app purchase of about $30 each, so you should take note if you're on a budget.
With the AP200H OBD2 scan tool, you'll get two service functions. The first is oil reset, which helps turn off the dash warning light after changing your oil. It also comes with battery maintenance (BMS), letting you track your battery voltage and register a new battery after replacement. 
Finally, the AP200M has 6 maintenance functions including the oil reset and BMS of the AP200H, adding DPF regeneration, throttle position service, EPB reset, and SAS calibration. Since these functions come included with the yearly subscription, it's the most cost-effective option for getting a variety of repair functions. 
Supported protocols
All of these scan tools support all 5 major OBD2 protocols, including CAN networks. Additionally, the Autel AP200H supports EOBD protocols for vehicles made and sold in Europe. 
Supported vehicle makes
You can use any of these tools as an OBD2 code reader on any OBD2-compliant vehicle. All 3 scanners offer comprehensive support, letting you read engine trouble codes or conduct a smog check on vehicles made in 1996 or later. 
The support for non-OBD2 functions is not as universal, however. The ABS bleed capability of the Autel AP200C is limited to select models, for example. You'll find the same is true with the reset functions of the Autel AP200M.
To verify the compatibility of your Autel OBDII scanner of choice, please go to the Vehicle Coverage page of the Autel website. You can also e-mail your make and model to [email protected] and they'll tell you which scan tool is ideal for your car or truck. 
Software and updates
One great thing about Bluetooth adapters is that updating is a no-brainer. You can download all available updates free through the app that comes with your Autel scanner. These updates come included with your subscription.
With the Autel AP200C, you'll need to download two pieces of software: the MaxiAP200 app, and the auxiliary app. It won't take much extra time but is an added step some people miss when buying the OBDII scanner. 
Pros and cons of AP200C vs. AP200H vs. AP200M
Autel AP200C OBD2 scanner
Pros
Supports all 10 modes of OBD2
Diagnose ABS and SRS, as well as the engine
Wide range of supported maintenance functions
Performs ABS bleeding for select vehicles
Repair report can be saved and printed
Cons
Many functions require extra payment
Can only be used with smartphones (not tablets or PCs)
Check Price at Amazon
Autel AP200M OBDII scan tool
Pros
Full OBD2 support
All-system diagnosis, including electronic systems
Supports 6 maintenance functions
Reliable Bluetooth connection up to 30 feet away
Wide vehicle compatibility
Cons
Software is only free for the first year
Doesn't support ABS bleeding
Check Price at Amazon
Autel AP200H OBDII code reader
Pros
Full OBD2 diagnostics with a wide range of live data 
4-system diagnosis (engine, transmission, ABS, SRS)
Health Check Application shows vehicle condition at a glance
Includes oil reset and BMS
Supports both OBD2 and EOBD protocols
Cons
Requires extra payment for additional vehicles
Limited service and reset functions
Check Price at Amazon
Recommendation
While the Autel AP200C has the most potential functions, each one has to be added (and paid for) individually. It's a great option if you're looking for one specific feature, like ABS bleeding, and is our top pick if you're mostly looking for ABS/SRS and OBD2 functions. 
We recommend the Autel AP200M for experienced home mechanics looking for the best value. Its software's annual subscription comes with 6 reset functions included, so you'll pay less long-term for each. The inclusion of all-system diagnosis is also a plus, letting you identify issues with systems like the air conditioning or headlights other scanners miss. 
The Autel AP200H is for beginning DIYers and everyday drivers. It's the most affordable long-term choice since you won't need to pay for individual functions. Along with that, you'll get reasonably comprehensive diagnostics and the 2 functions home mechanics use most. 
FAQs
❓ Do I have to pay for OBD2 diagnosis with the Autel AP200C?
💡 No, OBD2 functions are free for life. You'll only need to pay for service functions you want to add, and ABS/SRS diagnostics after the first year. 
❓ How do I connect my Autel scanner through Bluetooth?
💡 Once you've installed the associated software on your phone, make sure you have Bluetooth turned on then scan the QR code on the Autel scan tool. It should connect to the vehicle automatically. If you have any issues, Autel support is very responsive. Reach them via e-mail and they'll help you through the process. 
❓ Can I read live transmission data with the Autel AP200M or Autel AP200H?
💡 Yes, both of these Autel scanners support transmission diagnosis. It includes reading sensor data like the transmission temperature as well as trouble codes. 
❓ Will these OBDII scan tools drain the vehicle's battery?
💡 No, its feature allows a low power consumption when they're not in use. As a result, you can leave these scanners plugged in full-time for continuous monitoring without worrying they'll drain or damage the battery over time. 
❓ Do I need a continuous internet connection to use the Autel AP200C, AP200H, or AP200M?
💡 No. You'll need to be connected to the internet while updating the device, or if you're downloading new software. Though it communicates through Bluetooth, it doesn't require an internet connection to operate for general diagnostics. 
Final thoughts
Deciding between the Autel AP200C vs. AP200H vs. AP200M to find your perfect Autel diagnostic scanner is mostly a matter of determining which functions you need.
All of these devices will provide accurate, fast readings from a range of on-board systems, so you can count on any of them to give you a complete picture of your engine's health.
Best of luck in making your decision!