Do you need a detailed comparison among TOPDON AL200 vs. AL300 vs. AL500? Well, you have come to the right place as in this article, we compare the three models in every aspect.
This article will talk about what a TOPDON code reader is and what a TOPDON scan tool can do for you. Following this, we also discuss the features and differences of AL 200, AL300, and AL500. so you can choose the right product that best fits your needs.
First of all, this TOPDON AL200 vs. AL300 vs. AL500 comparison chart gives a bird's eye view of these products, including their similarities and differences.
TOPDON AL200 vs. AL300 vs. AL500: Comparison chart
| | | | |
| --- | --- | --- | --- |
| | BEST OVERALL | RUNNER UP | GREAT PICK |
| | TOPDON AL500 | TOPDON AL300 | TOPDON AL200 |
| Customer Rating | | | |
| Price | | | |
| Item Weight | 1.19 pounds | 12 ounces | 10.5 ounces |
| Product Dimensions | 6.44 x 3.71 x 1.23 inches | 4.72 x 2.82 x 0.92 inches | 10 x 1.8 x 6 inches |
| Read/Clear DTCs | ✔️ | ✔️ | ✔️ |
| I/M Readiness Monitor Status | ✔️ | ✔️ | ✔️ |
| View Freeze Frame | ✔️ | ✔️ | ✔️ |
| Vehicle Information (VIN) | ✔️ | ✔️ | ✔️ |
| ABS/SRS | ✔️ | ❌ | ❌ |
| On-board Monitor Test | ✔️ | ✔️ | ❌ |
| Live Data | ✔️ | ✔️ | ❌ |
| EVAP Test | ✔️ | ✔️ | ❌ |
| O2 Sensor Test | ✔️ | ✔️ | ❌ |
| Smog Test | ✔️ | ✔️ | ❌ |
| Software Update | ✔️ | ❌ | ❌ |
| LED Lights | ✔️ | ❌ | ❌ |
| | | | |
Now, let's jump in! And figure out what we have in this review.
TOPDON AL200 vs. AL300 vs. AL500: Detailed comparison
Key things in common
At first glance, there is a similarity in the design of these 3 TOPDON OBD2 scan tools. They are all corded OBD2 scanner. Also, all of them have some simple buttons that help navigation, choose a mode or exit. The screen shows direct information and is easy-to-use for new users.
Talking of functionality, all three can read/clear DTCs, view freeze frame data, read VIN or I/M readiness. Not only that, another common feature is that they are compatible with 1996 & newer vehicles.
Lastly, the manufacturer provides a 12-month quality warranty for each model which is a decent amount of time and can make you please.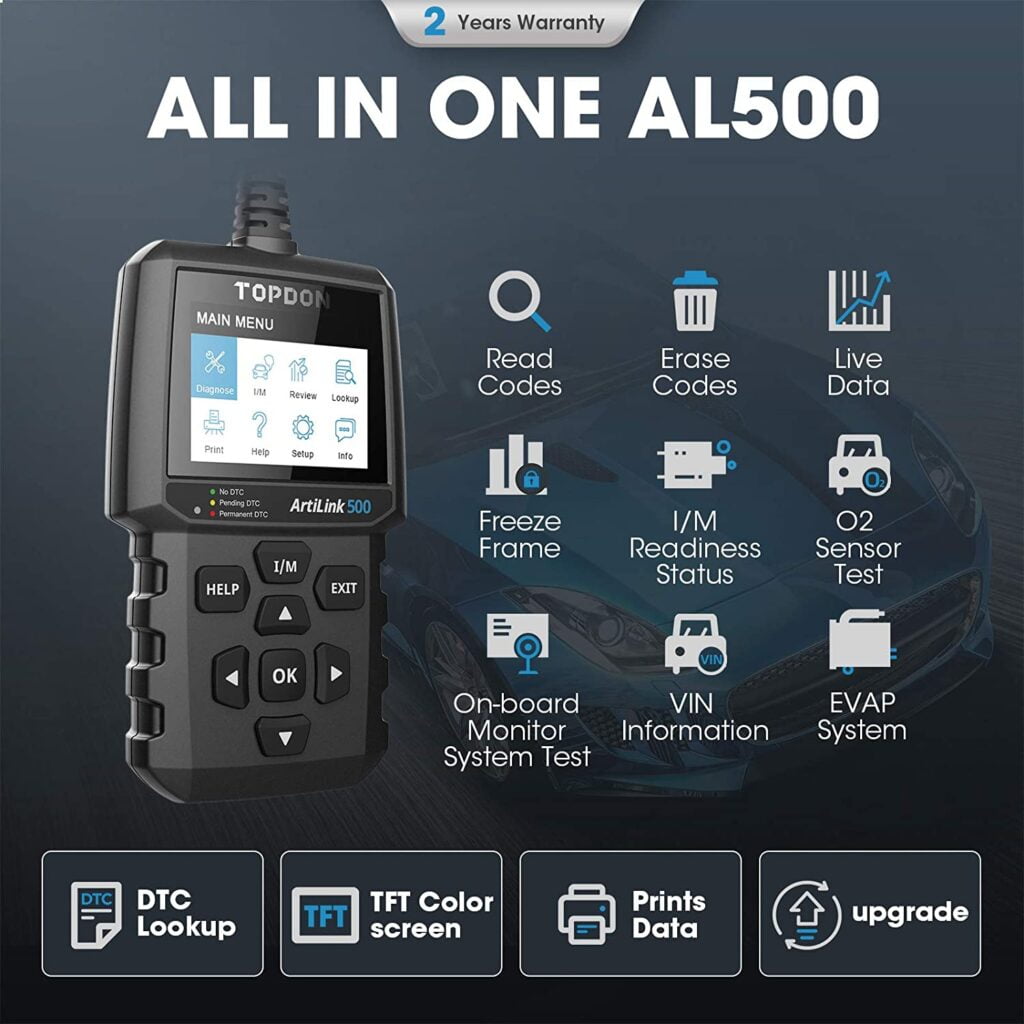 Key differences
This section will evaluate the key differences of AL200 vs. AL300 vs. AL500 across the below areas.
Design and specification
In a TOPDON AL200 vs. AL300 vs. AL500 comparison, the design and specification are the striking differences.
Firstly, AL500 is the most advanced model of the three. It comes with a lot more features and specifications. It includes a built-in DTC library with 3000+detailed definitions and an LED indicator to help you understand the severity of the situation. Furthermore, AL500 comes with an LED in the OBD2 cable, which allows you to find the OBD2 port in your car quickly.
When it comes to AL300 and AL200, both are relatively similar, except that AL300 is the more advanced version as it provides the entire gamut of OBD2 diagnostics as opposed to AL200 that only checks the basic functions.
Overall features and functions
When it comes to comparing the overall features and functions, it merits to note that the AL200 is an entry-level model with basic OBD functions geared to understand the effectiveness of status in your engine and AT systems.
In comparison, AL300 is a slightly more advanced version as it covers the complete OBDII functionality, while the AL500 is an advanced model that comes with a host of features that enhance the usability of OBD2 scanners and, at the same time, provide all the information you need to make an informed choice. 
Extra features/functions
Out of the three, AL500 is the most advanced and offers more functionality in an O2 sensor test and an on-board monitor system. It also comes with advanced software that works well on Windows operating systems to give you comprehensive information about your vehicle's health.
AL300, on the other hand, offers the complete functionality of OBDII. It also provides live data, and you can use it for smog and EVAP tests. It gives the VIN of the vehicle as well.
However, AL200 does not support any extra features as it is a relatively basic model, and it only reads codes, erases them, views freeze frames, and checks for I/M readiness. 
Supported protocols
All three TOPDON scan tools are compatible with KWP2000, ISO9141, J1850 VPW, J1850 PW, and CAN (Controller Area Network) protocols. 
Supported vehicle makes
All three models support all vehicles that are OBD2 compatible, which means all vehicles from 1996. These OBDII scan tools work well on all cars that run in the UK, USA, and Asia, provided they are OBDII compatible. 
Software and updates
Out of the three, TOPDON AL500 is the only one that requires regular software updates; this happens automatically using the Windows operating system. A USB port is at the bottom side of the AL500 that takes care of the updates, so all you have to do is add the USB cable to your car, and the update happens automatically. 
Pros and cons of AL200 vs. AL300 vs. AL500
Moving on, we will look at each product's pros and cons to give you a quick idea of which of these is best TOPDON OBDII diagnostic tool for you.
TOPDON AL500 OBD2 scan tool
Pros
Free lifetime update via PC
Wide vehicle coverage
LED indicator shows different colors for different problems
Provides detailed descriptions
Helps with Smog test
Cons
Annoying software installation
A mismatch between hardware and software. 
Check Price at Amazon
TOPDON AL300 OBDII code reader
Pros
Simple and user-friendly design
Gets the codes fast
Covers all vehicles that run in the UK, U.S, and Asia. Supports all models from 1996.
Intuitive interface
Comes with a built-in library
Cons
Does only basic diagnostics
Does not work well with SRS and ABS systems
No advanced features
Check Price at Amazon
TOPDON AL200 OBD2 scanner
Pros
Easy to connect
Quick diagnosis
Intuitive and straightforward to use
Supports BMW vehicles and all OBD2 protocols. 
Offers functionality in multiple languages
Cons
No advanced features
Does not support the ABS 
Ideal only for simple diagnostics
Check Price at Amazon
Recommendation
Coming to the recommendations, both TOPDON AL200 and AL300 are relatively basic models that can give you just the information you want. The good news is that no prior knowledge is necessary to use these equipment types, thereby making them the ideal choice for beginners.
However, if you're looking for advanced information, go for AL500. This TOPDON scanner is also a more comprehensive choice for DIYers and mechanics familiar with its use. Further, this model requires frequent updates, and that could make it challenging for beginners. 
Since all the three models work on cars manufactured since 1996, it can work on any car in the UK, U.S, and Asia. 
Also, TOPDON AL500 is your go-to model from a usability standpoint, as it comes with hotkeys and LED lights. It can record all the diagnostic data to use it at any time for future analysis. 
FAQs
❓ Will TOPDON AL500 work with iOS?
💡 No, AL500 does not work with iOS systems; only Windows is possible. If you have any problems concerning installation, check the manual or reach out to customer support.
❓ Does the TOPDON AL300 check the pre-inspections?
💡 Yes, the AL300 provides pre-inspections so that you can save multiple trips to the mechanic. Also, it can tell you if the vehicle is ready for state inspections.
❓ Will TOPDON AL200 work with ABS systems?
💡 No AL200 does not work with ABS systems, but it runs well on all car models that are OBDII compliant.
❓ How to fix the "Linking Error" message?
💡 To fix this error, try one of the following ways.
Check if the vehicle is OBDII compliant.
See if the cable of OBDII is in good condition.
If you think there are any connections or wiring issues in the vehicle, fix it first.
Check if this scanner works well on other OBDII cars to ensure that the problem is with the scanner.
When nothing works, reach out to customer support for help.
❓ What is the use of the LED indicator?
💡 The LED indicator is color-coded to give you more detailed information about the criticality of the issue. 
The green color indicates that there are no faults in the vehicle.
Yellow indicates that there are pending fault codes.
Red indicates that there are permanent fault codes.
Based on this color coding, you can decide how soon you need to take the car to a mechanic for fixing. If you plan to do it yourself, you can schedule it based on the severity. 
Final thoughts
Overall, the OBD2 scanners give detailed information about the health of your vehicle. These TOPDON scan tools give you the right information necessary to understand what is wrong with your car and its urgency to plan the fix accordingly.
When you compare TOPDON AL200 vs. AL300 vs. AL500, you can understand that the first model is a basic one, while the other two are more comprehensive. So, the choice of the right TOPDON scan tool depends on your preferences and needs.