The car diagnostic tool has been around for a while. There is no doubt that these scanners have made the diagnostic experience seamless and convenient. These tools not only save time but help you understand the faults in your car system. These also reduce the need for a professional technician to detect trivial issues.
Among the many options for a good car diagnostic tool, the iCarsoft scan tools are trusted by many users. The iCarSoft scan tools offer both DIY and professional code readers as per the consumer needs.
Moreover, these tools specialize in ease of use and their user-friendly nature. The iCarsoft company includes many options for the OBDII scanner. Choosing the best option for your car might be a tough task. Hence, to ease your task, we will look at a review on iCarsoft MB II vs. I980 vs. POR II.
While selecting an appropriate car diagnostic tool for your car, you need to consider a lot of factors. Here is a detailed comparison chart to help you make a better decision.
iCarsoft MBII vs. I980 vs. POR II: Comparison chart
BEST OVERALL
RUNNER UP
GREAT PICK

iCarsoft MBII


iCarsoft POR-II


iCarsoft I980

Customer Rating

Price


Item Weight
1.1 pounds
1 pound
1.1 pounds
Product Dimensions
26 x 19 x 6.5 inches
10.24 x 7.48 x 2.56 inches
9.45 x 5.59 x 2.36 inches
Vehicle Compatibility
Mercedes Benz, Sprinter, Smart
OBDII / EOBD compliant vehicles

Porsche

OBDII / EOBD compliant vehicles

Mercedes Benz, Sprinter, Smart
OBDII / EOBD compliant vehicles

Airbag Diagnostics
✔️
✔️
✔️
Oil Light Reset
✔️
✔️
❌
I/M Readiness
✔️
✔️
✔️
Freeze Frame Data
✔️
✔️
✔️
O2 sensor Test

✔️
✔️
✔️
Evap System Test

✔️
✔️
✔️
Turn Off Check Engine Light

✔️
✔️
✔️
DPF Regeneration

✔️
✔️
❌
SAS Calibration
✔️
✔️
❌
iCarsoft MBII vs. I980 vs. POR II: Detailed comparison
Key things in common
All 3 OBDII scanners belong to the iCarsoft brand. They are similar in a few aspects and that helps them get an edge over other scan tools.
System diagnostics
The three tools, namely, iCarsoft MB II, iCarsoft I980, and the iCarsoft POR II, provide the same number of diagnostic functions. These provide the full system diagnostics, which includes:
The entire range of system diagnostics provided by the three tools makes them suitable for professional use.
OBDII scan modes
The OBDII modes are an essential part of any scan tool. We have seen them included in all the top car diagnostic tools available in the market. These three products provide an extensive range of OBDII modes. While there might be a difference in the number of modes provided, the basic ones are available in all three products. These modes are:
Read and clear DTC
I/M readiness
Data Stream
Freeze Frame Data
O2 sensor
Turn off check engine light, etc.
Moreover, all three products support most of the other OBDII/ EOBD test modes. These are CAN, ISO9141, KWP2000, J1850 VPW, and J1850 PWM.
Basic features
The three scanners share other basic features among each other. These are:
LCD display
Multi-lingual menu      
Lifetime free updates of the software
Includes 1-year warranty
These features significantly increase the convenience to the users, and are essential parts of the scanners.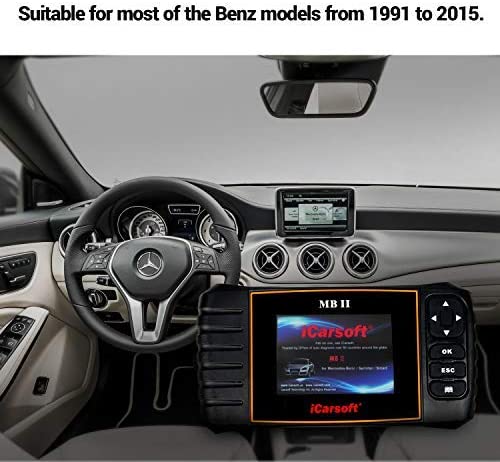 Key differences
While there are many key similarities between the three products, there are key differentiators that make each one unique. The differentiators help to select between the product that is most suitable for your car.
Vehicle compatibility
The biggest differentiator between the three products is the specialized vehicles for the OBD2 scanner. Each scanner specializes in different brands of vehicles. This makes the products more vehicle-centric.
For instance, the iCarsoft MB II OBD2 scanner specializes in the Mercedes – Benz/ Sprinter/ Smart cars. It works on most 2004 and newer OBDII compliant vehicles.
The iCarsoft I980 scanner is on similar lines to the MB II too. It also specializes in Mercedes Benz/Sprinter/ Smart vehicles. However, there are other differences between these two tools.
 The iCarsoft POR II is mainly for Porsche/ Cayenne. It works on most 2004 and newer OBDII compliant vehicles.
Special functions
Special or reset functions are quite essential while selecting a good car diagnostic tool. These functions help in advanced maintenance and diagnostics of the vehicles.
In the three products, the iCarsoft MB II and iCarsoft POR II share all the important reset functions. However, the iCarsoft I980 lacks such functionality. The iCarsoft I980 does not include:
Oil light reset
EPB reset
SAS calibration
Throttle Position reset
DPF regeneration
Mode of software upgrade
While all three products have lifetime free upgrades, the mode of up-gradation differs between them.
The iCarsoft MB II and iCarsoft POR II feature a TF card slot. The slot is used to insert the TF card while updating your tool.
Meanwhile, the iCarsoft I980 is updated using USB 2.0.
Pros and cons of iCarsoft MBII vs. POR II vs. I980
iCarsoft MBII scanner for Mercedes Benz/Sprinter/Smart
Pros
Support Multi-language
Lifetime free update
Compatible with Mercedes Benz/Sprinter/Smart
Cons
Not support some chassis: 107, 124, 126, 129, 140, 201, 202, 208 & 210.
Check Price at Amazon
Carsoft POR-II Porsche OBD-II scan tool
Pros
User-friendly software
Can turn off unneeded warning lights.
Help prepare for potential issues
Cons
Small screen
Work on Porsche only
No mobile app available
Check Price at Amazon
iCarsoft I980 Mercedes Benz diagnostic scanner
Pros
Diagnose & reset basic systems

Advanced troubleshooting
Cost-free software updates
Live data streams
Cons
Some Mercedes chassis not supported: 129, 140, 202, 210, 461 & 463
Check Price at Amazon
Recommendation
While all tools are great, each OBDII scan tool specializes in certain areas. It makes it suitable for a particular set of users.
The iCarsoft MB II is best suited for the Mercedes Benz / Sprinter/ Smart users. Moreover, with an extensive range of features, it is appropriate for professional use. The cost of a tool is also more suitable for a professional than a personal car owner.
iCarsoft POR II is a good professional diagnostic tool for Porsche vehicles. It is appropriate for both DIYers and professionals.
Lastly, iCarsoft I980 is a great tool for Mercedes Benz / Sprinter/ Smart users. However, it lacks certain special functionality like a reset. The cost is lesser compared to the other two products. Hence, it is suitable for DIYers and personal car owners.
FAQs
❓ Can I update my OBD2 scan tool using a Mac device?
💡 No, you can only update the software using the Windows Operating System. You may use Windows XP, Windows 7, Windows 8, Windows 10, etc.
❓ What to do if my scanner does not communicate with the car?
💡 In case your scanner tool does not communicate with the car, you should send the detailed vehicle information, manufacturing year and VIN to the manufacturer. The engineers will look into the issue.
❓ How to check if my vehicle is compatible with the OBD2 scan tool?
💡 Check for your vehicle's chassis number with the product website to check the compatibility. You can check the chassis number from Google or Wikipedia.
❓ What is the power supply of the devices?
💡 The devices directly connect to your car via the Data Link Connector for power supply. No additional medium is required.
❓ Will all features of the device be compatible with the listed models of the vehicles?
💡 It might not be the case where all features are available for each type of vehicle. You should check the feature compatibility with the seller before purchasing the product.
❓ How often should I update my scanner?
💡 You can update your scanner when the newer versions are available. However, it is not necessary to update if your scanner is working fine. You can update it by visiting the company's website. Follow the user's guide for more information on the same.
Bottom line
Now you know all the common features and differences of the three iCarsoft diagnostic scan tools: iCarsoft MBII vs. POR II vs. I980. We hope that you will do your best and choose wisely the iCarsoft scan tool that is best suited to all your needs.