Why should you buy an INNOVA scan tool? It's a smart financial investment for car owners, saving you money at the mechanic by allowing you to diagnose and repair problems on your own. The brand also has a reputation for reliability and value, making them a top choice for automotive hobbyists. 
Comparing the INNOVA 6030P vs. 6100P vs. 7100P, you'll see they have a lot in common. They're all accurate, easy to use, and support a wide range of vehicles. Ultimately, the difference between them comes down to the depth and range of their diagnostic functions.
Let's take a closer look so you can choose the one the meets your needs.  
INNOVA 6030P vs. 6100P vs. 7100P: Comparison chart
| | | | |
| --- | --- | --- | --- |
| | BEST OVERALL | RUNNER UP | GREAT PICK |
| | INNOVA 6030P | INNOVA 6100P | INNOVA 7100P |
| Customer Rating | | | |
| Price | | | |
| Item Weight | 12 ounces | 1.2 pounds | 1.51 pounds |
| Product Dimensions | 10.12 x 7.28 x 2.24 inches | 10 x 7.5 x 2.75 inches | 10.55 x 7.95 x 2.87 inches |
| Full OBDII Modes | ✔️ | ✔️ | ✔️ |
| Read/Clear DTCs | ✔️ | ✔️ | ✔️ |
| Live Data Graphing | ❌ | ❌ | ✔️ |
| ABS | ✔️ | ✔️ | ✔️ |
| SRS | ❌ | ✔️ | ✔️ |
| Oil Reset | ❌ | ✔️ | ✔️ |
| Battery/Alternator Test | ✔️ | ✔️ | ✔️ |
| Battery Reset | ❌ | ❌ | ✔️ |
| Bluetooth Support | ✔️ | ✔️ | ✔️ |
| | | | |
INNOVA 6030P vs. 6100P vs. 7100P: Detailed comparison
Key things in common
The INNOVA 6030P, 6100P, and 7100P use the same exterior design. These hand-held INNOVA scanners use a color display with an intuitive button interface for the controls, with convenient hotkeys for key functions like reading codes or accessing live data. 
When it comes to functions, all three share key OBD2 capabilities. They all support reading and clearing engine codes, checking emissions status, and other diagnostics you'd expect to get from an OBD2 scanner.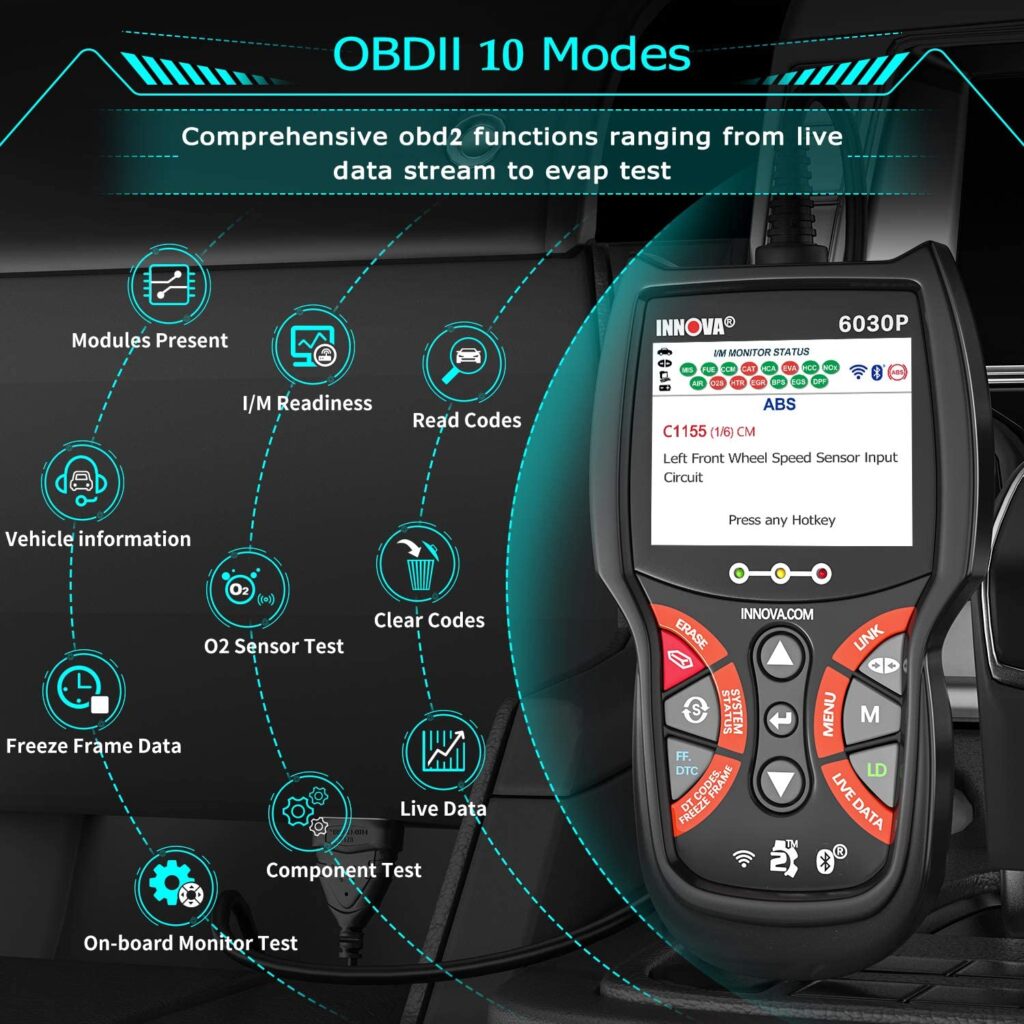 Key differences
Design and specification
From a design standpoint, the differences between these scanners are subtle.
All of them include a 3LED indicator under the screen, but its function differs depending on the tool. On the INNOVA 6030P and 6100P, it's a code severity indicator, showing which trouble codes need immediate repairs. The 3LED indicator on the 7100P is more general, indicating the emission system status. 
Overall features and functions
The 6030P supports all 10 modes of OBD2 diagnostics. You can use this OBD2 scan tool to read live data, freeze frame data, and all trouble codes from the engine, including stored and pending codes. 
These same OBD2 functions are available on the INNOVA 6100P OBDII scan tool but are a bit more comprehensive. Mostly this affects the live data, which can be viewed in real-time or logged to create a repair record for your vehicle. 
Finally, the INNOVA 7100P adds the graphing capability to the OBD2 function of the 6030P and 6100P. It gives a visual representation of engine data that can be very helpful in troubleshooting issues. 
Extra features/functions
The INNOVA 6030P is an excellent OBD2 diagnostic tool, but its functions outside this protocol are limited. It has a battery and alternator test for troubleshooting charging issues. You can also read codes from the anti-lock braking system (ABS), letting you make repairs and turn off the dash warning light. 
You can fully diagnose 3 systems with the INNOVA 6100P: engine, ABS, and SRS (airbags). This includes live data along with reading and clearing trouble codes. It can also test the charging system and has an oil reset feature. That gives you the power to repair and maintain most major vehicle systems. 
The extra functions of the 7100P are the most robust of the three. It adds battery registration to test the battery and alternator, giving users full battery maintenance power. Along with that, it offers the same 3-system diagnosis and oil reset you'll find on the 6100P. 
Supported protocols
The INNOVA 6030P, 6100P, and 7100P support all 5 major OBD2 protocols, including CAN networks. 
Supported vehicle makes
For OBD2 diagnostics, these INNOVA scan tools work with all OBD2 compliant vehicles. That includes most cars, SUVs, and light trucks sold in the United States after 1996. 
The vehicle support may not be as comprehensive for functions like ABS/SRS diagnosis and other non-OBD2 functions. Your best bet is to use INNOVA's coverage checker to verify what it can do for your vehicle. 
If you're looking for the widest vehicle support, the 7100P INNOVA scanner is the best option. It supports engine, ABS, and SRS diagnosis for most vehicles made from 1996-2016, including hybrid vehicles as well as many cars, trucks, and SUVs made in Asia and Europe. 
Software and updates
The RepairSolutions2 app comes with every INNOVA code reader, and you can get it through the Google Play store, the Apple app store, or INNOVA's website. This handy companion app provides verified fixes from certified mechanics for any trouble codes read by the INNOVA scanner it's paired with. It will even provide links to purchase parts you need from verified online retailers. 
If you need to update the software included on the 6030P, 6100P, or 7100P OBDII scanner, it's easy and free for life. Just go to the Tool Upgrade page of INNOVA's website and download the latest firmware. 
One thing to note is that these INNOVA tools need to be updated through a Windows-based PC, and they don't support Android or Apple operating systems. 
Pros and cons of 6030P vs. 6100P vs. 7100P
INNOVA 6030P OBD2 code reader
Pros
Full OBD2 functionality
Read ABS codes and data
Tests battery voltage and alternator
Pairs with RepairSolutions2 app through Bluetooth
Best value
Cons
No reset functions
No data graphing capabilities
Check Price at Amazon
INNOVA 6100P OBD2 scan tool
Pros
Diagnose the engine, ABS, and SRS
Supports oil reset for many vehicles
Battery and alternator testing
Supports most OBD2 vehicles, including diesel and hybrid engines
Easy to use and update
Cons
Doesn't support battery registration/reset
No graphing capability for live data
Check Price at Amazon
INNOVA 7100P OBD2 scanner
Pros
Reads codes and data from engine, ABS, and SRS
Full battery maintenance and reset capability
Oil reset and system monitoring
Supports logging and live data graphing
Broad compatibility for all functions
Cons
Highest cost
Requires Windows PC to update
Check Price at Amazon
Recommendation
The INNOVA 6030P is our top choice for everyday drivers. It provides all the diagnostic functions most drivers need at an affordable price. The RepairSolutions2 app is likely to be particularly helpful for DIYers, providing suggestions for repairs and parts that can be difficult to find elsewhere. 
Beginning DIYers should consider the INNOVA 6100P. Since it includes oil reset, it's a great choice for those who want to maintain their vehicles at home.
We recommend the INNOVA 7100P for DIYers, as well, and it's the best option for advanced home mechanics. Repair functions like battery registration and oil reset give home mechanics more options. It's also more helpful when you're reading live data to troubleshoot issues, with the option for data graphing and more data retrieval options overall. 
FAQs 
❓ Can these scanners be used on multiple cars, or do I need to buy extra VINs?
💡 There is no limit to the number of vehicles you can scan using the INNOVA 6030P, 6100P, or 7100P. All of the features are included in the initial purchase, so you don't need to worry about surprise after-purchase expenses. 
❓ Does the INNOVA 6030P clear ABS codes or just read them?
💡 You can both read and clear ABS fault codes with the INNOVA 6030P, along with viewing data like wheel sensor readings. 
❓ Can the INNOVA 6030P read manufacturer-specific codes?
💡 It depends on the manufacturer. The 6030P supports all the general OBD2 protocols but doesn't support individual vehicle makers' proprietary protocols. Your best bet is to verify what codes are supported using the INNOVA compatibility checker. If that doesn't answer your question, you can reach out to INNOVA's support team.
❓ Does the INNOVA 6100P read live data?
💡 Yes. This feature appeared in the update released in November of 2020. If you're having trouble accessing this function, check on INNOVA's website to ensure you have the latest updates installed. 
❓ Can the INNOVA 7100P perform ABS bleeding?
💡 Unfortunately, the INNOVA 7100P doesn't have bi-directional control and can't perform advanced repair functions like automatic brake bleeding.
❓ What is the difference between battery testing and battery reset?
💡 Battery testing functions can only read the battery's voltage and alternator to tell you if they're functioning correctly. The battery reset function on the INNOVA 7100P allows you to reset the battery system after replacing the battery, register a new battery, and see more in-depth data on the system's performance. 
Final thoughts
Choosing between the INNOVA 6030P, 6100P, and 7100P is easy once you know what features you need.
The INNOVA 7100P offers the most functions and the widest vehicle compatibility. As you might expect, it also costs the most of the three. If you want an OBD2 code reader, the INNOVA 6030P will do the job at a better value. 
We hope this review will help you decide which one to buy!