Freeze frame data is not just a list of acronyms, symbols, and numbers, it's much more than that. It's a screenshot that holds the PID values (parameter ID values) of the DTC codes.
It stores emission related fault codes in the memory when the CEL comes on. You can use this data to identify the cause of emission-related faults in the car.
What is OBD2 freeze frame data?
OBD2 freeze frame is a report that contains description, DTC code, and status of an OBD2 code in the form of a screenshot. It features a camera-like icon and shows a detailed side-by-side report when you click on it.
An OBD2 system features two types of system monitors:
Continuous monitors: Also known as the "Single Trip" emissions diagnostic monitor, it features both fuel trim and misfire detectors.
          This monitor constantly works for as long as the vehicle is running.
Its job is to activate the PCM/ECU and store the DTC code along with the freeze frame data.
Non-continuous monitors: This system deals with heaters EGR, evaporative emissions, oxygen sensors, and catalytic converters.
It conducts single and double test/trip. The DTC will be erased if the code doesn't appear on the second trip.
Freeze frame data will get overwritten if the DTC is related to an engine misfire or fuel trim.
How can you access freeze frame data?
OBD2 freeze frame data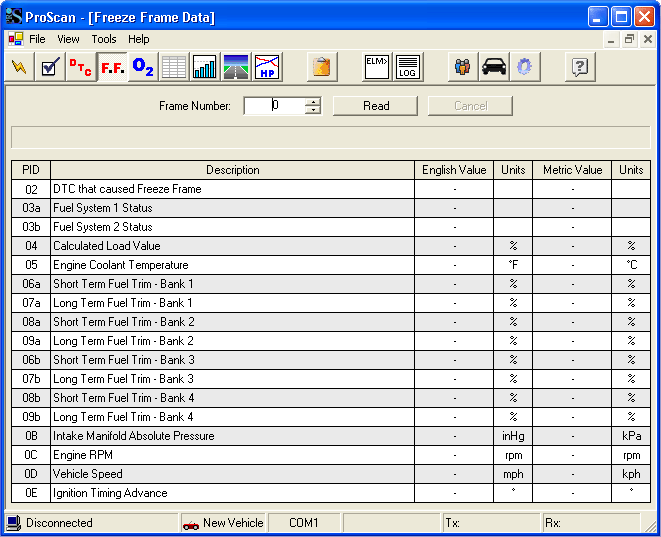 Source: https://www.totalcardiagnostics.com/
Find the camera-like icon on the OBD2 scanner. This icon generally appears next to the DTC code and description.
Click on this camera icon to launch freeze frame report. The report contains detailed information. Since there is a lot of data, it may often get difficult to comprehend what's on-screen.
This is why it is best to access it in split screen. This way you will get to read the data side-by-side, making it easier to comprehend information.
Additional features to access
Besides being able to access the freeze frame data, you will also be able to do a number of other tasks:
Check history: You can check the freeze frame data history from the scanner screen.
Page refresh: This will show updated data.
Troubleshooting article: Clicking on the view DTC article will pop out a troubleshooting article related to the specified DTC.
How to read freeze frame data?
You can easily read freeze frame data with the help of an OBD2 scanner. Since it's a common feature, most basic and advanced tools offer it.
The process is fairly simple and requires no complex understanding.
Note: If you are looking for a viable OBD2 diagnostic tool that can read freeze frame data then consider Bluedriver OBD2 scanner.
BlueDriver Bluetooth Pro OBDII Scan Tool for iPhone & Android
Bluedriver is a professional scan tool that can not only read and clear SRS codes but offer other functionalities as well.
It supports mobile connectivity and comes with an app of its own. Apart from the freeze frame feature, it will allow you to perform smog test, read and clear engine lights, perform I/M readiness, and even read and clear ABS/SRS.
A high-quality diagnostic tool will be able to present freeze frame data for the following:
Airflow rate.
Engine RPM.
Fuel pressure gauge
Coolant temperature, and many more.
The scanner will capture a screenshot when a DTC is triggered as the engine light comes on.
Here's how the system displays freeze frame data:
P0261 –  Cylinder 1 injector circuit low.
Fuelsys1 CL
Fuel Sys2 N/A
Freeze frame data interpretation chart
Freeze frames help identify emissions related faults so that you can address the problem. These stored screenshots tell you what a certain DTC means.
For example, it can let you know if you need to replace a sensor or change the wire. You can then perform the job on your own or take the vehicle to an expert.
However, the system records freeze frame data only when it encounters a failure the first time or for two trips in a row.
Here's an overview of what the freeze frame interpretation chart looks like:
Freeze frame data: Interpretation chart
| Code | Explanation |
| --- | --- |
| Fuelsys1 CL | This code means that the fuel injector present in bank 1 was in closed-loop mode when the error took place. |
| Fuel SYS2 N/A | There's no fuel injector present in bank 2. The engine might be a 4 or 6 cylinder unit with only a single bank. |
| Load PCT 87 | This DTC refers to the air entering the motor below 100%. |
| ECT 223 | It denotes the engine coolant temperature. ECT 223 means that the coolant temperature is 223 degrees F. |
| SHrtFT1 2.6 | This refers to a short-term fuel trim at 2.6%. |
| Long FT1 3.0 | It means that the O2 sensor hasn't switched to long-term fuel trim. |
| Map kpa 26.3 | Denotes the MAP value when the error took place. This code means that the sensor has a pressure signal of 26.3 kilo-pascals. |
| VSS 48 | It refers to the speed of the vehicle when the error took place. |
| Rpm 1495 | It shows the engine RPM when the issue occurred. |
| IAT 57 | This means that the Intake Air Temperature is at 57 degrees F. |
These are just a handful of freeze frame codes just to give you an idea of how they look. They are fairly easy to read, making it simple to solve issues.
How to use freeze frame data?
You will need a good OBD2 scan tool to store and access freeze frame data.
The job of the system is to help you identify what went wrong when the problem occurred. Made to identify emissions-related faults, freeze frame data could help you identify other problems as well.
Only data associated with a misfire fault or fuel trim can overwrite the freeze frame data. This is because the system gives priority to data from these two faults over other faults.
Conclusion
Buy a good OBD2 scanner that offers the option to access freeze frame data so that you can fix your car issues efficiently. The data will stay in the system unless you clear the associated DTC.