Vehicles that are built in 1996 or later are required by law to have an OBD2 system.
The system lets you communicate with your vehicle to ensure the vehicle works well.
Each car contains a DLC (Data Link Connector) which is to make a connection between the car and the scanner. Known as the OBD2 protocol, this system is important to form a connection.
A vehicle can have one out of two OBD2 protocols, A or B. They differ in terms of the number of connectors or pins they have.
Let's get to know about the five types of OBD2 protocols. Each vehicle uses at least one of these:
Types Of OBD2 Protocols
Below, you will find OBD2 protocols by vehicle make and model:
SAE J1850 PWM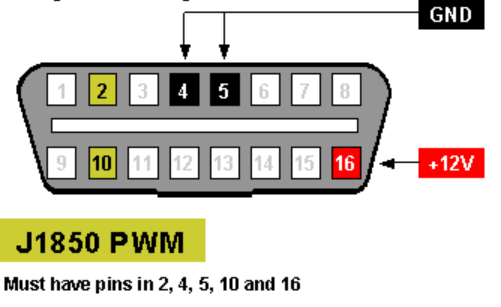 Connectors with pins 2 and 10 are SAE J1850 PWM protocol. It operates at 41.6 kb/sec and is mostly found in Ford vehicles. The signal produced by it is Pulse Width Modulation.
Apart from pins 2 and 10, the connector also has metallic contacts in the pins 2, 4, 5, 10 and 16.
ISO 15765-4 CAN (SAE J2480)
This one is found in modern vehicles (US) that are built in 2008 or later. It has pins 6 and 14 with metallic contacts having pins 4, 5, 6, 14 and 16.
Furthermore, this obd2 protocol has 4 variants:
ISO 15765-4 CAN (250 Kbaud, 11 bit ID)
ISO 15765-4 CAN (250 Kbaud, 29 bit ID)
ISO 15765-4 CAN (500 Kbaud, 29 bit ID)
ISO 15765-4 CAN (500 Kbaud, 11 bit ID)
It works on a two-wire communication method and can handle up to 1mbps.
ISO14230-4 (KWP2000)
It works on an asynchronous serial communication method that operates at 10.4 kbps per second.
This type of protocol is found in Asian vehicles or in 2003+ vehicles that have a pin 7 ISO9141 K-Line while pin 15 is optional. It's also commonly used in Chrysler and most European models.
It is similar to the ISO9141-2 protocol therefore and hence can be difficult to identify.
ISO9141-2
This one is an old protocol that is mostly found in European vehicles that were built between 2000 and 2004. It uses pin 7 and pin 15 is optional.
It operates at a speed of 10.4 kb/sec and uses asynchronous serial communication. You will find this protocol on some Chrysler and Asian vehicles as well.
SAE J1850 VPW
This protocol is found in GM vehicles. It works at a speed of 10.4 kb/sec with a variable pulse width.
It has a pin 2 in the connector and the metallic contacts have pins 2, 4, 5, and 16 inside. The biggest difference is the fact that this OBD protocol has no pin 10.
What Are The Ways To Check My OBD2 Protocol?
The easiest way to identify an OBD2 protocol is to look at the alignment and availability of the pins.
Here's what you need to focus on:
If there are pins 2 and 10 in the connector with metallic pins 2, 4, 5, 10 and 16 then it's a J1850 PWM protocol.
If you can see pin 2 and material contacts inside pins 2, 4, 5, and 16 but there's no PIN 10 then it's a J1850 VPW protocol.
If the connector has pin 7 and an optional pin 15 then it could be ISO9141 or ISO 14230 KWP2000. The metallic contacts inside the pins are 4, 5, 7, 15, (plus 16).
If there are both pins 14 and 6 in a connector with material contacts 4, 5, 6, 14 and 16 then it's an ISO 15765 CAN protocol.
Which OBD2 Protocol is Supported By My Vehicle? The Examination of the OBD2 Connector Pins
You can examine OBD2 connector pins to find out which protocol is supported by your vehicle.
Type A: This type of OBD2 protocol has 16 teeth altogether, 8 on the upper row and 8 on the bottom. It seems as if it's "Sandwiching a Tongue". This protocol is a female plug with a D-shape look.
Type A protocols are found in 12V vehicles.
Type B: This one has 16 teeth as well but it's a bit different from Type A protocol. It has a disrupted groove in the center which restricts a Type A male connector from sitting in it. However, you can plug a type B male plug into a type A female plug.
In appearance, it looks quite like Type A but there's one notable difference – the sandwiching of Tongue is split into two.
Type B protocols are found in 24V vehicles.
OBD2 Connector Pins Interpretation
Since we know that every connector has 8 upper rows and 8 lower rows, let's find out what each pin is meant for.
Pins On The Upper Row
Pin 1: It is used for OEM COMM.
Pin 2: A J1850 Bus+ is found on this pin.
Pin 3: OEM Reserved.
Pin 4: Used for framework/car chassis ground.
Pin 5: This pin holds sensor signal ground.
Pin 6: Most of the modern cars have OEM COMM pin. It also contains pins 4, 5, 6, 15 and 16.
Pin 7: It denotes the K-line.
Pin 8: OEM Reserved.
Pins At The Bottom Row
Pin 9: OEM COMM.
Pin 10: A J1850 Bus- (negative) is found on this pin.
Pin 11: OEM Reserved
Pin 12: OEM Reserved
Pin 13: OEM Reserved
Pin 14: OEM Reserved
Pin 15: It denotes the ISO 9141-2 L-line.
Pin 16: This pin powers the adapter.
OBD2 Protocols: Must-have pins for connector
| OBD2 Protocol | Pin 2 | Pin 6 | Pin 7 | Pin 10 | Pin 14 | Pin 15 |
| --- | --- | --- | --- | --- | --- | --- |
| ISO 15765 CAN | | ✔️ | | | ✔️ | |
| J1850 VPW | ✔️ | | | | | |
| ISO 9141 | | | ✔️ | | | ✔️ (Optional) |
| J1850 PWM | ✔️ | | | ✔️ | | |
| ISO 14230 KWP2000 | | | ✔️ | | | ✔️ (Optional) |
The Bottomline
We hope this information will help you identify your vehicle's OBD protocol. It can be a bit difficult since they all look the same but you will get it if you pay attention to the design and pins.