ECU programming is usually performed at a car dealership. However, you can totally program the ECUs at home with the right scan tools or software. 
Bad news, they're not going to be cheap! But if you choose the right tool and the right method, you can save lots of money! And when I say "lots of," I mean more than one grand. 
So, in this article, I will show you how to do that and analyze which scan tool is the best for you (in terms of functions and finance).
Let's get started! 
ECU programming – what do you need first?
There are 3 ways that you can do ECU programming/remap/reflash on your own: 
Factory scan tools – way too expensive
Aftermarket scan tools – a perfect option for any mechanics 
Tuning software + A j2534 pass-thru device = the most affordable option (but it works)
Factory scan tools 
Provide access to everything in your car, excellent choice if you only mention the features. However, they are the most expensive on the list, so you may want to give these tools a miss. 
Aftermarket scan tools
I'm not talking about general scanners. I'm talking about high-end aftermarket scan tools (not less than $2000) that can reprogram the ECUs. 
Unlike the factory scan tool, aftermarket ones are more affordable. Moreover, they can work with many different car brands, not just one! These tools are definitely something you have to consider! 
Some sellers claim that their scan tools can do ECU programming at a fraction of the high-end scanners' cost. 
They're not wrong! 
However, there is one thing you may miss. To program the ECUs, you must buy an additional J2534 pass-thru device. And the final price will end up the same as the high-end scan tools'. 
Do some math, and don't get fooled. 
Tuning software + A j2534 pass-thru device
This is, by far, the most affordable way to reprogram ECUs. And this is also the way I would recommend if ECM reprogramming is the main thing you want to do.
All you need a tuning software (you can easily get one on the internet for a small fee) and a j2534 pass-thru device. The j2534 device can be from $60 – $1000. Just pick the cheapest one that works on your car!
Using this method, in the worst-case scenario, you can save about 50% of your money compared to buying a high-end aftermarket scan tool. Best-case scenario, you can save up to 80%! 
But if this method is so inexpensive, why is high-end aftermarket scan tools still a rational buying option?
The answer is simple. Tuning software can not perform other advanced functions such as key programming, relearn, ABS bleed and other service functions.
So, which option should you go for?
If you're looking for an affordable option, I do recommend you to get a tuning software and a j2534 pass-thru device to perform ECU reprogramming.
There are many different ECU tuning software on the market. Toad pro is one of the best and affordable options I would recommend.
The below part is my review about Toad pro after one year of use. Moreover, I also provide a list of j2534 pass-thru programming tools that will work with Toad. Just choose the cheapest one that fits your car!
Note: this only allows (engine control module) ECM reprogramming. Other ECUs reprogramming are not supported.  
If you're a mechanic and you want an all-in-one tool, getting an aftermarket with the ECU programming feature is always a good long-term investment. 
I've picked the 2 best ECU programming scan tools that I, as a mechanic, have really enjoyed using for the last few years. 
Click to skip to the review part
Let's see which one you should get!
---
TOAD Pro – The most affordable option
I bought this software about a year ago for more than $200. However, they have recently lowered the price, and you can get Toad for just $77. 
Before you buy it, get a j2534 programming tool. Pick the cheapest one in the below list that's compatible with your car.
I myself have been using TOAD with the Alientech KESS V2 to reprogram ECUs and tune my customers' cars HP, cut 5-10% of fuel consumption, etc. 
The software contains more than 4,000 free optimized car ECU map files, which may cost you more money if you purchase it somewhere else. 
As an independent mechanic, I usually charge my customers $350 to $700 for these services. So, I would say that you can save lots of money with the right tool and the proper knowledge!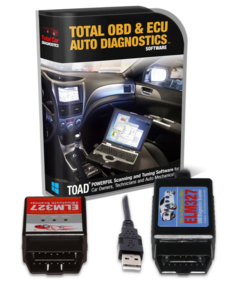 Active test
Bi-directional control is an advanced feature that you can't find in cheap OBD2 scanners. 
The inexpensive TOAD, on the other hand, can perform active tests in some vehicles. This feature lets you actively activate car components to see if they are working properly or not. 
However, you need to contact the seller to verify if this feature is available in your car or not. 
Again, this is an advanced function, so don't expect it to be available on every car. 
Other functions
With Toad Pro, you can also read fault codes (DTCs) and monitor live data. But only engine and transmission data is available. If you want to fix ABS or SRS light, TOAD Pro is not the one.
So, no matter how magical they advertise these functions, they are very basic, and a cheap scanner can also do that. 
However, TOAD takes one step ahead of cheap scanners.
TOAD's DTCs library is much bigger than any cheap scan tools' (both general and manufacturer-specific codes.)
The software also gives you an easy-to-understand explanation for each DTC. But I believe that Google can do a better job if you do proper research.
And finally, TOAD allows you to monitor many different live data graphs (PIDs) at the same time, which is crucial when it comes to diagnosing misfires, rich or lean conditions, etc.  
---
Top 2 scan tools with ECU programming [for mechanic]
When it comes to high-end scan tools, it's pretty much a war between Launch and Autel. There are also others, but these 2 are the most common brands used by mechanics. 
So I pick the best 2 representatives of 2 brands and give you a comparison between them. 
And by "the best," I do not mean "the most expensive." It's more like "the ones that work but do not hurt your wallet." 
---
Autel MaxiCOM MK908P
ECU programming and coding
Autel MK908P includes a J2534 ECU programming device, which allows you to program ECUs in BENZ/ BMW vehicles. 
However, you need to pay an update fee to use this function. One more thing you should note, this tool can't be used to unmarry ECUs. So, just don't lose your scanner, ever. 
MK908P can also do ECU coding on many different vehicles, including: 
Toyota 
Mitsubishi 
Ford 
Mazda 
VW
Audi
Porsche
Skoda
Benz
BMW
Renault
Note: After a free 1-year update, ECU coding and programming can not be used if you don't pay for updates. 
Bi-directional control
Active test is a useful bi-directional function that allows you to send a command to a specific component of the car to see if it's working properly or not. 
For example, compared to taking a starter motor out and testing it manually, this feature will save you tons of time and effort by testing it only with a single button. 
Relearn is another bi-directional function MK908P offer. I've used this tool to do case, idle, transmission relearn, and it works flawlessly. For TPMS relearn and programming, you have to buy an additional TPMS device. 
36 service functions
Those functions are the most commonly used by any mechanics or car enthusiasts. 
After 1 year of free updates, you can still use these features without paying money for the update. 
All-system diagnose
This tool can access all the available modules in your car to read fault codes and live data (PIDs).
To be honest, a decent $400 scanner can do this as well. The only difference I noticed is that it's much easier to monitor PIDs, and you can put many different PIDs on one screen. 
This is because the tool has a bigger screen and much more powerful hardware.
Read on for more details about the hardware.  
Hardware 
This tool uses a Samsung Exynos 6-core Processor. Tbh, I'm a mechanic, not a tech guy, so I can't really give you an in-depth review of this CPU. 
But I can say that I'm a little disappointed with the chip. Compared to other high-end Autel scanners' CPUs (cheaper ones), Autel MK908P's is the same. 
For example, MaxiCOM MK906BT and MaxiCOM MK908 are about 30-50% cheaper than MK908P, but they use the same chip. 
To be clear, I have no problem with the performance. It will probably be faster than your expectation (it exceeds mine). But I think it would be much better if they offered me something more advanced because I paid more money for that. 
The same thing happens with RAM and memory – 2GB RAM and 64GB onboard memory, just like other tools in the MaxiCOM product line.
The only thing that makes MK908P stand out from the rest is the battery storage (15000 mAh), which will last for days for only one single charge. 
Value/price
Let just say the maximum value of a scan tool is 100 (like a high-end snap-on scanner). And we assume that the Snap-on tool's value/price = 1. 
Based on my experience using the tool, the value of Autel MaxiCOM MK908P is about 70. However, this tool is about 5 times cheaper than a Snap-on. 
Do some math, and we got MK908P's value/price = 3.5. 
Or should I say, this tool is 3.5 times more worth buying than an expensive Snap-on scanner. Of course, this is just a rigid number based on my experience, but it can be a good parameter for your buying decision. 
Compared to the next product on the list, Autel MK908P is about $1000 cheaper. But the extra features offered by Launch X431 PAD do, indeed, justify the price gap. 
Read on if you want something more than Autel MK908P!
---
Launch X431 PAD V
ECU programming and coding
Using this tool, I have programmed blank new ECUs, reflashed the old ones on several car brands, such as:
The seller also claims that X431 PAD V can do ECU programming on 5 more brands: Land Rover, Audi, Porsche, Infiniti, Jaguar. But I haven't got a chance to try it out yet. 
So if you need to verify if this tool can reprogram your car's ECUs, contact this email: [email protected]. But I'm pretty sure that it'll work as long as your car is one of the 9 brands above.
Besides, this tool offers ECU coding and online coding function. Compared to the Autel MK908P, Launch X431 PAD V can perform this function on a few more car brands.  
Full bi-directional control
One of the best things about this tool is that it lets me do all kinds of active tests and relearn. 
Let's compare it to the MK908P. Does the Launch scanner offer more "bi-directional control"? 
Yes. But the differences, to me, are insignificant because I hardly use the extra active tests offered by PAD V. 
But you may need that in the future, who knows, right?
50 service functions
50 service functions is probably the highest number you can get in any high-end scanner.
Compared to "36" on MK908P, "50" is a worth pay-off. 
All-system diagnose
Let's just ignore the fact that it can read DTCs and live data in all available modules. Everyone knows that, right? 
The cool thing about this scanner is "Module Network Structure Topology," which gives you a map of how different modules in your car are connected.
It also lets you know which module needs taking care of by using different colors for different conditions. 
I myself find it pretty useful for diagnosing the CAN bus communication system. 
Hardware
Here's the fun part. 
Launch X431 PAD V offers a 2GHz 8-core CPU, 4GB RAM, and 64GB storage, which are much more powerful than MK908P's. This configuration obviously results in a faster programming speed.
One thing I do not like about the product is that I can't find the scanner's battery capacity specs anywhere. Not on the manual, not on the Launch website. 
So I can't give you a specific mAh number. However, based on my experience, I only have to charge this tool once or twice a week, and it takes about 2 and a half hours to be fully charged.  
Not bad, huh? 
Value/price
Ok, let's do some math again!
Overall, the features and hardware offered by this tool are equal to about 95% of a top-notch scanner. On the other hand, its price is only 30% of the top-notch one. 
So, its value/price = 95/30 = 3.12 
If you compare this number to MK908P's (which is 3.5), it may appear that MK908P is the better option. But the truth is, it depends on your needs. 
Moreover, there is one more thing you should consider. After a 1 year free update, you need to pay for that annually! With Autel MaxiCom MK908P, it's $1295; with Launch X431 Pad V, it's $599. 
For that reason, I do think that Launch X431 Pad V is the better option in the long run.