If you're looking for a LAUNCH scanner, comparing the LAUNCH 129i vs. CRP129E vs. CRP129X can help you find the one that's right for you. The best part is, a LAUNCH scan tool provides accurate, comprehensive diagnostics that go beyond a basic OBD2 code reader's capability. 
That said, any of these three OBD2 scan tools could be an excellent choice for both advanced DIY mechanics and repair professionals on the road. With that in mind, let's take a closer look at their features and design so you can see the difference between them. 
LAUNCH 129i vs. CRP129E vs. CRP129X: Comparison chart
| | | | |
| --- | --- | --- | --- |
| | BEST OVERALL | RUNNER UP | GREAT PICK |
| | LAUNCH CRP129E | LAUNCH CRP129X | LAUNCH 129i |
| Customer Rating | | | |
| Price | | | |
| Item Weight | 2.81 pounds | 2.74 pounds | 2.56 pounds |
| Product Dimensions | 10.75 x 8.7 x 3.27 inches | 10.7 x 8.8 x 3.2 inches | 10.8 x 8.7 x 3.3 inches |
| Total Language Supported | 9 | 10 | 9 |
| Screen | 720P 5.0-inch Touch Screen | 5'' TFT | 5" IPS Touch Screen |
| Battery | Lithium ion 6000mAh | Lithium Polymer 6100 mAh | Lithium ion 6100mAh |
| Warranty | 5 year | 5 year | 5 year |
| Engine Diagnostics | ✔️ | ✔️ | ✔️ |
| ABS/SRS Diagnostics | ✔️ | ✔️ | ✔️ |
| Transmission Diagnostics | ✔️ | ✔️ | ✔️ |
| Oil Reset | ✔️ | ✔️ | ✔️ |
| TPMS Reset | ✔️ | ✔️ | ✔️ |
| SAS Calibration | ✔️ | ✔️ | ✔️ |
| Throttle Body Reset | ✔️ | ✔️ | ✔️ |
| Relearn TPMS ECU | ❌ | ✔️ | ❌ |
| | | | |
LAUNCH 129i vs. CRP129E vs. CRP129X: Detailed comparison
Key things in common
The basic look and design of these three LAUNCH scanners are very similar. All three diagnostic tools have a large, high-definition touchscreen interface that makes them very intuitive to use and navigate. Besides, they all have built-in Wi-Fi that makes updates a breeze. 
Functionally, the LAUNCH 129i, CRP129E, and CRP129X all start with a 4-system diagnosis. As a result, they can read codes and PID data from the engine, transmission, ABS, and SRS systems, so they'll give you a fairly comprehensive picture of your vehicle's health.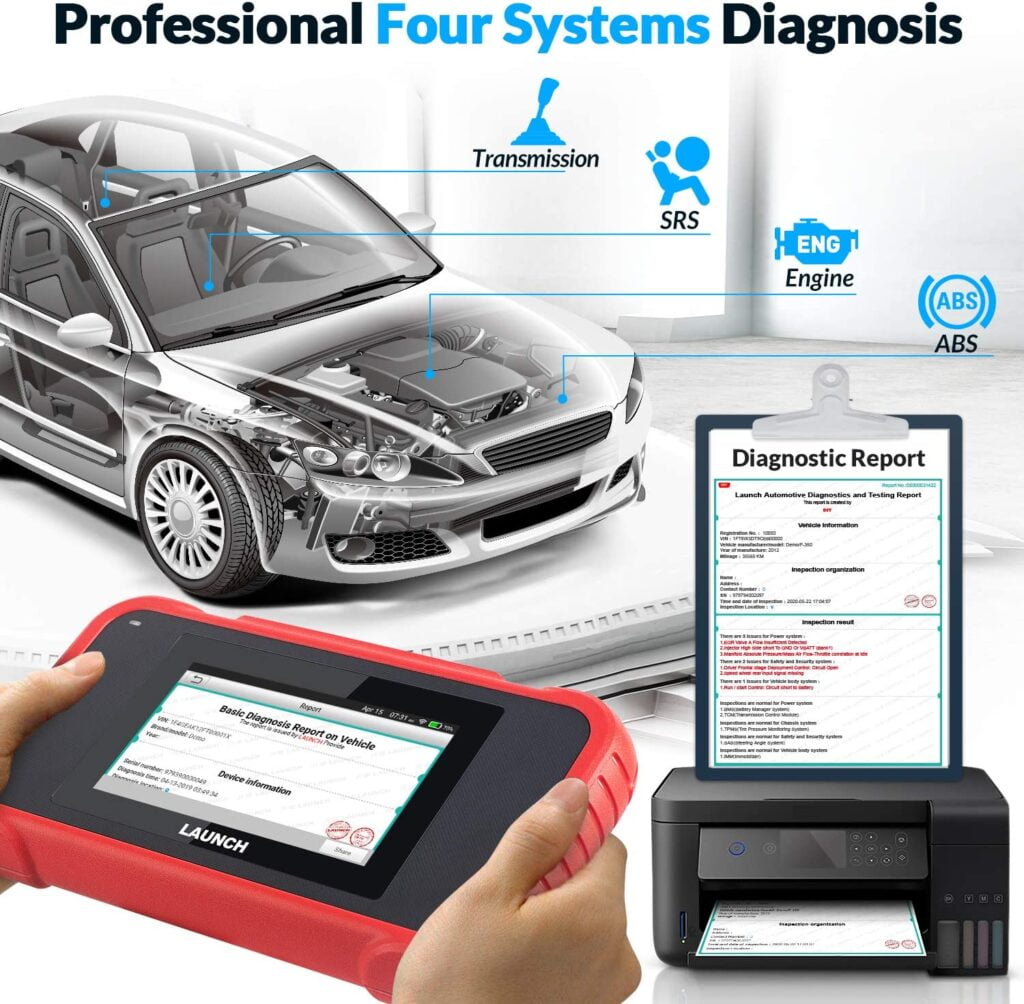 Key differences
Design and specification
First of all, with the LAUNCH CRP129E OBD2 scanner, the touchscreen is your only navigation option. However, both the 129i and the CRP129X also include a button interface. Thanks to this design, it is especially helpful for using it during repairs since you can still operate the LAUNCH scan tool when your hands are dirty or greasy. 
Something that sets all three of these scan tools apart from other options is their computing power. All 3 of these tools use an Android operating system. The operating system on the CRP129X and CRP129E is more advanced than that of the LAUNCH 129i, so you can count on the diagnostics to be both fast and accurate. 
Furthermore, the battery power of these three scan tools differs, as well. With the LAUNCH 129i, you'll get a 6100mAh battery, so you can use it for longer between charges than the CRP129X or CRP129E. 
Overall features and functions
To begin with, the core functions of the LAUNCH 129i starts with support for all 10 modes of OBD2. Additionally, you can see trouble codes and data from the transmission, ABS, and SRS, and there's a battery voltage test for diagnosing electrical issues. You can easily view all the information with the automatic inspection report, recorded, played back, and printed via PC. 
You'll get similar core functions from the LAUNCH CRP129E OBD2 diagnostic tool. Its 4-system diagnostics include live data graphic for up to 10 PIDs at once. Like the LAUNCH 129i, you can also record and playback both graphical and text data or share it and print it on a computer. 
Finally, these same functions are available on the LAUNCH CRP129X. This OBD2 code reader also has a battery voltage monitor. Besides, a Quick History Diagnosis feature makes it easy to see all your vehicle information at a glance.  
Extra features/functions
Firstly, you'll get the 5 most-used reset functions with the LAUNCH 129i, CRP129E, or CRP129X scanner. These include oil reset, EPB reset, SAS calibration, throttle adaptation, and TPMS services. Having these reset functions enables you to make home repairs like replacing the brake pads, rotating the tires, or changing your oil. 
Not only that, the LAUNCH CRP129E also includes a DTC lookup function. Any codes that trigger, you can look up what they mean right on the device. This is a helpful time-saver compared to looking them up online on your computer, letting you get to repairs more quickly. 
Supported protocols
All three of these scan tools support all 5 signal protocols used for OBD2, including SAE J1850 PWM and VPW, ISO9141-2, ISO 14230, and CAN networks. Nevertheless, the LAUNCH CRP129E also supports EOBD, JOBD, and KOBD protocols, making it the most comprehensive protocol support. 
Supported vehicle makes
For basic OBD2 diagnostics, you can use the 129i, the CRP129E, or the CRP129X as a LAUNCH code reader for any OBD2-compliant vehicle (in other words, any vehicle made after 1996). They're fully updated, too, so they're compatible with the newest 2020 vehicles. 
Moreover, the LAUNCH 129i, LAUNCH CRP129E, and LAUNCH CRP129X all support more than 57 manufacturers for 4-system diagnosis. On the other hand, vehicle compatibility for reset functions is more limited and can be trickier to determine. Your best bet is to go to the Vehicle Coverage Inquiry List for LAUNCH, where you can check each tool's support for your specific vehicle. 
Software and updates
Since all 3 of these scanners have on-board Wi-Fi, you can update them straight through the device with one click. That means no more worrying about whether the operating system on your computer supports updates. These updates are free for life, too.
The support you'll get for updates and troubleshooting does differ between these three models. On the whole, we found the support is most vital for the LAUNCH CRP129E, which comes backed by a 5-year warranty. Conversely, the US support for the LAUNCH 129i is the weakest of the three. 
Pros and cons of 129i vs. CRP129E vs. CRP129X
LAUNCH CRP129E OBD2 scanner
Pros
4-system diagnosis with 5 reset functions
Records up to 10 PIDs simultaneously
One-click Wi-Fi update
Automatically generates Vehicle Health Diagnostic Report
Wide vehicle compatibility, including EOBD and JOBD vehicles
Cons
No buttons for navigation
Some users report issues with the charging port
Check Price at Amazon
LAUNCH CRP129X OBD2 scan tool
Pros
Gives the option of touchscreen or button navigation
Easy to set up, use, and update
Includes battery voltage testing and monitoring
4-system diagnosis with all 10 modes of OBD2
Has 5 most commonly used reset functions
Cons
AutoVIN detection doesn't work on all vehicles
Doesn't come with a manual
Check Price at Amazon
LAUNCH 129i OBD2 scanner
Pros
Real-time monitoring for 4 major systems
Lifetime free updates through Wi-Fi
User-friendly interface with both buttons and touch screen
Monitors battery voltage in real-time
Printable Car Health Report
Cons
Support for updates in the United States is limited
Repair functions not available for all supported vehicles
Check Price at Amazon
Recommendation
With their broad compatibility and range of functions, we'd recommend the LAUNCH 129i, CRP129X, or CRP129E primarily for advanced home mechanics. They have the diagnostic and repair functions most DIY-ers look for in a relatively affordable and easy to use package.
Professional mechanics likely need advanced functions like coding that these LAUNCH tools don't offer. That said, these LAUNCH scan tools' portability makes them an excellent choice for on-the-road diagnostics, and they can make a perfect supplemental tool for pros.
FAQs
❓ Will the LAUNCH 129i test the alternator?
💡 You can't test the alternator directly with the LAUNCH 129i. However, it does support car battery voltage readings, and you can use that data to identify issues with both the battery and alternator. 
❓ Can you read the transmission temperature with the LAUNCH 129i?
💡 Yes, this OBD2 scan tool reads live data from the transmission system in addition to reading and clearing codes. 
❓ What's the main difference between the CRP129E and CRP129X?
💡 Functionally, these two scan tools are the same. The main difference is in the service you can get for the device. With the LAUNCH CRP129E, you get a 5-year warranty, something that the LAUNCH CRP129X doesn't offer. 
❓ Is the LAUNCH CRP129E capable of active testing or bi-directional control?
💡 No, you cannot manually activate or control components using this OBD2 code reader. If you're looking for this function, the LAUNCH X431 V may be a better choice for you. 
❓ Can the LAUNCH CRP129X scan the traction control system?
💡 Unfortunately, no. Traction control is not possible with the 4 systems diagnosed by this tool. 
❓ Can the LAUNCH CRP129X work on diesel engines?
💡 Yes, this OBDII scan tool can work on both diesel and gasoline engines. That said, you should still double-check the compatibility of your specific vehicle when it comes to the reset functions to ensure it will work correctly. 
Final thoughts
As you can see, the differences between the LAUNCH 129i vs. CRP129X vs. CRP129E are relatively minor. All of these LAUNCH scanners provide an accurate diagnosis of the major systems in most vehicles on the road today. That makes any one of them a suitable choice for either at-home mechanics or repair professionals. 
Choosing between these OBDII code readers comes down to two things. First, your preferred navigation style and whether you want the option of buttons as well as a touch screen. Second, the specific compatibility of the tool's functions with your vehicle. Apart from that, you'll get the same high-performance level from any of these scan tools.